Neurotic Deathfest announces Obituary, Gorod, Kronos and Holocausto Canibal for 2015 edition
|
Europe's premier indoor extreme metal festival, Neurotic Deathfest, has announced new names for the 2015 instalment, set to take place at 013 venue in Tilburg, The Netherlands on April 17-19, 2015. Four new acts are confirmed: headliner Obituary and Gorod, Kronos and Holocausto Canibal. The organization earlier confirmed heavyweight acts such as Bloodbath and Immolation.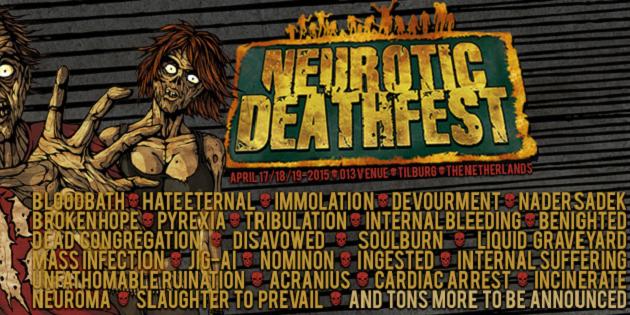 With the confirmation of Obituary, Neurotic Deathfest adds yet another headliner to the already massive line-up of this year's festival. Originally formed in 1984 in Boston, this United States-based band is considered one of the pioneering bands of the death metal genre. The album 'The End Complete' is the bestselling pure death metal album ever in the genre, selling over 100.000 copies in the US and more than a quarter million copies worldwide. Their last album 'Inked In Blood' came out in 2014 and is the first album in 5 years. The French bands Kronos and Gorod and Holocausto Canibal from Portugal are also confirmed for Neurotic Deathfest 2015. Despite the already impressive running order, the organization still has to announce more than 15 acts!
These names have all been confirmed for Neurotic Deathfest 2015:
Bloodbath (SWE)
Obituary (US)
Immolation (US)
Hate Eternal (US)
Devourment (US)
Nader Sadek (US)
Broken Hope (US)
Pyrexia (US)
Tribulation (SWE)
Internal Suffering (COL)
Benighted (FRA)
Dead Congregation (GRE)
Disavowed (NL)
Soulburn (NL)
Liquid Graveyard (UK)
Mass Infection (GRE)
Gorod (FRA)
Kronos (FRA)
Holocausto Canibal (POR)
Jig-Ai (CHZ)
Nominon (SWE)
Unfathomable Ruination (UK)
Acranius (GER)
Cardiac Arrest (US)
Incinerate (US)
Neuroma (UK)
Slaughter To Prevail (RUS)
Eleven years ago the organization behind Neurotic Deathfest started with the desire to create the ideal festival for fans of extreme metal. Initially started as an event with 250 visitors and only 8 artists, the Neurotic Deathfest has grown into the biggest extreme metal festival of Europe, with more than 45 acts per edition. The festival will be held for the 12th successive year, of which the coming edition will be the 8th at the 013 venue. This makes Neurotic Deathfest not only the biggest indoor festival in Europe aimed at extreme metal, but also the longest running.
---
Don't forget to follow our Spotify Playlist: