the Answer Reveal Artwork and Track Listing For New Album Raise A Little Hell
|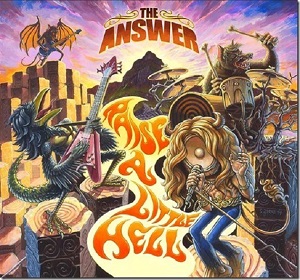 Irish Rockers the Answer will release their new album Raise a Little Hell this March in North America via Napalm Records. This is the follow up to their critically acclaimed 2013 release New Horizon.
The album is set for release on the following days:
G/A/S/Europe/AUS: 06.03.2015
UK/NO/FR/DK/IT: 09.03.2015
SE/ESP: 11.03.2015
USA/CAN: 17.03.2015
The artwork by Sebastian Jerke and final track listing has now been revealed. The record was produced by Guillermo 'Will' Maya and mixed by Chris Sheldon.
Cormac Neeson from the band commented: "We're delighted to announce the track listing and artwork for our new album Raise A Little Hell. This is a special record that reflects a return to the hard ass blues rock 'n' roll we hold so dear. Our good friends at Napalm have created some great formats for you guys to enjoy including colored double vinyl, a special digi pak with a live recording of our recent 'Road Less Travelled' tour, another digi pak with an extra bonus CD containing 6 exclusive bonus tracks plus all sorts of other great stuff. It's an impressive package with some equally impressive artwork from Sebastian Jerke. Most importantly; this album truly showcases who we are and the best of THE ANSWER in full flow. We can't wait for you all to hear it!"
Raise A Little Hell – Track Listing:
1. Long Live the Renegades
2. The Other Side
3. Aristocrat
4. Cigarettes & Regret
5. Last Days of Summer
6. Strange Kinda' Nothing
7. I Am What I Am
8. Whiplash
9. Gone Too Long
10. Red
11. I Am Cured
12. Raise A Little Hell
THE ANSWER – 2015 RAISE A LITTLE HELL TOUR:
06.03.15 IRL Belfast / Limelight
07.03.15 IRL Dublin / Whelans
09.03.15 UK Manchester / Academy 3
10.03.15 UK Leeds / The Key Club
11.03.15 UK York / Fibbers
12.03.15 SCO Aberdeen / The Lemon Tree
13.03.15 SCO Glasgow / The Garage
14.03.15 UK Newcastle / Riverside
16.03.15 UK Grimsby / Yardbirds
17.03.15 UK Liverpool / Arts Club
18.03.15 UK Nottingham / Rescue Rooms
20.03.15 UK Birmingham / Institute
21.03.15 UK Sheffield / The Corporation
23.03.15 UK Norwich / Waterfront
24.03.15 UK Bristol / Motion
25.03.15 UK Brighton / Concorde 2
26.03.15 UK London / O2 Islington Academy
27.03.15 UK Exeter / Lemon Grove
28.03.15 UK Southampton / 1865
09.04.15 FR Paris / Le Divan Du Monde
10.4.15 NL Leiden / Gebr De Nobel
11.4.15 NL Zwolle / Hedon
14.04.15 DE Berlin / Magnet
15.04.15 DE Hannover / Faust
16.04.15 DE Hamburg / Knust
17.04.15 DE Weinheim / Café Central
18.04.15 DE Köln / Luxor
20.04.15 DE Wiesbaden / Kesselhaus
21.4.15 CH Zurich / Rote Fabrik
22.4.15 CH Soloturn / Kogmehl Raumbar
24.4.15 IT Milan / Legend Club
25.4.15 IT Pinarella Di Cervia / Rock Planet
26.04.15 DE München / Strom
27.5.15 AT Vienna / Chelsea
12.6.15 CH Greenfield Festival
13.6.15 AT Nova Rock Festival
20.6.15 FR Hellfest Festival
30.7.15 DE Wacken Festival
---
Don't forget to follow our Spotify Playlist: