TheGround debut album 'Dediction' is out today
|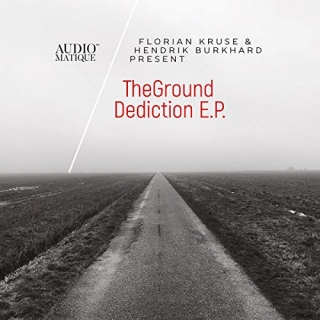 After working together on several releases for Poker Flat, Suara, Noir and more the two artists decided to give their joint project a new home and founded TheGround which now culminates in their debut album.
Kicking off with the emotive and epic intro 'Sirens Call', the album soon clicks into gear with lead single 'Homeless Hearts'. The track exemplifies the duo's effect on each other – the slick, nuanced and spacy production gives way to a powerful groove, providing the perfect backing for Burkhard's dreamy vocal. 'Undercover' keeps things rolling, thick with minor chord synths flourishes and punchy drums.
Two of last year's standout tracks – 'Crack in the Wall' (feat. Mi.li.an) and 'Going Against The Grain' are included here with radically new versions – both moving and atmospheric pieces that defines the album's sense of beautiful melancholia. Co-written by Raphael Hofman 'Silence' occupies a similar space while 'Through The Darkness' feat. Saccao comes with a more direct approach – a powerful tech-house workout featuring incredible synth programming and moments of pure euphoria.
'Creature' also brings the heat with a thick growling bass and precise, arpeggiated synth lines that cut through the mix like lasers. Rounding out the album is 'Falling' (also featuring the vocal prowess of Mi.li.an) – yet another moment that finds a balance between the pure release of the dance floor and the dreamy, woozy feel Kruse and Burkhard seem to tap into with every release. Fittingly, the last word is given to another sublime collaboration – 'Kingdom Of Crumbling' Walls features Vincenzo & Mi.li.an alongside Kruse and Burkhard, elegantly showcasing the power of their emotional, melodic songwriting.
tracklist:
01 | Sirens Call (Intro)
02 | Homeless Hearts
03 | Undercover
04 | Crack In The Wall feat. Mi.li.an (Album Version)
05 | Silence feat. Raphael Hofman
06 | Through The Darkness feat. Saccao
07 | Going Against The Grain (Album Version)
08 | Creature
09 | Falling feat. Mi.li.an
10 | Kingdom Of Crumbling Walls feat. Vincenzo & Mi.li.an
---
Don't forget to follow our Spotify Playlist: