Sufjan Stevens announces new album 'Carrie & Lowell'
|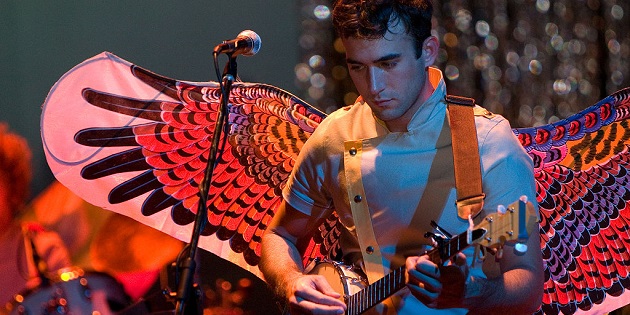 'Carrie & Lowell', the new album from Sufjan Stevens, is set for release 30th March in the UK and Europe and 31st March in North America on Stevens' own Asthmatic Kitty Records. The album -named for Stevens' mother and stepfather- is a return to Stevens' folk roots. Thematically the eleven songs address life and death, love and loss, and the artist's struggle to make sense of the beauty and ugliness of love.
'Carrie & Lowell' was recorded by Stevens alongside Casey Foubert, Laura Veirs, Nedelle Torrisi, Sean Carey, Ben Lester and Thomas Bartlett and mixed by Stevens, Bartlett and Pat Dillet.
Sufjan Stevens is a singer-songwriter currently living in Brooklyn, NY. A preoccupation with epic concepts has motivated two state records ('Michigan' and 'Illinois'), a collection of sacred and biblical songs ('Seven Swans'), an electronic album for the animals of the Chinese zodiac ('Enjoy Your Rabbit'), two Christmas box sets ('Songs for Christmas', vol. 1-5 and 'Silver & Gold', vol. 6-10), and a BAM-commissioned programmatic tone poem for the Brooklyn-Queens Expressway ('The BQE'). In 2010 Stevens released an expansive EP ('All Delighted People') and the full length 'The Age of Adz', a collection of songs partly inspired by the outsider artist Royal Robertson.
Stevens recently collaborated with New York City Ballet choreographer and dancer Justin Peck on 'Year of the Rabbit', a modern dance program set to a classical orchestration of 'Enjoy Your Rabbit' and an original orchestral score commissioned for Peck's ballet 'Everywhere We Go'. Stevens' second BAM commission Round-Up, an instrumental accompaniment to slow-motion rodeo footage, will be performed at BAM's Harvey Theater this month, 20th – 25th January.
---
Don't forget to follow our Spotify Playlist: