Robert Cray Band back with 17th album!
|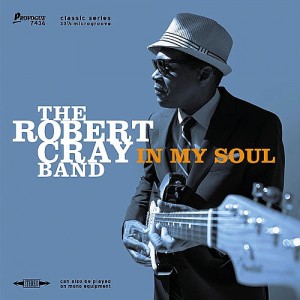 "In My Soul", the new album by the Robert Cray Band, is available now. This will be the seventeenth studio album for the 5x Grammy winner, 15x Grammy nominee and multi-platinum selling artist. Produced by American multi-instrumentalist, composer, musical director, Grammy Award-winning artist and longtime Cray friend Steve Jordan (Alicia Keys, John Mayer, Keith Richards), In My Soul captures Cray at his finest with an outstanding 10 song collection of Stax and Chess influenced soul and blues that showcases his trademark guitar playing and his extraordinary vocals. A bonus track "Pillow" will also be included on the limited edition CD.
From the driving original classic Cray "You Move Me" with its scorching guitar leads, to the melodic 60's sway of "Fine Yesterday" featuring Cray's trademark soul drenched vocals, In My Soul draws listeners in very quickly.
In My Soul offers an array of powerful material that displays Cray's amazing and unique guitar sound, his passionate and soulful vocals alongside awarding winning songwriting and musicianship. A cutting collection of tunes that will please longtime fans yet offers a purity of new life for first time listeners. UK and European fans get a free poster as well!
---
Don't forget to follow our Spotify Playlist: