New album for Danko Jones in February 2015
|
Eighteen years. Twelve albums. Two Gold Records. Thirty-plus transatlantic treks. Fifteen Top 40 singles. Arena tours across 11 countries with Guns N Roses. A video trilogy starring Elijah Wood and Ralph Macchio. A feature- length documentary. An oral-history biography. Personal invites from Lemmy to join Motörhead on the road (and on water, for the 2014 Motörboat cruise). For most bands, that would amount to a hell of a career. For Toronto trio Danko Jones, it's called "warming up."
Now the time has finally come to announce the next chapter in Danko Jones history – 11 tracks that comprise the album "Fire Music", set for release on the 6th of February!
The first single won't be coming out for another few months, but in the meantime we couldn't be more excited about offering you a taste of things to come in the shape of "Gonna Be A Fight Tonight" – a scorching war declaration of a song making it completely clear that Danko Jones are taking no prisoners or sparing any survivors.
With Fire Music, you get an album that burns at both ends, showcasing Danko Jones at both their most energetic and eclectic, like a greatest-hits career retrospective made up of all-new material, delivering blasts from the past while blazing trails into the future. "I got a date with dynamite," Danko sang back in 1996 by way of introduction, "if you got the guts, well, light my match." Eighteen years later on Fire Music that offer still stands.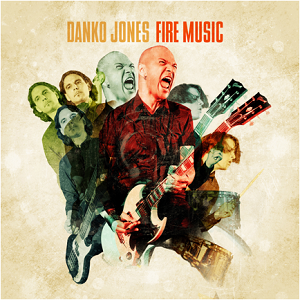 TRACK LISTING
1. Wild Woman
2. The Twisting Knife
3. Gonna Be A Fight Tonight
4. Body Bags
5. Live Forever
6. Do You Wanna Rock
7. Getting Into Drugs
8. Watch You Slide
9. I Will Break Your Heart
10. Piranha
11. She Ain't Coming Home
---
Don't forget to follow our Spotify Playlist: