System Of A Down To Commemorate 100th Anniversary Of Armenian Genocide
|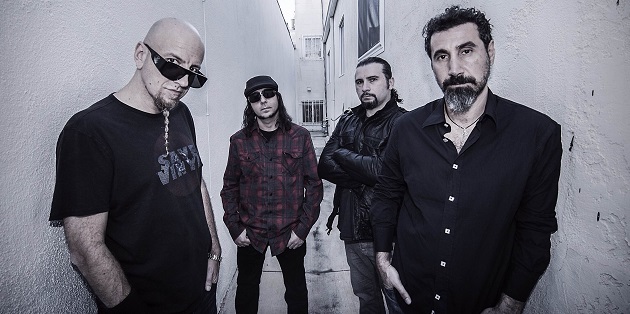 April 24th, 2015 marks the 100th anniversary of the Armenian Genocide, an attempted extermination of the Armenian people by the Ottoman Empire. A century later, SYSTEM OF A DOWN refuse to let the victims and lessons learned be forgotten. On April 10th, 2015, they'll commemorate the Genocide's 100th anniversary on the world stage with their "Wake Up The Souls" arena tour, an international trek that begins at London's Wembley Arena and culminates with the band's first-ever performance in Yerevan's Republic Square. For ticket info on the tour, which is the band's first since 2013, visit systemofadown.com.
"As a band, it's been one of our dreams to play in Armenia," says lead vocalist Serj Tankian. "To be able to play in the homeland of our forefathers while respecting the memory of those that perished in the first genocide of the 20th century will be an honor."
As pointed out in a recent Forbes op-ed piece by Jano Boghossian, the atrocities committed in 1915 marked and traumatized all subsequent generations of Armenians both in the small remaining homeland, and the far-reaching Diaspora. "Victim groups have no need for a justification of memory," wrote Boghossian, "but they do need justice." System Of A Down's landmark tour will see them take the call for truth to Germany, France, Belgium, Netherlands and Russia. The group, whose four members are all of Armenian descent, have lost family members and history to the Genocide and have worked tirelessly over the years to promote awareness. In April 2009, Tankian made a short video urging President Obama to honor his campaign pledge to properly commemorate the Armenian Genocide. The group made headlines in 2013 after a concert at the Hollywood Bowl in Los Angeles saw Tankian asking the packed-house crowd to imagine a government that remained silent on the Holocaust, as many did regarding the Armenian, Greek and Assyrian genocides.
"The pursuit of justice knows no time restraints, recognizes no obstacles, and will not be halted until justice is met, whether it's one hundred years or one thousand," says drummer John Dolmayan.
Fans looking for information about the "Wake Up The Souls" tour and/or how to get involved should visit systemofadown.com, where they'll see content curated by the band, along with an interactive "heat map" splash page featuring their statement about the cause, along with tour dates, ticket links, share options, fan-generated content and "Take Action" instructions.
When the user clicks on any highlighted city on the heat map, a fact about the Armenian Genocide will pop up, which will be sharable to the users' social networks (example – France: "In 1915 France advises Young Turk leaders that they will be held personally responsible for crimes against humanity"). Each tour date will line up with a "Facebook Event Page" to which fans can RSVP, creating a community around each performance. Above the map will be instructions for fans to interact by using the hashtag #wakeupthesouls. As fans tweet and share, the heat map will grow around the world, showing the impact of people talking about the cause and tour on a global scale.
The "Take Action" page will give fans the opportunity to send out a pre-populated tweet pledging to stand with the good people of conscience in Turkey and urge for global justice for the Armenian Genocide. This automated tweet will also contain the campaign hashtag, which will cycle back around into the heat map feed. System Of A Down want to clearly state that this is not directed at the people of Turkey, but rather at the atrocities that were carried out. "Our campaign is about bringing justice, recognition, support and resolve."
Since their arrival in 1998, System Of A Down has released 5 studio albums, sold over 31 million copies worldwide, had three No. 1 debuts on Billboard's Top 200 Album Chart, garnered a Grammy win and amassed a global following whose members numbers in the tens of millions. They've written and recorded 7 top 10 radio hits, 2 of which were chart-topping No. 1's (2002's "Aerials" and 2005's "Hypnotize"). In 2005 System Of A Down released both Mezmerize and Hypnotize in two installments as a dual album in a single year. Each debuted at No. 1 on the Billboard Top 200 and on charts around the world, achieving the rare feat of having two No. 1 albums in the same calendar year. "B.Y.O.B." (Bring Your Own Bombs) was the first single released from Mezmerize and earned the band a Grammy for Best Hard Rock Performance.
Dates for the "Wake Up The Souls" tour are as follows:
April 10—London/UK @ Wembley Arena
April 13 – Cologne/Germany @ Lanxess Arena
April 14 – Lyon/France @ La Halle Tony Garnier
April 16 – Brussels/Belgium @ Forest National
April 17 – Amsterdam/Netherlands @ Ziggo Dome
April 20 – Moscow/Russia @ Olympisky
April 23 – Yerevan/Armenia @ Republic Square
---
Don't forget to follow our Spotify Playlist: