New Apocalyptica album to be released in April 2015
|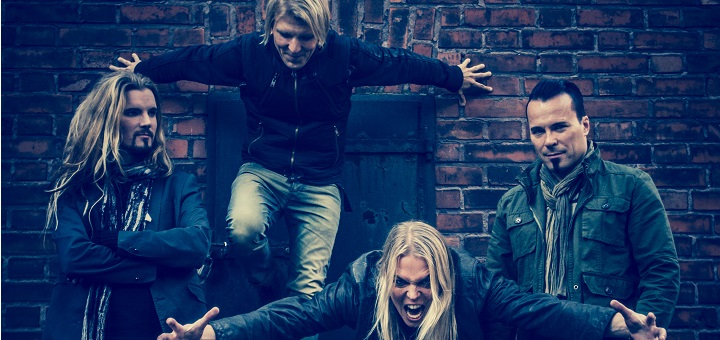 Apocalyptica is proud to announce that Grammy awardee Nick Raskulinecz (Foo Fighters, Deftones, Mastodon) is producing their new album. Eicca Toppinen: "Nothing better could have happened than Nick being on board for this record. The pre- production time we spent with him in late August gave us so much confidence and input for the new songs. We are all excited and overwhelmed by his energy and creativity.
The band has just arrived at the studio in Nashville to record the material for the upcoming release. Eicca Toppinen: "Having our singer (Franky Perez) with us for the last few months already made a big difference: For the first time we couldn't get enough from spending time together at our rehearsal place in Finland but being in Nashville with all our instruments, Franky and Nick now makes us feel like little boys on Christmas. Writing and recording is taking a little longer than expected but I'm sure this will be one of the best Apocalyptica albums and we can't wait to bring it out for you to hear."
Due to the extended album production process the European tour which was slated to kick off on April 7 and wrap up on May 7, 2015 have to be moved to October /November 2015.
Eicca Toppinen: "In order to properly finish and promote the record, the European dates unfortunately need to be postponed. We are truly sorry to those of you who had purchased tickets and have been disappointed by the news, but we realized there is not enough time to put together and rehearse for a full headline-show." Rescheduled dates are currently worked on and will be announced in the next days.
Before Apocalyptica will present the album along with a new tour production on an extensive European headline tour later this year, fans will get a glimpse of the new material when the band is supporting Sixx:AM for their long awaited North America dates in spring.
Eicca Toppinen: "When we heard about this tour, we loved the idea right away! We were on Nikki's radio show before and had a great time. I really liked Sixx:AM's first two albums and am very much looking forward to the new record. Going on tour with Sixx:AM will bring a great night of music to all our fans."
APOCALYPTICA supporting SIXX:AM:
04/08/2015 US – San Francisco, CA (The Regency Ballroom)
04/10/2015 US – Las Vegas, NV (The Joint)
04/11/2015 US – Los Angeles, CA (Club Nokia)
04/13/2015 US – Denver, CO (Ogden Theatre)
04/14/2015 US – Kansas City, MO (Midland Theatre)
04/16/2015 US – Houston, TX (Warehouse Live)
04/17/2015 US – Dallas, TX (Bomb Factory)
04/19/2015 US – Minneapolis, MN (Mill City Nights)
04/20/2015 US – Chicago, IL (The Vic Theater)
04/21/2015 US – Detroit, MI (Royal Oak Music Theatre)
04/23/2015 CA – Toronto, ON (Phoenix Concert Theatre)
04/24/2015 US – Sayreville, NJ (Starland Ballroom)
04/25/2015 US – Worcester, MA (Worcester Palladium)
04/27/2015 US – New York, NY (Best Buy Theater)
04/28/2015 US – Philadelphia, PA (Electric Factory)
04/29/2015 US – Silver Springs, MD (The Fillmore)
---
Don't forget to follow our Spotify Playlist: