The Knife Announce Their Very Last UK Tour This Autumn 2014
|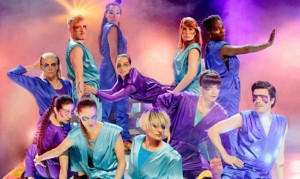 In the autumn we will round up the Shaking The Habitual Show Tour with a number of European dates. After the touring last year we reworked the show during the winter. The performers, previously known as dancers, learnt how to sing and play instruments, the stage got three levels, Shannon Funchess joined us and the show became more fun and shiny. We performed it in the US in the spring and now we would love you to join us in our dance for some last shaking moves.
The final shows will be:
Oct 31 Annexet, Stockholm
Nov 01 Film Studios, Gothenburg
Nov 03 Arena, Berlin
Nov 05 Academy, Manchester
Nov 06 Brixton Academy, London
Nov 08 Iceland Airwaves Festival
Tickets are already on sale for Berlin, Manchester and London. Tickets for the shows in Stockholm and Gothenburg will be going on general sale onMonday 25th August.
Regarding their re-working of current and classic tracks especially for this tour, Karin Dreijer says, "When we talked about going on tour again, the first idea was to make a dance show, which we also decided to do. So we had to rework the tracks to accompany that idea."  Olof Dreijer adds, "I think the dance-y beat-oriented reworks we've done are not only made to dance to in the show, but they are also a reaction towards the more distorted material on the "Shaking the Habitual" album. We keep on reacting from previous experiences."
A physical version of the band's "Shaken-Up Versions," selected tracks from this tour, will be available in November.
---
Don't forget to follow our Spotify Playlist: