Guitar Legend Steve Hillage Releases 'Live At The Rainbow 1977' CD
|
Steve Hillage is one of the most idiosyncratic and instantly recognizable guitarists in the world. Associated with the Canterbury scene, he has worked in experimental domains since the late 1960s. Besides his critically acclaimed solo recordings, along with prog legends Gong, Steve has been a member of the ensembles Khan and System 7. And now, much to the excitement of Steve Hillage fans worldwide, Gonzo MultiMedia UK has released 'Steve Hillage – Live At The Rainbow 1977' CD on June 23, 2014!
Says Steve, "I'm really happy to finally release this full live recording – it's amazing how sharp and fresh it still sounds today!"
Steve Hillage first came to prominence as a member of the multi-national rock band Gong. Steve appeared on successful albums such as 'Angels Egg', 'You' and his final album with the band 'Shamal'. Steve recorded his first solo album in 1975 entitled 'Fish Rising'. This album was recorded whilst still a member of Gong. Shortly after however, Steve and his partner Miquette Giraudy left Gong embarking on a career that continues to this day under the name System 7.
In 1976 Steve recorded the album 'L', which was produced by Todd Rundgren. The album was a huge success and Steve subsequently formed the first Steve Hillage Band, which included former Jethro Tull drummer Clive Bunker and future Camel bassist Colin Bass. The band made its live debut at the Hyde Park concert staged by Queen in September 1976.
From 1976 to 1979, Steve Hillage released several critically acclaimed albums and toured the world. This album shows the guitar icon at the top of his game, playing a classic show at the Rainbow Theatre in London in 1977 featuring songs from the album 'Motivation Radio', which was the follow up to 'L', and an amazing American rhythm section. It contains glorious, life affirming music, which is as spiritual and uplifting now as it was when recorded nearly 40 years ago.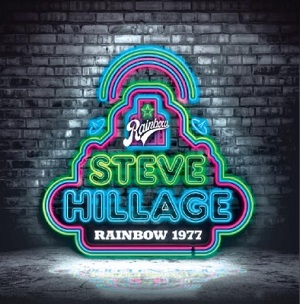 Tracks:
Octave Doctors
It's All Too Much
Light In The Sky
Radio
Electrick Gypsies
The Salmon Song
Solar Musick Suite (Part 2)
Motivation
Saucer Surfing
Searching For The Spark
Hurdy Gurdy Man
Steve currently sees his System 7, Mirror System, and Steve Hillage Band entities as operating in parallel and has been writing some new rock-based material for a possible Steve Hillage Band album for release in 2014/15. System 7 and Japanese psychedelic progressive jam-band ROVO released a new CD in September 2013.
---
Don't forget to follow our Spotify Playlist: