Sarah Jane Morris will be releaseing 'Bloody Rain' September 15th
|
Sarah-Jane Morris is the British soul, jazz and r&b singer who topped the UK pop charts for a month in 1986 (with The Communards' disco version of 'Don't Leave Me This Way') and then eloquently and joyously sidestepped the mainstream ever after. Morris's magnificent soul voice and emotional power would have brought multiple Grammy awards and celebrity status to most singers with her charisma and drive. But for over 25 years of a unique career, Morris has steered by her own star, not the music industry's, and that independence has brought her a devoted audience, inspired by her belief in the power of song to change hearts and minds.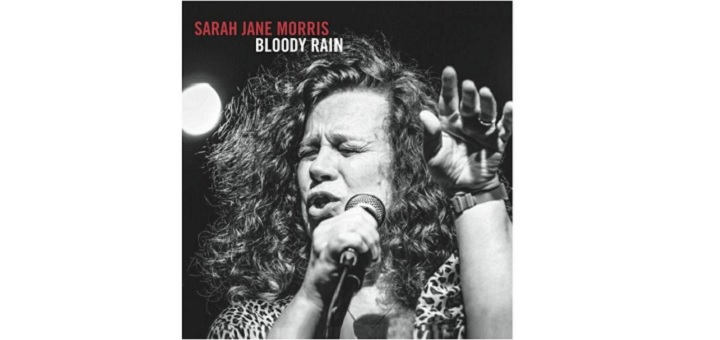 That belief inspired Bloody Rain, the ambitious new collection of love-songs, tributes, warnings and protests that she regards as the best album of her life.
Devoted to the people of Africa, and the music of that continent that has inspired so many artists for so long, Bloody Rain brings together a stunningly diverse group of performers. Among a raft of guests are the Zimbabwe-born singer Eska, Senegal's Seckou Keita on kora, UK-Caribbean saxophonist Courtney Pine, the Soweto Gospel Choir, American/Israeli jazz trumpeter Avishai Cohen, former James Brown arranger Pee Wee Ellis – and of course the soulmates from Morris's touring band, including Sting sideman Dominic Miller, and guitarist Tony Remy, co-writer of many of the new songs.
Typically, Sarah-Jane Morris doesn't flinch from some raw subjects in telling this story, and while she hopes that many of these haunting songs 'will lift your spirits', she accepts that 'some will make you weep.' Blossoming as a lyricist in recent years, the singer and her co-writers have taken on subjects from tyrannical political power ('Bloody Rain'), to honour killings ('No Beyonce'), child-soldiers ('No Comfort For Them'), and homophobia ('David Kato').
But these forthright songs, ignited by irresistable grooves, superb playing, and Morris's startling shifts from the soulfully rhetorical to the intimate, are about hope, not resignation. Bloody Rain is also, crucially, about love – in which respect, though the examples are Sarah-Jane Morris's own, the music speaks to everyone. Her husband Mark and her 80 year-old mother Joy are the inspirations for the glowing Afrobeat opener 'Feel The Love', 'For A Friend' is a tender yet upbeat tribute to special companions, 'Wild Flowers' a grateful celebration of her eccentric, accidentally-liberating upbringing, and the closing 'On My Way To You' is as delicate and tender as anything this expressive singer has recorded in her long career.
The album was created through PledgeMusic, a platform where artists and fans come together. Pledges made have raised the money to pay for the very special guests and collaborators on this album, making the kind of risky and imaginative music that Sarah-Jane Morris's audiences love. Those pledgers were treated to a one-off performance of the album on Saturday 14th June at The Hippodrome, London.
This title will be released on September 15, 2014
---
Don't forget to follow our Spotify Playlist: