Nominees for 2014 MUCH MUSIC VIDEO AWARDS Announced
|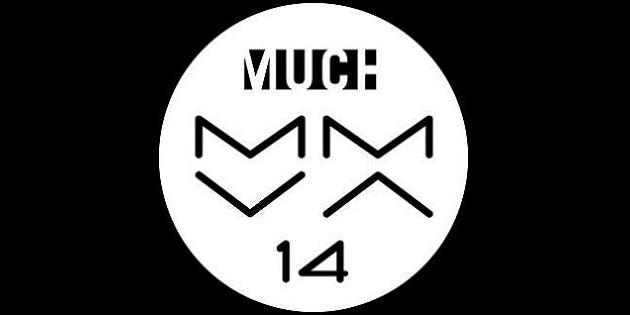 Much announced today that Toronto's very own rapper Drake and West Coast rockers Hedley are tied at the top the list with an impressive six nominations each for the 2014 MUCH MUSIC VIDEO AWARDS. Vancouver hip hop artist SonReal scored five nods, while indie ensemble Arcade Fire and alternative R&B artist The Weeknd picked up four nominations each.
Both previously announced performers Imagine Dragons and Lorde nabbed two MMVA nominations each, a first for both artists. Additional first-time nominees include music innovator Pharrell, Australian boy band 5 Seconds of Summer, Canadian artists July Talk, Keys N Krates, MAGIC!, Thugli, and many more. The stellar list of nominees join one of the hottest street parties on the planet as Kendall and Kylie Jenner co-host the 25th anniversary of the MMVAs, airing live, coast-to-coast-to-coast, Sunday, June 15 at 9 p.m. ET/6 p.m. PT, simulcast on Much, CTV, and CTV GO, with the MMVAs RED CARPET SPECIAL airing just before at 8 p.m. ET, exclusively on Much. Additional performers and presenters will be announced in the coming weeks.
"We have an outstanding list of MMVA nominees this year, and we salute each of the artists – both those in front of and behind the camera," said Sheila Sullivan, Executive Producer, 2014 MUCH MUSIC VIDEO AWARDS. "We look forward to welcoming the nominees to the one-of-a-kind MMVA experience on June 15."
Also announced today were this year's Wildcard nominee winners for the Your Fave categories. They are:
Your Fave Video of the Year – The Weeknd f. Drake for "Live For"
Your Fave Artist or Group – Avril Lavigne
Your Fave International Artist or Group – Selena Gomez
This year, a total of 26 MuchFACT-funded music videos are nominated for an MMVA, representing more than half a million dollars in investment. Nominated artists include Down With Webster, July Talk, Sam Roberts Band, Serena Ryder, SonReal, Tokyo Police Club, and many more.
Canadian Artist Nomination Tally
Drake 6
Hedley 6
SonReal 5
Arcade Fire 4
The Weeknd 4
Sam Roberts Band 3
Thugli 3
Autoerotique 2
Avril Lavigne 2
City and Colour 2
Justin Bieber 2
Serena Ryder 2
Tokyo Police Club 2
A Tribe Called Red 1
f. Northern Voice 1
Chromeo f. Toro Y Moi 1
Classified f. B.o.B. 1
D-Sisive 1
Down With Webster 1
July Talk 1
Keys N Krates 1
MAGIC! 1
Mia Martina f. Dev 1
P. Reign f. A$AP Rocky 1
Tegan and Sara 1
Victoria Duffield 1
International Artist Nomination Tally
Imagine Dragons 2
Katy Perry 2
Lorde 2
Miley Cyrus 2
Selena Gomez 2
5 Seconds of Summer 1
Avicii f. Aloe Blacc 1
Beyoncé f. Jay Z 1
Daft Punk f. Pharrell Williams 1
Disclosure f. Sam Smith 1
Foster the People 1
Iggy Azalea f. Charli XCX 1
Kanye West 1
Kings of Leon 1
Macklemore & Ryan Lewis
f. ScHoolboy Q & Hollis 1
Maroon 5 1
Mumford & Sons 1
One Direction 1
Pharrell 1
Taylor Swift f. Ed Sheeran 1
Total: 80 Nominations
Video Of The Year
Artist: Arcade Fire
Title: Afterlife
Director: Emily Kai Bock
Artist: Drake
Title: Worst Behavior
Director: Director X; Drake
Artist: Hedley
Title: Anything
Director: John JP Poliquin
Artist: SonReal
Title: Everywhere We Go
Director: Peter Huang
Artist: The Weeknd f. Drake
Title: Live For
Director: Sam Pilling
Post-Production Of The Year
Artist: City and Colour
Title: Thirst
Director: Michael Maxxis
Artist: Hedley
Title: Crazy For You
Director: Lee J. Williams; Timur Musabay
Artist: Sam Roberts Band
Title: We're All in This Together
Director: George Vale
Artist: Serena Ryder
Title: What I Wouldn't Do
Director: Frank Guidoccio
Artist: Tokyo Police Club
Title: Hot Tonight
Director: Jared Raab
Dance Video Of The Year
Artist: A Tribe Called Red f. Northern Voice
Title: Sisters
Director: Jon Riera
Artist: Autoerotique
Title: Asphyxiation
Director: Amos LeBlanc
Artist: Chromeo f. Toro Y Moi
Title: Come Alive
Director: Alex Southam
Artist: Keys N Krates
Title: Dum Dee Dum
Director: Amos LeBlanc
Artist: Thugli
Title: Run This
Director: Amos LeBlanc; Ohji Inoue
Director Of The Year
Artist: Arcade Fire
Title: Afterlife
Director: Emily Kai Bock
Artist: Drake
Title: Worst Behavior
Director: Director X; Drake
Artist: Hedley
Title: Anything
Director: John JP Poliquin
Artist: SonReal
Title: Everywhere We Go
Director: Peter Huang
Artist: Thugli
Title: Run This
Director: Amos LeBlanc; Ohji Inoue
Pop Video Of The Year
Artist: Down With Webster
Title: Chills
Director: Aaron A
Artist: Hedley
Title: Anything
Director: John JP Poliquin
Artist: Mia Martina f. Dev
Title: La La/Danse
Director: Michael Maxxis
Artist: Serena Ryder
Title: What I Wouldn't Do
Director: Frank Guidoccio
Artist: Tegan and Sara
Title: Goodbye, Goodbye
Director: Natalie Rae Robison
Rock/Alternative Video Of The Year
Artist: Arcade Fire
Title: Reflektor
Director: Anton Corbijn
Artist: City and Colour
Title: Thirst
Director: Michael Maxxis
Artist: July Talk
Title: Guns + Ammunition
Director: Josh Warburton; Adam Crosby
Artist: Sam Roberts Band
Title: Shapeshifters
Director: Dave Pawsey
Artist: Tokyo Police Club
Title: Hot Tonight
Director: Jared Raab
Hip Hop Video Of The Year
Artist: Classified f. B.o.B.
Title: Higher
Director: RT!
Artist: Drake
Title: Worst Behavior
Director: Director X; Drake
Artist: D-Sisive
Title: Friend Of Mine
Director: Briin Bernstein; Daniel "AM" Rosenberg
Artist: P. Reign f. A$AP Rocky
Title: We Them
Director: Footage
Artist: SonReal
Title: Everywhere We Go
Director: Peter Huang
MuchFACT Video Of The Year
Artist: Autoerotique
Title: Asphyxiation
Director: Amos LeBlanc
Artist: Sam Roberts Band
Title: Shapeshifters
Director: Dave Pawsey
Artist: SonReal
Title: Everywhere We Go
Director: Peter Huang
Artist: Thugli
Title: Run This
Director: Amos LeBlanc; Ohji Inoue
Artist: Victoria Duffield
Title: More Than Friends
Director: John JP Poliquin
International Video Of The Year – Artist
Artist: Avicii f. Aloe Blacc
Title: Wake Me Up
Director: Mark Seliger
Artist: Beyoncé f. Jay Z
Title: Drunk In Love
Director: Hype Williams
Artist: Iggy Azalea f. Charli XCX
Title: Fancy
Director: Julien Christian Lutz
Artist: Kanye West
Title: Bound 2
Director: Nick Knight
Artist: Katy Perry f. Juicy J
Title: Dark Horse
Director: Mathew Cullen
Artist: Lorde
Title: Royals
Director: Joel Kefali
Artist: Miley Cyrus
Title: Wrecking Ball
Director: Terry Richardson
Artist: Pharrell
Title: Happy
Director: We Are From L.A.
Artist: Selena Gomez
Title: Come & Get It
Director: Anthony Mandler
Artist: Taylor Swift f. Ed Sheeran
Title: Everything Has Changed
Director: Philip Andelman
International Video Of The Year – Group
Artist: 5 Seconds of Summer
Title: She Looks So Perfect
Director: Frank Borin
Artist: Daft Punk f. Pharrell Williams
Title: Lose Yourself To Dance
Director: Paul Hahn; Guy-Manuel de Homem-Christo; Warren Fu; Cedri Hervet
Artist: Disclosure f. Sam Smith
Title: Latch
Director: Ben Murray; Ross McDowell
Artist: Foster The People
Title: Coming Of Age
Director: Kyle Wightman; Alex Lee
Artist: Imagine Dragons
Title: Demons
Director: Isaac Halasima
Artist: Kings Of Leon
Title: Supersoaker
Director: WIZ
Artist: Macklemore & Ryan Lewis f. ScHool Q & Hollis
Title: White Walls
Director: Ryan Lewis; Macklemore
Artist: Maroon 5
Title: Love Somebody
Director: Rich Lee
Artist: Mumford & Sons
Title: Hopeless Wanderer
Director: Sam Jones
Artist: One Direction
Title: Story Of My Life
Director: Ben Winston
International Video Of The Year By A Canadian
Artist: Avril Lavigne
Title: Rock N Roll
Director: Chris Marrs Piliero
Artist: Drake f. Majid Jordan
Title: Hold On, We're Going Home
Director: Bill Pope
Artist: Justin Bieber
Title: All That Matters
Director: Colin Tilley
Artist: MAGIC!
Title: Rude
Director: David Rousseau
Artist: The Weeknd
Title: Belong To The World
Director: Anthony Mandler
Your Fave Artist/Group
Artist: Avril Lavigne
Artist: Drake
Artist: Hedley
Artist: Justin Bieber
Artist: The Weeknd
Your Fave Video
Artist: Arcade Fire
Title: Reflektor
Director: Anton Corbijn
Artist: Drake
Title: Worst Behavior
Director: Director X; Drake
Artist: Hedley
Title: Anything
Director: John "JP" Poliquin
Artist: SonReal
Title: Everywhere We Go
Director: Peter Huang
Artist: The Weeknd f. Drake
Title: Live For
Director: Sam Pilling
Your Fave International Artist or Group
Artist: Imagine Dragons
Artist: Katy Perry
Artist: Lorde
Artist: Miley Cyrus
Artist: Selena Gomez
---
Don't forget to follow our Spotify Playlist: