New Clara Barker album out now
|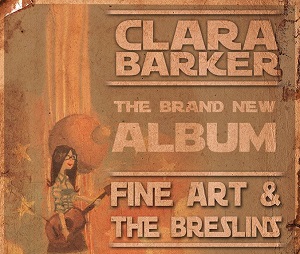 Small Bear Records are delighted to announce the release of 'Fine Art & The Breslins', the new album from Manx singer-songwriter Clara Barker. The sophomore album from Clara (and her first release on Small Bear Records) features eleven songs of love and longing along with odes to sleep and Tennessee's finest. It also features beautiful artwork by Oscar-nominated artist Juan 'Fine Art' Moore.
Alasdair Stuart says "Fine Art & The Breslins is proof that Difficult Second Album Syndrome isn't a thing. Clara, and production partner in crime Phil Reynolds have created a collection of songs that's funny, gentle, brutal, clever and completely open hearted. It's an extraordinary achievement from a remarkable artist and it's available now." We couldn't agree more and hope that you will feel the same.
The album contains 11 great tracks, but all purchases from Bandcamp also include four bonus tracks as a special thank you for buying direct from the artist.
---
Don't forget to follow our Spotify Playlist: