British heavy metal legends SAXON to release live album
|
Each year, British heavy metal legends Saxon honor a fine tradition of paying homage to England's patron Saint George by putting on a spectacular annual show on St. George's Day (April 23rd). The band's new live album, St. George's Day Sacrifice – Live in Manchester, was recorded at last year's performance on that special day, specifically at The Ritz in Manchester, England during the band's 'Sacrifice World Tour'. The album, mixed and mastered by Andy Sneap and produced by SAXON vocalist Biff Byford, hits stores in the U.S. on April 29, 2014 via UDR Music.
This 2 CD set (also available in digital format) finds a blistering performance covering a collection of Saxon's finest work from 1979 up to 2013. A very special rendition of 'Broken Heroes' goes straight to the heart and is dedicated to The British Armed Forces. This is Saxon at their best – a real treasure rejoicing every fan.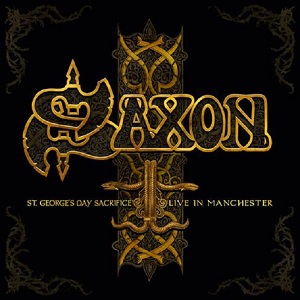 St. George's Day Sacrifice – Live in Manchester tracklisting:
CD 1 – running time 61:05 minutes
01 Sacrifice
02 Wheels Of Terror
03 Power And The Glory
04 Made In Belfast
05 Rock'n Roll Gypsy
06 And The Bands Played On
07 I've Got To Rock (To Stay Alive)
08 Night Of The Wolf
09 Conquistador
10 Broken Heroes
11 Guardians of The Tomb
CD 2 – running time 59:08 minutes
01 Never Surrender
02 Ride Like The Wind
03 Crusader
04 Stand Up And Fight
05 Dallas I PM
06 747 (Strangers In The Night)
07 Wheels Of Steel
08 Strong Arm Of The Law
09 Denim And Leather
10 Princess of The Night
Saxon's most recent studio album, Unplugged and Strung Up, debuted at #52 on the Billboard Heatseekers chart, as well as #89 on the Top Rock chart in its first week of release! Unplugged and Strung Up is an amazing full-length release of fresh twists on classic tracks. Featuring staple SAXON stormers such as 'Motorcycle Man', 'Strong Arm of the Law' and 'Dallas 1pm', it is a quintessential part of any collection. Recorded, mixed and mastered with Andy Sneap in Derbyshire, UK last year, Biff and co. re-evaluated, re-worked and re-energized the towering likes of 'The Eagle Has Landed' and 'Crusader' by introducing orchestral dynamics to offer added dimension. 'Frozen Rainbow' from the band's 1979 debut, gets a stunning acoustic reprisal which transports it into a power ballad to be proud of, whilst 'Red Star Falling' soars and sweeps the emotions with its orchestrally-arranged dovetail.
---
Don't forget to follow our Spotify Playlist: