Pharrell Williams' "Happy" Tops The Billboard Hot 100
|
Pharrell Williams' "Happy" has become the #1 song in the country this week, topping Billboard's Hot 100 chart. The Oscar-nominated hit single, which Pharrell will perform this Sunday at the 86th Annual Academy Awards, is one of 10 new songs featured on his album G I R L, set to be released worldwide this coming Monday, March 3. Visit iTunes now to stream the album: http://smarturl.it/GIRLitunes. Pre-order G I R L here: http://smarturl.it/GIRLalbum.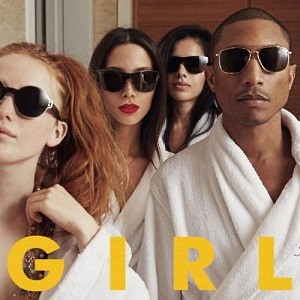 The New York Times, which calls Pharrell "one of the most transformative music figures of the last year," describes G I R L as "an overwhelmingly positive album, cheery in mood and instrumentation, as if Mr. Williams knows something the rest of us do not." USA Today echoes, saying Pharrell "cranks out tunes that are as giddily accessible as they are texturally sophisticated…Williams' ebullient musical savvy is everywhere." And in its track-by-track review, Billboard says G I R L is "a relentlessly positive and unselfconsciously joyful tour de force."
"Happy" is Pharrell's first Billboard Hot 100 #1 hit as a lead artist, though he is no stranger to the chart. Previous chart-topping tracks Pharrell has been featured on include Snoop Dogg's "Drop It Like It's Hot," Ludacris' "Money Maker," and most recently, Robin Thicke's "Blurred Lines" (also featuring T.I.). With 402,000 downloads of "Happy" sold this past week, the sum marks the largest sales week for a song outside the Christmas season since Miley Cyrus' "Wrecking Ball" last September. "Happy" is also the Hot 100's top Airplay Gainer for the fifth week in a row, as well as top Digital Gainer for the third consecutive week.
Currently #1 on iTunes' Songs chart in the U.S., the song has topped the chart in more than 75 countries, selling nearly 4 million downloads worldwide. With more than 152 million in audience, the song is currently charting at seven U.S. radio formats—Top 40, Rhythm, AC, Hot AC, Urban, Urban AC, and AAA. Around the world, "Happy" tops radio charts in 14 countries including Australia, France, Germany, U.K., Belgium, Denmark, Hungary, Ireland, Italy, Netherlands, New Zealand, South Africa, Switzerland, and Poland.
---
Don't forget to follow our Spotify Playlist: