Asian Dub Foundation's album to drop
|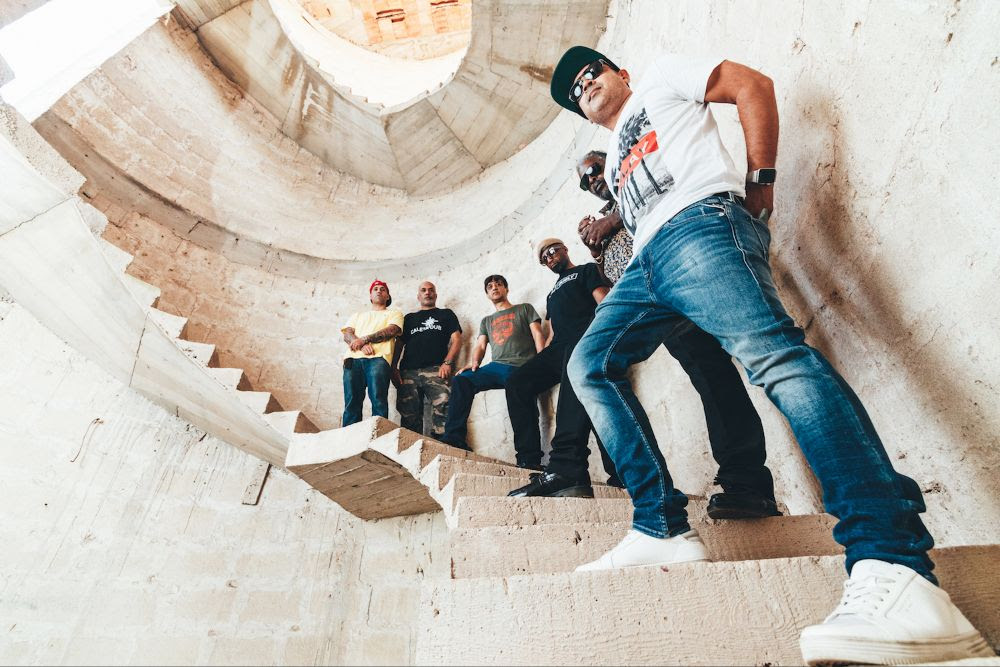 Thunderous. Uncompromising. Radical. One of the most original and influential bands of the last thirty years, Asian Dub Foundation return with their ninth studio album 'Access Denied'.
'Access Denied' is an avalanche of wildstyle jungle punk, orchestral drum'n'bass, Indo-ragga dub and militant-lyrical soundclashing confronting themes surrounding Brexit, hostile border policies and the climate crisis.
Featuring contributions from a quite formidable cast of trailblazing activists, artists and agitators, including voice of a generation Greta Thunberg, Palestinian shamstep warriors 47Soul, Chilean vocalist and voice of recent protests in Chile, Ana Tijoux, beatboxer and vocal extraordinaire Dub FX, as well as the shrewd UK comedian Stewart Lee, ADF form an unprecedented union of voices unlike any album that has come before.
Exactly 25 years on from the group's landmark debut album Facts and Fictions and comprising key members Steven "Chandrasonic" Savale, Dr. Das, Nathan "Flutebox" Lee, Aktar "Aktavator" Ahmed, Stephen "Ghetto Priest" Townsend and former Prodigy drummer Brian Fairbairn, Asian Dub Foundation are as commanding and vital as ever. Following last year's reissue of ADF's seismic 1998 Mercury-Prize nominated third album RAFI's Revenge (London Records) and the group's extensive schedule of live dates as well as performances of their much-famed rescore of Mathieu Kassovitz's cult classic film La Haine, 'Access Denied' sees ADF return to base with their first album proper since 2015's 'More Signal, More Noise'.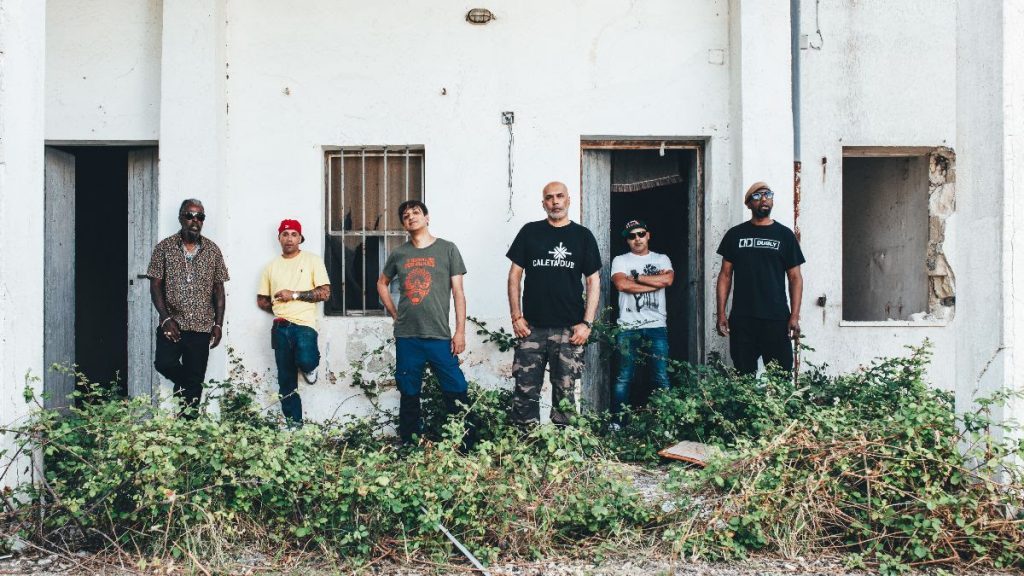 Indo-jungle-punk banger, 'Stealing The Future' rings the lyrics "hands up if you're a citizen of nowhere and you're not scared", a riposte to former UK prime minister Theresa May's comments in 2016 following the Brexit referendum. Under a bed of tripped-out distorted guitars and lashing Amen-break drums, Asian Dub Foundation's call to reclaim the rhetoric from incompetent political figures and rally against divisive anti-immigrant sentiment is a stirring and uplifting ode to the group's "conscious party" approach, (referring to a live album the group produced in 1998 with the same name) something lead guitarist and ADF co-founder Steven Savale is intent on harnessing on 'Access Denied'. "Music works viscerally. This is not defeatist music. It's not a lock-yourself-away-from-the-world music. It taps into the hedonistic urge to dance and party. But it has this sense that your dancing and partying against the way things are".
David Cameron, another former UK prime minister made official comments referring to immigrants as a "swarm of people", which is the stimulus for ADF's 'Swarm', a dubbed-out ADF take on Bob Marley's Exodus, celebrating the strength of collective action, whilst the group enlist pioneering "shamstep" 4-piece (a fusion of electronic hip-hop and traditional dabke dance music) and Palestinian exiles, 47Soul, on 'Human 47', an "Indo-Ragga/Palestinian soundclash" detailing the destructive effects of national border politics. Following the group's 2015 single Flyover reproving rising pollution levels in London, ADF revert their attention back to the on-going climate crisis on 'Access Denied' with 'Youthquake Pt. 1', featuring a chopped up version of teen activist, Greta Thunberg's powerful UN speech outlining the concerns of her generation and millions worldwide on the future sustainability of the planet. Vocalist/MC and outspoken supporter of nationwide student protests against high costs of living in Chile, Ana Tijoux features on remixed version of 'Frontline', this time 'Frontline Santiago', her agile flow entwining flute-led beats. Elsewhere, a sampled excerpt of comedian Stewart Lee's astute sketch on immigration to Britain across the years on 'Coming Over Here' and street looping, Australian beatbox vocalist Dub FX ('Smash And Grab The Future') make up the final list of features on 'Access Denied'.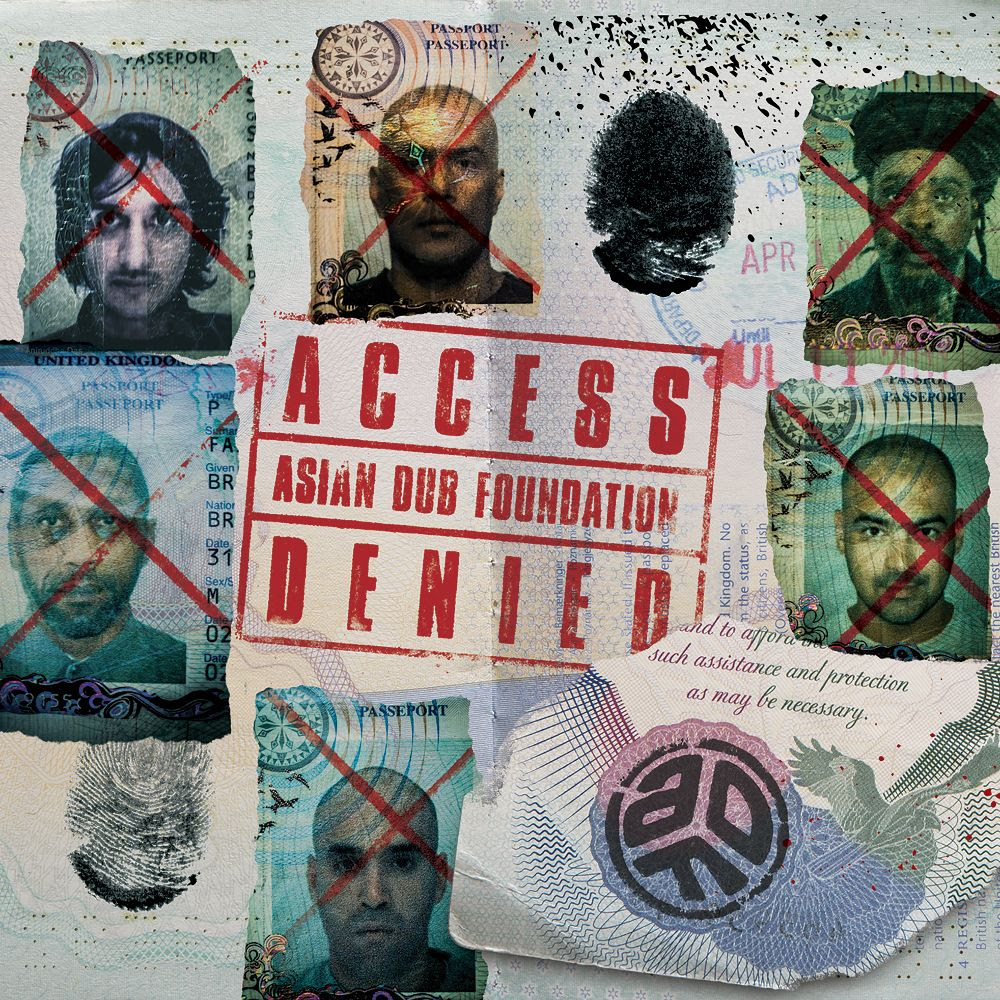 Equally powerful are the soundclash instrumentals on 'Access Denied' – tracks like 'Realignment' and 'Mindlock'. Composed for their live re-score of George Lucas' Sci-Fi classic 'THX 1138' 'Mindlock' is a full-on futuristic drum'n'Bass noisefest set over an industrialised Iranian frame drum, whilst 'Realignment', an orchestral companion to 'New Alignment' features a string section arranged by Hannah Staphnill, layered above hypnotic tabla melodies and percussion.
Following years of damaging public sector cuts and emboldened by nationalist politics and swathes of opposition to multiculturalism, the UK, many would argue, is in dire need for a global reset, still the enigmatic ADF crew have long forewarned the arrival of this day years before, the group's 2003 track Fortress Europe coming to mind. Nevertheless, Asian Dub Foundation break new ground with devastating effect on 'Access Denied' (announced the day the UK left the EU), a booming fourteen-track collision of seminal contemporary thought and daring sonic vision.
Tracklisting
1)    Can't Pay Won't Pay
2)    Stealing the Future
3)    Frontline
4)    Access Denied
5)    Realignment
6)    Coming Over Here ft. Stewart Lee
7)    Human 47 ft. 47 Soul
8)    Mindlock
9)    Swarm
10)   Lost In the Shadows
11)   Youthquake Pt 1 Greta Speaks
12)   New Alignment
13)   Frontline Santiago ft. Ana Tijoux
14)   Smash and Grab The Future ft. Dub Fx
---
Don't forget to follow our Spotify Playlist: