The Grammy Museum and Midwest Music Museum Present: Ladies and Gentlemen . . . The Beatles!
|
Ladies and Gentlemen…The Beatles!, a traveling exhibition curated by the Los Angeles-based Grammy Museum, will make a stop in Bloomington, Minn. at the Midwest Music Museum located at Mall of America®, it was announced today. The exhibition – which debuted at the New York Public Library for the Performing Arts at Lincoln Center on February 6, 2014 – explores and celebrates The Beatles' impact on the American Experience from the fan perspective. On display will be original Beatles materials including memorabilia, records, photographs, tour artifacts, videos, and more. Additionally, The Grammy Museum will provide Beatles-related educational content and programming to local-area students.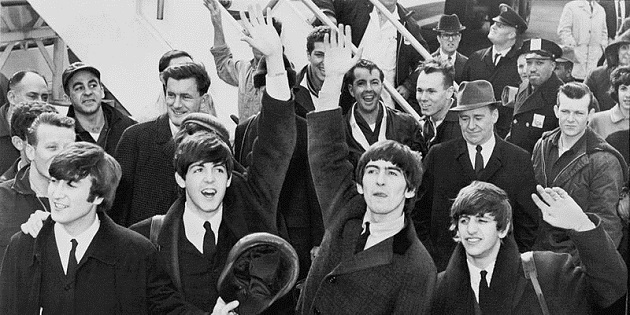 "We are very excited to announce the addition of the Midwest Music Museum to the official traveling schedule of Ladies and Gentlemen…The Beatles!," said Bob Santelli, Grammy Museum Executive Director. "Located on the historic site of Metropolitan Stadium, where The Beatles performed for the first time in Minnesota as part of their legendary 1965 tour, the exhibition will not only serve as a musical reflection, but a cultural one as well."
On February 7, 1964, four lads from Liverpool, England, stepped onto American soil for the first time as a band. Their performance on The Ed Sullivan Show two days later officially launched the years-long frenzy that followed, known as "Beatlemania." The cultural and musical landscape of America was forever changed by The Beatles. From their press conference at John F. Kennedy Airport in New York in 1964 to their 1966 concert at Candlestick Park in San Francisco, this exhibition documents John, Paul, George and Ringo's journey across America, using original artifacts, film and video interviews, photographs and interactive experiences to tell the story.
In addition to the exhibition, The Grammy Museum will provide educational programming opportunities and curricula to local-area students, which, through the story of Beatlemania, will focus on the cultural impact that music has on society.
"More than 12,000 groups visit Mall of America each year, which includes school groups and youth organizations," said Dan Jasper, Mall of America. "We'd like to use this opportunity to not only celebrate the extraordinary musical legacy of The Beatles with the legions of fans already out there, but also introduce The Beatles to the next generation of music lovers."
---
Don't forget to follow our Spotify Playlist: