The National, Mogwai, Slowdive, Pixies, Kendrick Lamar And More Announced For Optimus Primavera Sound 2014
|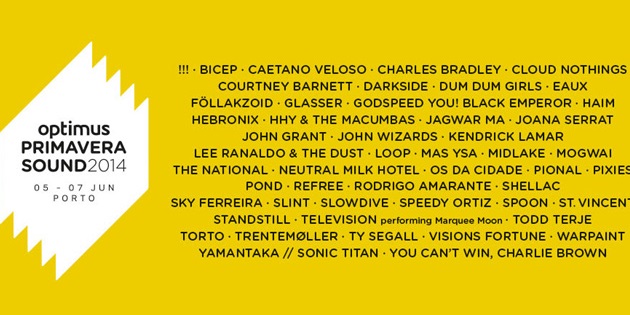 Optimus Primavera Sound has just announced the complete line-up for its third edition. After announcing Neutral Milk Hotel, the charismatic band led by Jeff Mangum, and Frank Black's band, Pixies, the festival reveals the names that will be at the Parque da Cidade in Porto between June 5th and 7th.
Among all the confirmed names, we reinforce the presence of American band The National, the Californian rapper Kendrick Lamar and the legendary and influential Brazilian singer Caetano Veloso.
The first festival shows for newly reformed British band Slowdive, New Yorkers Television with their master piece "Marquee Moon", Spoon's effervescent pop, who have a new record, the third reincarnation of Slint claiming their crucial role in the appearance of slowcore and the presentation of the new record by Scottish band Mogwai are also added to this edition's line-up.
Current names arrive at Optimus Primavera Sound to showcase their more recent work: Nicolas Jaar's new project, Darkside, Danish artist Trentemøller, with his melancholy fusion of indie and electronica, the Haim sisters with the recently acclaimed phenomenon "Days Are Gone", and the fiery electronica of !!! (chk chk chk) and St. Vincent with a new self-titled album that proves, once again, that there is a great gap between conventional pop and the sonic fusion created and reinvented by the New Yorker.
A true heterogenic mix of musical styles is going to invade the city of Porto: the post-rock of the Canadian band Godspeed You! Black Emperor, Charles Bradley's soul, the intimate sound of Rodrigo Amarante, or noisy British band Loop are some of the names that compose an eclectic and varied line-up.
Also, in the national landscape, we find bands with several musical references. Lisbon band You Can't Win Charlie Brown will come to Optimus Primavera Sound with "Diffraction/Refraction", a more challenging and sophisticated album than "Chromatics", where vocal harmonies and the constant dialogue between folk and electronica are deepened. Also Os Da Cidade, a band that joins António Zambujo, Ricardo Cruz, João Salcedo and Miguel Araújo Jorge, promise to reinvent some of the traditional Portuguese sounds to cover them with a personal and delicate touch. HHY & The Macumbas, a project led by Jonathan Uliel Saldanha, will take their electrifying dub rhythms to the Parque da Cidade, for an extra sensorial experience, while Torto showcase, the hungry instrumental trio, in a fusion of guitar, bass and drums invites to a bold stroll outside each person's "comfort bubble".
TICKETS AND SALES POINTS
The Optimus Primavera Sound general pass costs 90 until February 17th. From the 18th onwards, the ticket for the festival's third edition will be available at the price of 105.
THURSDAY, JUNE 5th
Caetano Veloso, Haim, Jagwar Ma, Joana Serrat, Kendrick Lamar, Os Da Cidade, Rodrigo Amarante, Spoon
FRIDAY, JUNE 6th
Bicep, Courtney Barnett, Darkside, Föllakzoid, Godspeed You! Black Emperor, HHY & The Macumbas, John Wizards, Loop, Midlake, Mogwai, Pixies, Pond, Shellac, Sky Ferreira, Slowdive, Television performing Marquee Moon, Todd Terje, Trentemöller, Visions Fortune, Warpaint, You Can't Win, Charlie Brown
SATURDAY, JUNE 7th
!!! (chk chk chk), Charles Bradley, Cloud Nothings, Dum Dum Girls, Eaux, Glasser, Hebronix, John Grant, Lee Ranaldo & The Dust, Mas Ysa, Neutral Milk Hotel, Pional, Refree, Slint, Speedy Ortiz, St. Vincent, Standstill, The National, Torto, Ty Segall, Yamantaka // Sonic Titan
---
Don't forget to follow our Spotify Playlist: