We Are Family Foundation® Announces 2014 Celebration Gala to honor Nelson Mandela
|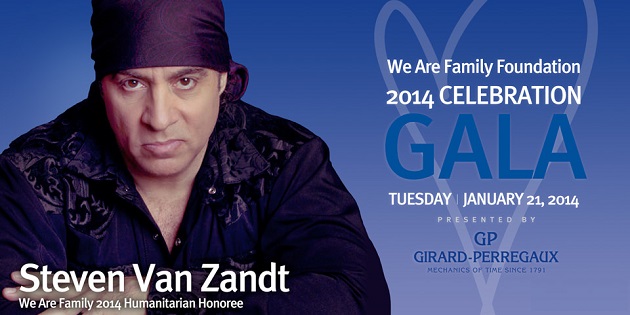 We Are Family Foundation® (WAFF), a not-for-profit organization founded by musician/songwriter/producer Nile Rodgers, has announced its 2014 Celebration Gala, presented by Girard-Perregaux, at Manhattan Center's Hammerstein Ballroom (311 w. 34th Street) on Tuesday, January 21, 2014. The evening begins with a reception at 6:30pm with dinner, live auction and concert following at 7:30pm.
Taking as its theme the Nelson Mandela quote and philosophy, "It is music and dancing that make me at peace with the world," the annual WAFF benefit event, hosted this year by actor/comedian Russell Peters, will include a concert and musical tribute to Nelson Mandela featuring Steven Van Zandt, Nile Rodgers & CHIC and special guests.
Acclaimed musician, producer, songwriter, international DJ, activist, director, actor and the founding member of Bruce Springsteen and the E Street Band, Steven Van Zandt , will be honored with this year's We Are Family Foundation Humanitarian Award. Steven created Artists United Against Apartheid and released the anthemic single "Sun City" in 1985 – an effort which is largely considered as one of the last blows to Apartheid leading to the eventual release of Nelson Mandela.
Nicole and Matthew Mellon , founder of HanleyMellon.com and partner at Coin Validation respectively, will be honored with the Visionary Award for their continued support of their families' philanthropic legacies dedicated to exceptional education and preservation of the arts – The National Gallery of Art, Carnegie-Mellon University, Drexel University, The King's College of New York City and the Boys and Girls Clubs of New York.
WAFF will present the Mattie J.T. Stepanek Peacemaker Award, named for the peace advocate and best-selling poet who died in 2004 at age 13, to Emmanuel Jal . In the war torn region of Southern Sudan, Jal was born into the life of a child soldier. As a survivor of the war, Jal emerged as an activist, dedicated to helping people overcome the effects of war and poverty, and a recording artist, achieving worldwide acclaim for his music with its message of peace and reconciliation.
"The We Are Family Foundation was born as a result of 9/11, after which I asked the question, 'Can we organize for peace half as effectively as others do for hate?'" says Nile Rodgers, Founder & Chairman of the We Are Family Foundation. "My song, 'We Are Family,' was the inspiration to bring people together, celebrate our differences and share ideas across borders in order to solve some of the bigger problems facing our world. We are inspired by each of our honorees this year because of their dedication and passion to making the world a better place – it is their lifelong missions."
The funds raised at this year's Celebration Gala will support WAFF's mission and existing programs including Three Dot Dash, WAFF's signature program, which identifies, supports and mentors Global Teen Leaders actively working on programs that address basic human needs and promoting a more peaceful world; and TEDxTeen, a global educational platform for extraordinary teens to share their stories and inspire millions.
Swiss luxury brand Girard-Perregaux will be unveiling a specially designed limited edition Chrono Hawk, one of which will be revealed during the Celebration Gala Live Auction. "We are thrilled to be supporting We Are Family Foundation with this timepiece that features the 'heart' of the foundation's logo, an homage to WAFF's work that inspires and transforms the hearts of young visionaries around the world" says Michele Sofisti, CEO of SOWIND and Girard-Perregaux.
To purchase tickets, or to make a contribution to the We Are Family Foundation, please visit wearefamilyfoundation.org. Contributions are fully tax-deductible to the extent allowed by law.
---
Don't forget to follow our Spotify Playlist: