Alice Cooper Slides in to the White Castle Cravers Hall of Fame
|
White Castle's Cravers Hall of Fame has a new inductee, the legendary "Architect of Shock Rock" – Alice Cooper. While visiting Columbus during his 2014 All Bad Things tour, Cooper stopped by the Columbus-based White Castle home office for a VIP tour, induction ceremony and an impromptu jam session.
"When we heard about Cooper's life-long love of our hot and tasty sandwiches, we knew he had to be a part of the Cravers Hall of Fame," said Jamie Richardson, White Castle vice president. "He is a legend in the rock 'n' roll world, and now he is a legend at White Castle."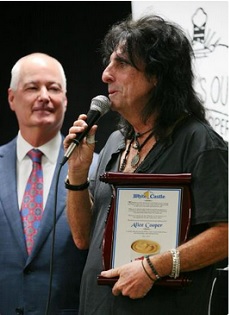 Presented with a plaque and a live cover performance of a few of his most notable songs, Cooper was honored in true Craver fashion. However, he is no stranger to Hall of Fame inductions. In 2011, he and his band were inducted into the Rock and Roll Hall of Fame. Cooper is the first Rock and Roll Hall of Famer to be inducted into the Cravers Hall of Fame.
"It's probably one of the most all-American things that there is, White Castles. So I feel like it's the one product that hasn't changed over all the years. Everything tastes differently now. But White Castle tastes exactly the same," said Cooper.
In 2002, White Castle began to induct public figures, celebrities and pop icons that had publicly shown their love of White Castle. Other celebrity Cravers who have been honored include current Speaker of the House John Boehner; Alex Weresow, a Los Angeles television producer; and the stars of "Harold & Kumar Go to White Castle," John Cho and Kal Penn.
To enter the 14th Annual Cravers Hall of Fame Contest – Cravers can submit original stories about their relationship with White Castle, why it is meaningful to them and the efforts they have undertaken to satisfy their cravings for the one of a kind taste of White Castle. Potential Hall of Famers can learn more by visiting: http://www.whitecastle.com/cravers/hall-of-fame/new. Stories are evaluated for originality, duration and extent of the "Crave." Cravers have until July 31 to submit their entries. If selected as honorees, winners are invited to Columbus, Ohio, to attend the Hall of Fame induction ceremony this October.
---
Don't forget to follow our Spotify Playlist: