Snowstar Records celebrates its 10 year anniversary
|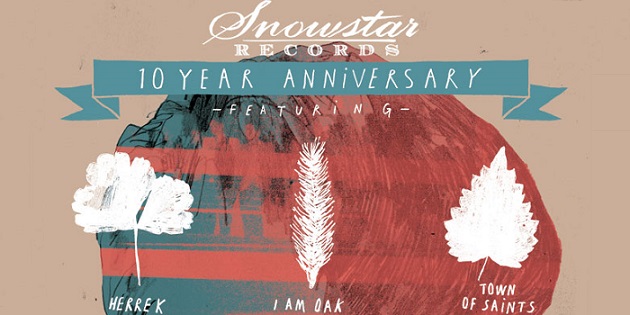 Dutch indielabel Snowstar Records has been around for ten years this coming December. To mark this rejoicing, the label hosts a big party in Tivoli Oudegracht, Utrecht on December 13. The venue will be transformed into one big Snowstar adventure full of shows, listening sessions, dj-sets and a label market.
Snowstar Records was founded in 2003 by Cedric Muyres and grew out to become one of the biggest national indie/folk-labels. It gained critical attention by signing acts such as I am Oak, Kim Janssen, and most recently, Town of Saints. Snowstar Records also released the first music of established Dutch act Kensington back in 2008.
"I am very proud of what Snowstar Records has become in ten years time. We created milestones along the way by always letting the quality of the releases speak for themselves; from winning awards to sold out shows in Europe. Now it is time to look back at all this and celebrate", explains labelmanager Muyres. "It will be more than just an evening with bands, we will throw a massive party!"
The whole of Tivoli will be taken over by special events in different parts of the venue. I am Oak, Town of Saints and Herrek will play the big room. A second stage will host intimate sessions of Kim Janssen, Bart van der Lee, and Lost Bear. In a hidden part of Tivoli you can subscribe to an exclusive listening session of a new album that is yet to be released; The World Of Dust – Bhava.
For the first time in Utrecht, and in cooperation with initiator Excelsior Recordings, the fourth Independent Label market will be hosted in the Spiegelbar. The Spiegelbar will also be the place to be for the afterparty: until 4am there will be dj-sets of Snowstar artists and friends.
Full line-up:
– I am Oak
– Town of Saints
– Herrek
– Kim Janssen
– Bart van der Lee
– Lost Bear
– The World Of Dust
– The Independent Label market
---
Don't forget to follow our Spotify Playlist: