Legendary Albums: Deceptive Bends (10CC)
|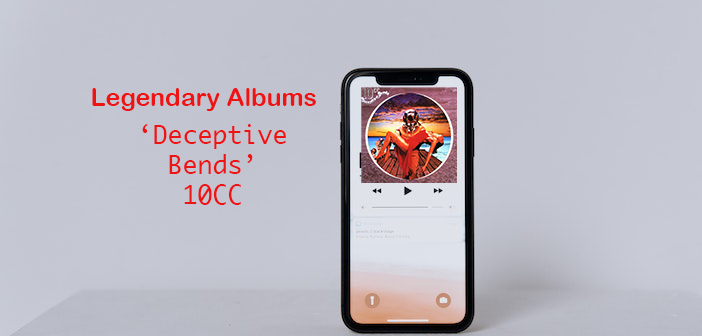 Of course, there will always remain a number of parlous, conservative purists who, while not begrudging 10cc their well-earned place in rock music history, will continue to insist that the departure of Kevin Godley and Lol Creme meant that the band had lost its musical and artistic catalysts, and that this immediately marked the artistic end of the band. For this group of historically deaf fanatics, "Sheet Music" the 1974 album will always remain the band's best album.
Of course, Godley & Creme's departure can be attributed to the different artistic views between the two artists on the one hand, and the hard-working composers and producers Eric Stewart and Graham Gouldman on the other, and this is true, but in the historiography, the business side of the story is often not sufficiently highlighted. Godley & Creme also believed they were better off business-wise without Gouldman and Stewart, because they also wanted to exploit the gizmotron they developed themselves business-wise by giving the instrument a more important place in music. The song identified by Graham Gouldman as the final deal breaker is "People in Love" which Godley & Creme really hated. They just didn't want to participate in it. The song drove a wedge into the band and eventually split them into two 5cc. The band eventually went so far as to have each band member record their own version of the song, to see if they could still get out that way. They didn't succeed. The atmosphere became subdued and eventually, during a meeting, Eric Stewart was initially kicked out of the band for being too dominant in the studio. Graham Gouldman really doesn't want to make the infamous "Gizmotron" album either, so he eventually decides to continue with Eric Stewart as 10cc In the end, Lol & Creme never became as successful as they were in 10cc with music. I rest my case.
After the departure of both artistes, 10cc made the album "Deceptive Bends" with drummer Paul Burgess, who plays in the band to this day. The album, released on 25 April 1977, is still 10cc's second most successful album and is only surpassed in terms of commercial success by "Bloody Tourists" the album containing the mega-hit "Dreadlock Holiday".
"Deceptive Bends" is the album that shows 10cc can make a beautiful concept album, even without Godley & Creme, that is also commercially successful. The album is a showcase of the quality of songwriting by Gouldman and Stewart , as well as being a great example of how the duo worked together as producers and managed to produce commercially successful hits like "Good morning Judge", "The Things we do for Love" and "People in Love", in addition to beautiful and timeless album pieces like "Feel the Benefit", which to this day is a highlight at a 10cc live show. Nice detail is to know that part of the success can be traced back to the philosophy behind mixing the album. You can mix music for listeners with an expensive, high-end sound system that sounds like a bell. Gouldman and Stewart, however, decided to mix their music for the common man with house, garden and kitchen stereo sets. That way, their music sounds good everywhere. This philosophy has been adopted by almost every sound engineer in the world. sound mixes today are judged by how they sound on a smartphone or a cheap car radio.
"People in Love" has indeed become a model for the quintessential Stewart/Gouldman sound. As a duo, both men could read and write with each other. Arranger Del Newman's contribution to the sound of "Feel the Benefit" and "People in Love" should not go unmentioned. Working with Newman, who had previously collaborated as an arranger on albums by friend of 10cc Neil Sedaka, as well as albums by Paul Simon , Charles Aznavour and on "Band on the Run" by McCartney's Wings, turned out to be a golden opportunity for the duo.
"Deceptive Bends" also has one of the most beautiful album covers known, a diver emerging from the water with a woman dressed in a red dress. Of course, another creation by British design group Hipgnosis, which also made famous album covers for, for instance, Pink Floyd's "Atom Heart Mother" and "Tales of Mystery and Imagination", the first album by the Alan Parsons Project.
"Deceptive Bends" received mixed reviews when it was released. Surely the moderate and negative reviews were mainly about the hypothesis that the band had lost its artistic conscience with Godley & Creme. They had allegedly become too commercial. Nice to see how the passage of years can lead to advancing insight. Listening back to the album in 2023, with the knowledge of what is being dropped on the market now, no one will take it into their head to say that "Deceptive Bends" is too commercial an album. "Deceptive Bends" is a beautiful album that captures the resilience of a band rising like a phoenix, showing stronger than ever that music is art. Even now almost fifty years later, it remains a wonderful album to listen to, and live the band still performs a significant part of this album. It has more than stood the test of time. For those who don't know it yet, take an hour and listen to the album in its entirety from "Good Morning Judge", the opener to "Feel the Benefit", the closing track. You won't regret it.
---
Don't forget to follow our Spotify Playlist: