Craft Recordings announces audiophile pressing of 'A Dave Brubeck Christmas'
|
Craft Recordings announces a special gift for jazz fans this holiday with a new audiophile pressing of A Dave Brubeck Christmas. Originally released in 1996, this bestselling title marks the legendary pianist's sole holiday outing, as he interprets yuletide classics like "Santa Claus Is Coming to Town," "Winter Wonderland" and "The Christmas Song," as well as stirring originals ("To Us Is Given," "Run, Run, Run to Bethlehem"). Available September 22nd, this new 2-LP, 180-gram vinyl edition of A Dave Brubeck Christmas features lacquers cut at 45 RPM by Ryan Smith, delivering the highest quality listening experience.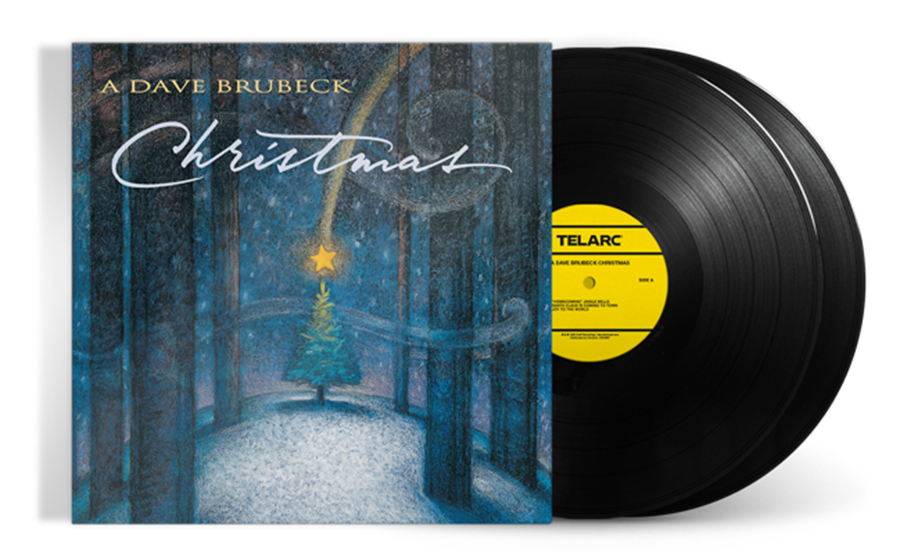 One of the most important and innovative figures in the post-war cool jazz movement, Dave Brubeck (1920–2012) captured the ears of a generation, rising to become one of music's biggest stars. Despite his global popularity and crossover appeal, however, Brubeck did not release an album of Christmas music until the latter quarter of his six-decade-long career. The resulting record was a welcome—and utterly refreshing—addition to the modern-day holiday cannon.
Featuring Brubeck on the piano, without accompaniment, the stripped-down set was recorded in a single day at Stamford, CT's Ambient Recording Studio, with nearly every track captured in just one take. Russell Gloyd, who served as Brubeck's longtime producer, manager and conductor, spoke to Chicago Tribune columnist Mary Schmich about the album in 2018. "Listen to any track and it is Dave playing directly to you," he noted. "Listen to Dave's 'Joy to the World'…You hear the church bells. It's not Dave improvising, it's Dave painting a picture." Brubeck didn't deliver a cookie-cutter holiday album. Like everything he did, A Dave Brubeck Christmas defies expectations, offering listeners a reflective performance that mirrors the entire range of moods that the holiday season often evokes.
The pianist puts his own thoughtful touch on well-loved holiday fare, including "Away in a Manger," "O Little Town of Bethlehem" and "What Child Is This? (Greensleeves)," delivering a performance that feels wistful, even melancholic at times. The joy of the season, meanwhile, is also portrayed in such swinging selections as "Winter Wonderland," "Santa Claus Is Coming to Town" and Brubeck's wholly original "'Homecoming' Jingle Bells," which opens the album.
The penultimate track is Brubeck's second take of the yuletide favourite, titled "'Farewell' Jingle Bells." This version, which takes on a more muted tone, brings to mind the end of a holiday party, as the chatter winds down and weary guests gather their coats. Brubeck also recorded two original compositions: the hopeful "Run, Run, Run to Bethlehem" and the contemplative "To Us Is Given."
Upon its release on Telarc in September 1996, the album was a commercial and critical success. The Chicago Tribune declared, "In a world cursed with treacly, bombastic Christmas music, this album stands out for its heart and clarity," while AllMusic hailed it as "a Christmas [album] worth repeated hearings." An instant bestseller, A Dave Brubeck Christmas landed in the Top 10 of Billboard's Jazz Album chart and later ranked among the best-selling jazz titles of the following year. Today, the album remains a favourite in Brubeck's prolific catalogue.
Born in Concord, CA, Dave Brubeck began his long and prolific career in the late 1940s—first with an octet (which boasted such luminaries as Paul Desmond and Cal Tjader) and then as a trio, before finding his groove in a quartet setting with Desmond. With this group, which, most famously, included bassist Eugene Wright and drummer Joe Morello, Brubeck found enormous success—particularly with his hit 1959 album, Time Out. Featuring the highest-selling jazz single of all time, "Take Five," and the Gold-certified "Blue Rondo à la Turk," the album showcased Brubeck's complex, yet approachable style —particularly when it came to his use of unusual and contrasting time signatures.
Transcending the boundaries of genre, Brubeck was also renowned for marrying jazz with orchestral music and often appeared with symphonies around the world (perhaps most famously captured on 1959's Dialogues for Jazz Combo and Orchestra, featuring the New York Philharmonic, led by Leonard Bernstein). As a bandleader, Brubeck used his platform to fight for equality amid a segregated America, while in later years, he was among the first Western artists to perform in the Soviet Union. At home, he regularly supported a variety of educational programs.
During his more than six-decade-long career, Brubeck released well over 100 albums on such esteemed labels as Telarc, Concord, Columbia, Atlantic and Fantasy Records. Among his many honours, Brubeck received an NEA National Medal of Arts and a GRAMMY® Lifetime Achievement Award, and he was among the first musicians to be celebrated with a star on the Hollywood Walk of Fame. In 2009, Brubeck was a Kennedy Center Honoree, where he was recognized for his indelible contributions to American culture.
A Dave Brubeck Christmas Tracklist (45 RPM, 2-LP Vinyl)
Side A
"Homecoming" Jingle Bells
Santa Claus Is Coming To Town
Joy To The World
Side B
Away In A Manger
Winter Wonderland
O Little Town Of Bethlehem
Side C
What Child Is This? (Greensleeves)
To Us Is Given
O Tannenbaum
Silent Night
Side D
Cantos Para Pedir Las Posadas
Run, Run, Run To Bethlehem
"Farewell" Jingle Bells
The Christmas Song
---
Don't forget to follow our Spotify Playlist: