Megadeth To Launch Virtual Reality Experience For New Album Dystopia
|
Pioneer thrash rock band Megadeth has announced today that they will give their fans the ultimate cutting edge experience in Virtual Reality. The band will head into a special Virtual Reality set-up with director Blair Underwood where they will perform and film five songs from Dystopia, "Fatal Illusion," "Dystopia," The Threat Is Real," "Poisonous Shadows," and "Post American World." As a director, DGA member Underwood directed the 2009 independent feature "The Bridge to Nowhere," as well as several music videos, short films and commercials. He is currently recurring on ABC's hit series, "Marvel's Agents of S.H.I.E.L.D." The band's performance will appear within the fallen city of a dystopian world modeled after the world created in Megadeth's new music video for "The Threat Is Real."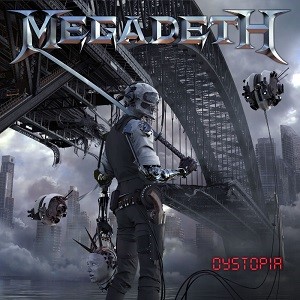 Next Galaxy Corp., a leading developer of innovative content solutions and immersive consumer virtual reality technology will create a dystopian universe surrounding the band, and allow fans to virtually enter, engage and explore this parallel world. Released on January 22, 2016, fans will be able to purchase the new album, a CEEK Virtual Reality cardbox headset with instructions, and a download code to access and unlock exclusive content, which will also be simultaneously launched with the release of Dystopia to begin their VR Experience. This special CD package will be available at all physical and online retailers.
Featuring 11 brand new tracks, Dystopia will be released on both CD and LP, as well as digitally through all online partners on January 22nd on Universal Music Enterprises /Tradecraft / T-Boy Records. "Fatal Illusion" was the first track released from the album and continues to garner major praise from press; Rolling Stone says, "…heavy, creepy guitar… before kicking into jazz bass and a galloping thrash riff that harks back to the group's early days."
With musical architect and band visionary Dave Mustaine at the helm, Dystopia was recorded in Nashville, TN, and mixed by Josh Wilbur (Lamb of God, Gojira, Avenged Sevenfold).
The rest of the Megadeth lineup is comprised of new member Kiko Loureiro (formerly of Angra), David Ellefson on bass, and drummer Chris Adler, who took time away from Lamb of God to record Dystopia. The result marks a true return to form, adding new blood and injecting a new burst of creative energy into the new album.
Recently, Megadeth announced the details for the North American leg of their Dystopia World Tour, which will kick off in Dallas, TX on February 20, 2016. The North American leg will take them across the U.S, visiting 12 states and throughout Canada.
Megadeth burst onto the scene thirty years ago, virtually inventing a genre with their debut album Killing Is My Business… And Business Is Good! (recently recognized by VH1 as the Greatest Thrash Metal Debut Album of All Time) which sold more than 38 million albums worldwide, earning numerous accolades including 11 Grammy® nominations, scoring five consecutive platinum albums—including 1992's two-million-selling Countdown to Extinction.
---
Don't forget to follow our Spotify Playlist: