H.E.A.T. – Force Majeure
|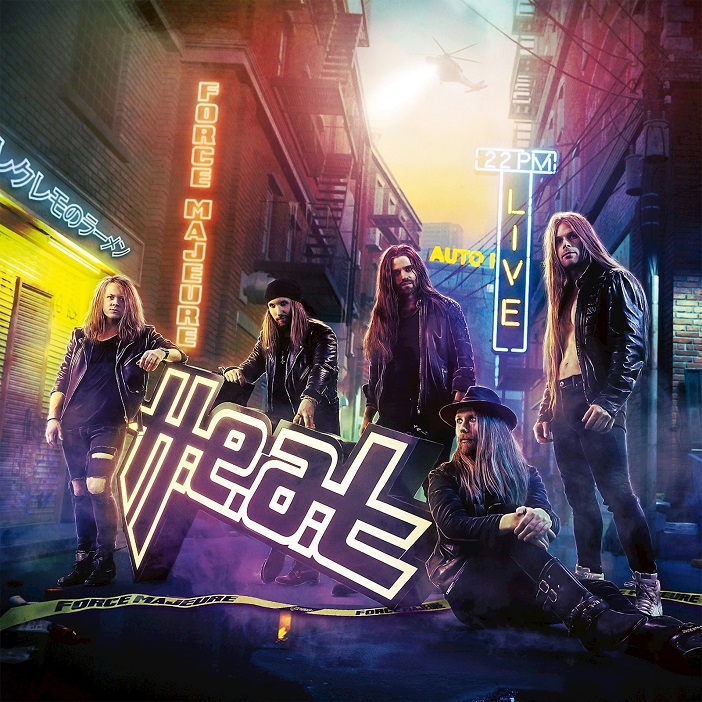 H.E.A.T. is a Swedish hard rock formation that released its debut album in 2008. After that, they quickly made a name for themselves in the rock genre and they have become an established name, especially in their own country. Their seventh full-length was recently released with the title "Force Majeure". The first since the return of original lead singer Kenny Leckremo.
The album is one as we can expect from the Swedish formation. It has again become 11 80s hard rock-inspired tracks. "Force Majeure" opens strongly with the two previously released singles "Back To The Rhythm" and "Nationwide". Both would have been radio hits in the aforementioned 80s. Strong choruses that sound quickly recognizable, but H.E.A.T. knows how to handle them. You notice if the band is known to you, that this H.E.A.T. is. A sound of its own. Every now and then Leckremo has a light-sounding similarity with Joey Tempest (Europe). Very good to hear in, for example, a song like "Hollywood". A song with a very nice guitar solo and once again a very nice sounding chorus. Perhaps one of the live staples of this record.
The song that follows "Harder To Breathe" is more like a thirteen in a dozen song. In terms of tempo slightly slower than the predecessors but very obvious. Decent enough, no standout. No, it's better to set up numbers like "Not For Sale". The guitarist seizes his moment here by coming up with good riffs. Immediately from the first second you also hold your air guitar and you play along with it. The chorus may be less, but the guitarist takes the spotlight on the song. An unusual solo makes it complete.
If we are talking about guitar solos, I would also like to mention the best of the album. We find this one on the power ballad 'One Of Us', no, not an ABBA cover. Such a solo that is difficult to watch, so nice. Furthermore, Leckremo sounds like old times and despite the fact that his replacement Erik Grönwall also did an excellent job, Leckremo still remains the original singer. It immediately sounds familiar and there doesn't seem to be any need to rejoin the band. It even seems to give the band more enthusiasm and fun, which resounds on the album. You hear them having a good time.
With "Demon Eyes" hard rock makes way for metal. The song is somewhere between power metal and heavy metal. I must say that this certainly does not look out of place for the band. Bit of Iron Maiden vibes at times. Double bass drum a lightning solo, a song where the gas is fully pressed!
Should H.E.A.T. are still unknown to you and the report sounds like music to your ears, give this new "Force Majeure" a chance. I dare to send every melodic hard rock fan to a band like this without a doubt. They continue the upward trend with another very strong album. (8/10) (EarMusic)
---
Don't forget to follow our Spotify Playlist: