Ascension – Far Beyond The Stars
|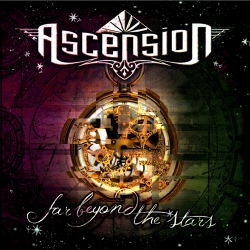 The five musicians from Aberdeen have committed themselves to Melodic Speed Metal and though of several line-up changes, the band has released already four EPs and two singles that were highy acclaimed by audience and press since ASCENSION started out in 2004. After two UK tours and a successful show at Metalfest UK 2009, the band has attracted great attention with a cover version of the Roxette song "Listen To Your Heart" that got over 150.000 views at YouTube.
Now it's time for ASCENSION's debut album! "Far Beyond The Stars" was recorded at the Sonic Train studios in Sweden, that are co-owned by King Diamond's Andy LaRocque, who has also mixed and mastered the CD. "Far Beyond The Stars" is featuring twin-barrel riffs, a beating pace and the kick-ass vocals of singer Ricki Carnie, whose singing abilities are more than impressive. The songs are varied and fast and never leave the impression of been heard a thousand times before. The power of the two guitars and the high technical level of the musicians make the songs shine in a familiar but yet brand new way. Fans of fast, high standard Metal can put "Far Beyond The Stars" on their shopping lists without thinking twice.
Besides the ten regular songs, the European CD version also includes the above mentioned Roxette cover version of "Listen To Your Heart" as well as the video clip of "Somewhere Back In Time", which was produced for the Japanese market.
---
Don't forget to follow our Spotify Playlist: