Andy Powell (Wishbone Ash) – American optimism, British sense of reality
|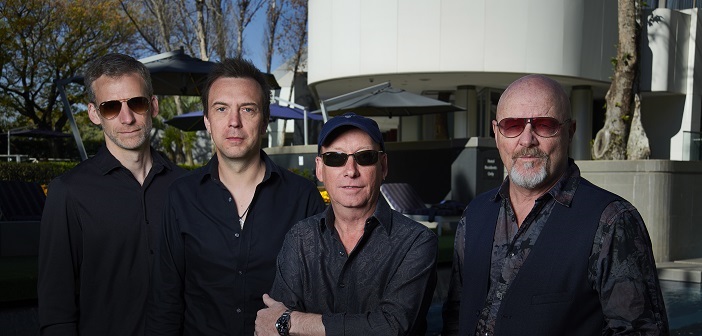 It's insane how a band relatively can stay under the radar, influence some of the greatest rock bands in history, and seem to be always on tour, having thirty-some albums to their name. We are of course talking about Wishbone Ash, the British prog-rockers who achieved great success in the late sixties and early seventies with albums like 'Pilgrimage' and 'Argus'.
Wishbone Ash's sound can be roughly described as a mixture of hard rock and folk music. The band managed to innovate at the time by playing with two lead guitarists. Although guitarists Andy Powell and Ted Turner have grown apart over the years, to say the least, they are still regularly referred to as two of the most influential guitarists in rock history. Bands like Iron Maiden and Opeth can be traced back conceptually to these prog-rock pioneers.
Just before the pandemic, Andy Powell, the last of the Mohicans within Wishbone Ash, was on the starting blocks with his men for a tour that would celebrate the band's 50th anniversary and promote the latest achievement 'Coat Of Arms'. Unfortunately, COVID threw a spanner in the works, so the continuous touring came to an abrupt end. Now that live music seems to be slowly making a new start and the band has been able to resume its tour, Maxazine spoke with none other than Andy Powell himself.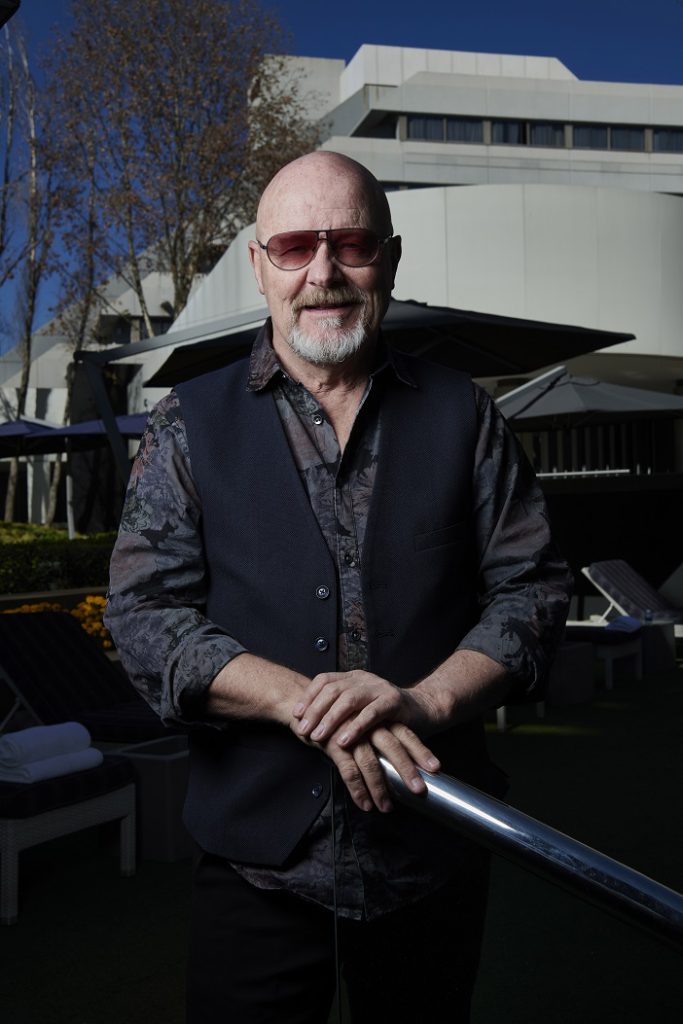 An interesting life
When Andy is asked how things are going, he indicates that he has an interesting life. Finally, they can go wild again with their tour, so they immediately give it a lot of gas. After playing in the United Kingdom last October and November, they are at the end of a two-month tour of the United States. Andy is making the joke that the band had a short break in between, but it soon becomes clear that he is referring to the Cruise To The Edge, a progressive rock cruise where Wishbone Ash has had the opportunity to perform with other legendary bands.
Enthusiastically, Andy tells what a cool trip they have been able to make again. A journey that took them from Florida to the Caribbean, but also to deserts and mountains. "It has been a great trip so far!". With British self-mockery, he also tells how he even became dehydrated in the desert, "but I'm cured now, haha". The moment we speak, Andy is in Oregon, where he says the view is beautiful. He is briefly distracted by a DeLorean, the famous car from Back To The Future, which he spots in the parking lot he was just passing. "There are even two! How do you come up with that? It's been a really great tour so far, and life is definitely interesting!"
Everyone will know that Wishbone Ash is back in full operation. However, that has changed in the past two years. What's it like for a band, which is on the road all the time, only to suddenly be unable to perform? In any case, according to Andy, "not so wrong". He mentions that he applied the same mentality that he also uses between tours: stay optimistic and just find something else to keep busy. He has been outside a lot in recent years. "I have become a real outdoors person. I've been kayaking, sea fishing, river fishing, you name it. That's really nice!"
American optimism, British sense of reality
The pandemic also gave Andy time to slow down and consider whether Wishbone Ash has a future. Not that he didn't feel like it anymore, but he did wonder if there would still be a music industry to return to when COVID kicked in. Although he has offers from various record labels for new albums, bands nowadays mainly rely on income from performances, especially a band like Wishbone Ash. Fortunately, Andy now has the answer to his question: "I don't have another job besides Wishbone Ash. Music is my world. In a situation like this, you need to be able to see in a businesslike way whether it is realistic to continue. You have to look for new opportunities… But if there's one band that's going to find those opportunities, it's Wishbone Ash! That's what we do, and that's what we are: a proactive band.", so we're not done with the guys yet.
Although Andy is originally British, he has been living in the United States for years now. This seems to explain Andy's view of the world and life somewhat. When asked about his optimism, he also indicates that this is the most important trait he has taken over from the Americans, everything is great, everything is beautiful (although bigger is not always better according to him, only when it comes to cars).
Yet Andy has not lost his British sobriety, because you have to be able to keep a realistic and business-like view of the situation. Sometimes things don't go the way you want, but you have to do it anyway. "Certainly also within a band like Wishbone Ash. We operate a bit under the radar, but we are still very active and businesslike. It's the best of both worlds, haha. I think I'm in between the two cultures."
"British rock ruled the wave"

Andy Powell
The right place at the right time
When asked if the band has a lot of fans in the United States (the band has its roots in Europe after all), Andy indicates that there is no city in America where Wishbone Ash can't play. The band has a large fan base around the world, which he attributes to the fact that their earlier, better-known albums have been well promoted worldwide. "It introduced our musical ideas to almost every country. Today, given the advent of the internet, that may be less special, but for our generation, it was really special. We were lucky with that."
Andy also points out that Wishbone Ash emerged at a great time for music: "British rock ruled the wave." People looked up to British rock bands and were inspired by them. "We laid the blueprint for many rock bands, gliding with the wave of British music like a surfer. I can count myself lucky."
Fifty years of rock with Wishbone Ash
The theme of the current tour is the belated fiftieth anniversary of the band. Andy says that he likes to assign a theme to tours, so in the not-too-distant past they also celebrated the anniversary of their most famous album, 'Argus'. "I don't know if it's a good thing or a bad thing to be able to celebrate so many anniversaries. There are relatively few bands that can do that. I spoke to Martin Barre (ex-Jethro Tull) recently and he has that too. We're both just old men, very old. We can only go on as long as it still gives us energy, and this gives us a lot of energy."
But could Andy have ever dreamed that his band would last so long? "Well, no, I gave it five years" It's a resolute and somewhat dry voice on the other end of the line. He indicates that at the beginning he did not think that rock music would last so long that a new dominant music movement would emerge. He never thought that rock would have such an impact on the world we live in today. "Rock has really played a significant role in shaping our culture, both in the twentieth and twenty-first centuries. You can find it in everything, movies, books, you name it. The generation that conquered the war wanted its own music. It is a force greater than I can imagine."
Nowadays rock is much more its own niche, Andy says. According to him, there are many more things that fight for children's attention, games, and street sports. People are also experimenting much more on a social level. "There seem to be many more lifestyle options to choose from these days." Still, according to Andy, rock is far from dead, it is still a powerful medium. He mentions countries in South America as examples, where metal is really something big. "It's still a powerful movement, but much more niche. That is also due to technology. You look at your iPhone and you can find everything you want. There is much more fighting for our attention. But as long as there's a place for rock, I'm fine with that."
If only I could…
Meanwhile, time is running out, Andy indicates that he has arrived at his next appointment. The conversation ends with a reflective question. When you last fifty years in the music industry, it is inevitable that as a band you make choices that seemed logical at the time, but which you would like to reconsider afterwards. If it were possible, what would Andy have done differently? In response, Andy digs back to the time they just released the album 'Argus', without a doubt the band's most successful record. He suggests that if he could have done something over, he would have taken more time around that time to evaluate as a band where Wishbone Ash was at that time, in terms of success for example, and what that meant for the band. According to Andy, then maybe they could have taken the time to think more about the subsequent albums. The labels just put the pressure on it quite a bit, and it was hard work for the band. "But if we had been able to reflect on where we were at the time, it might have changed the course of our existence just a little bit."
With that answer and a cordial invitation from Andy to our readers to discover the music of Wishbone Ash, the conversation with this British-American rock pioneer comes to an end. He wishes us the best and hopes to see us soon at one of the many planned Wishbone Ash concerts worldwide. Hopefully, they can tour for a long time!
---
Don't forget to follow our Spotify Playlist: