Classic Rock Legends Wishbone Ash Embark on Eagerly Awaited U.S. Tour
|
Wishbone Ash's U.S. tour will kick off on Feb. 23 and run through May 24. The tour, with legs in the Northeast/Midwest and South/West, will continue the band's 50th Anniversary celebrations and will also mark the golden anniversary of their landmark album, "Argus."
"Thankfully, before Covid-19 shut live music down around the world, we did manage to celebrate our 50th anniversary by touring Europe and other territories in support of our new album, 'Coat of Arms,'" says founding member Andy Powell (guitar, lead vocals). "The USA was not quite so lucky, missing out on the party. So we'll be resuming the celebration for our friends and fans who missed out due to the pandemic."
Formed in October 1969, Wishbone Ash pioneered a melodic style of twin-lead guitar that inspired such groups as Thin Lizzy and Iron Maiden. Influenced equally by British folk traditions, American jazz and R&B, the band played to public and critical acclaim.
"Argus" (1972), their double-platinum third album, is interwoven with spiritual imagery, featuring such classics as "The King Will Come," "Throw Down the Sword" and "Blowin' Free" – all three are still staples of Wishbone Ash's regular concerts. The album's iconic cover design is one of Hipgnosis' legendary works – a sentry surveying a misty landscape – encapsulating the title of the album, which was taken from Greek mythology's one-eyed watcher.
To commemorate the 50th anniversary of "Argus," the band will perform the album in its entirety at selected shows on the tour. Slated for later this year is an "Argus" limited-release special box set containing the remastered album plus historical live albums, previously unreleased, from the original band, back at that time. The quintessential road band, Wishbone Ash has gained worldwide recognition, based firmly on a regime of relentless touring and recording. Power and melody have made the Ash a hard act to follow, while they are currently being discovered by new generations of loyal rock fans.
Powell trades licks with Yorkshire's Mark Abrahams, who has been playing Wishbone Ash tunes since his youth. Bob Skeat keeps the low-end rocking, working the grooves with newest band member Mike Truscott on drums. Mike also hails from Yorkshire, England, like Mark Abrahams.
In just the last few years, tours have been set in North America, Europe and the United Kingdom, as well as Japan and South Africa. Each year, approximately 30,000 actual road miles are racked up, plus countless flights, taking the band's special brand of twin lead guitar-based rock around the planet.
"Everyone by now knows that Wishbone Ash is one of the hardest working bands in rock today and so it really was a major blow, to be wrenched out of our comfort zone – being on tour," Powell says. "A lot of personal, financial and physical adjustment was needed in taking this forced hiatus, for all of us, but we kept ourselves busy. I've been working on my gear and working on songs. I also started my online patreon.com/andypowell site where I dispense road stories, guitar tips and songwriting insights. This kind of thing has kept us focused and creative individually, but there's nothing quite like a life on the road, especially if you've been living that way for 50 years!"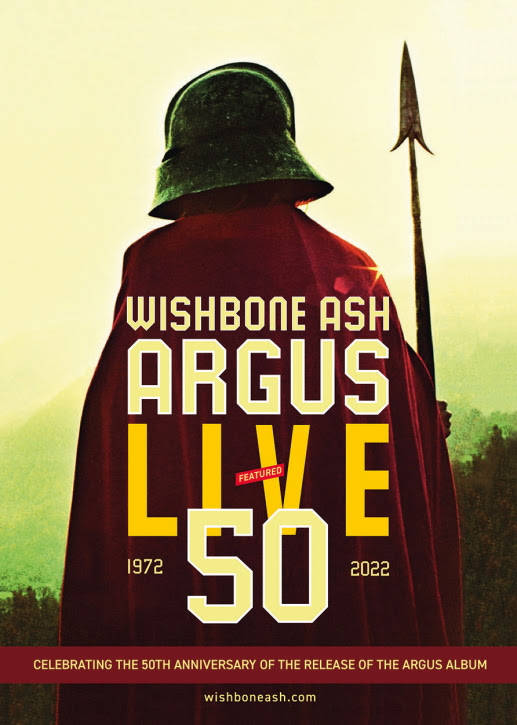 Their last U.S. concert was at the Triple Door in Seattle on Friday the 13th of 2020. "I looked like a hermetically sealed passenger when I boarded the plane for home," Powell says. "We were getting intel about the Covid situation from the authorities as we rounded the corner up through California and Washington state, the virus seemed to be on our heels. After that, the whole world seemed to shut down and we had to make some major adjustments. We miss all our friends and fans around the U.S. and the world, in fact, and the camaraderie and support that brings."
These two U.S. tour legs will prove to be a sweet reunion.
WISHBONE ASH US TOUR SPRING 2022
FEB 23 – BULL RUN – SHIRLEY, MA
FEB 24 – DARYL'S HOUSE CLUB – PAWLING, NY
FEB 25 – MAUCH CHUNK OPERA HOUSE – JIM THORPE, PA
FEB 27 – CLUB CAFE – PITTSBURGH, PA
MAR 1 – TOKEN LOUNGE – WESTLAND, MI
MAR 2 – THE LUDLOW GARAGE – CINCINNATI, OH
MAR 3 – DES PLAINES THEATRE – DES PLAINES, IL*
MAR 4 – ARCADA THEATRE – ST. CHARLES, IL
MAR 5 – THE WILDEY THEATRE – EDWARDSVILLE, IL
MAR 6 – THE WILDEY THEATRE – EDWARDSVILLE, IL*
MAR 8 – RIVER MUSIC EXPERIENCE – DAVENPORT, IA
MAR 9 – COLECTIVO ON PROSPECT – MILWAUKEE, WI
MAR 10 – IRVING THEATER – INDIANAPOLIS, IN
MAR 12 – FUR PEACE RANCH – POMEROY, OH
MAR 13 – FUR PEACE RANCH – POMEROY, OH*
MAR 14 – KENT STAGE – KENT, OH
MAR 15 – SPORTSMENS TAVERN – BUFFALO, NY
MAR 16 – SWYER HALL – ALBANY, NY
MAR 17 – TUPELO MUSIC HALL – DERRY, NH
MAR 18 – WALL STREET THEATER – NORWALK, CT
MAR 19 – SELLERSVILLE THEATER – SELLERSVILLE, PA
MAR 20 – RAMS HEAD – ANNAPOLIS, MD
MAR 22 – TIN PAN – RICHMOND, VA
MAR 23 – NEIGHBORHOOD THEATRE – CHARLOTTE, NC*
APR 21 – KING CENTER STUDIO – MELBOURNE, FL
APR 22 – FUNKY BISCUIT – BOCA RATON, FL
APR 23 – LYRIC THEATRE – STUART, FL*
APR 24 – SKIPPER'S SMOKEHOUSE – TAMPA, FL*
APR 26 – VINYL MUSIC HALL – PENSACOLA, FL*
APR 27 – HOUSE OF BLUES – NEW ORLEANS, LA*
APR 28 – DOSEY DOE – WOODLANDS, TX*
APR 29 – THE GUITAR SANCTUARY – MCKINNEY, TX
APR 30 – SAM'S BURGER JOINT – SAN ANTONIO, TX*
MAY 2-6 – CRUISE TO THE EDGE – Port Canaveral/Labadee/Coco Cay
MAY 7 – THE CANYON – AGOURA HILLS, CA*
MAY 8 – THE COACH HOUSE – SAN JUAN CAPISTRANO, CA
MAY 9 – BELLY UP – SOLANA BEACH, CA*
MAY 10 – THE RIALTO THEATRE – TUCSON, AZ*
MAY 11 – RHYTHM ROOM – PHOENIX, AZ
MAY 14 – YOSHI'S – OAKLAND, CA*
MAY 15 – LITTLE FOX THEATER – REDWOOD CITY, CA
MAY 17 – WOW MUSIC HALL – EUGENE, OR*
MAY 18 – TOWER THEATER – BEND, OR
MAY 19 – JAZZBONES – TACOMA, WA
MAY 21 – BING CROSBY THEATER – SPOKANE, WA*
MAY 22 – ALADDIN THEATER – PORTLAND, OR*
MAY 23 – TRIPLE DOOR – SEATTLE, WA
MAY 24 – TRIPLE DOOR – SEATTLE, WA*
* Performing the "Argus" album in its entirety!
---
Don't forget to follow our Spotify Playlist: