Arty Announces Debut Album & Tour 'Glorious'
|
After six whirlwind years of churning out dancefloor annihilators, Russian Wunderkind Arty continues his ascent further into dance music's big league with the announcement of upcoming debut studio album Glorious via Pasquale Rotella's Insomniac Records — a partnership with Interscope Records, and his first headlining tour.
Following a string of acclaimed releases on Anjunabeats, Armind, Axtone, Spinnin' Records and Big Beat, the talented Russian producer aims to strike the balance between home listening and dancefloor energy on his first long-player. The album will feature 11 original productions, including recent hit single 'Stronger' with singer Ray Dalton, which once again showed his knack for working with powerful, anthemic vocals (also known of Macklemore's monster hit 'Can't Hold Us').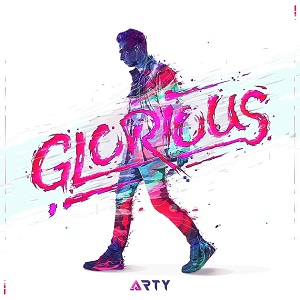 The second release of Glorious, 'Up All Night' featuring Angel Taylor, was the No. 1 Most Played track at Dance radio and a Top 10 hit on both the iTunes Dance chart and Billboard's Dance/Mix chart. The third single from Glorious, 'Braver Love' featuring Conrad (the vocal of Kygo's Firestone) will be released on August 21st.
"I can't wait for people to hear 'Glorious'. From the start I didn't want to put myself into one specific genre, so for me the challenge was to discover as much different genres, type of vocals and harmonies as possible. I really hope people will simply enjoy my music that I've put so much soul into," Arty says.
The DJ and producer to watch out for in 2015 is also excited to announce his first headlining tour together with his upcoming album. Arty has embarked on Phase 1 of his Glorious tour, which kicked off on August 6th in Washington DC. The tour will run through more then 30 venues from August until October 2015. Stopping by major festivals such as Beyond Wonderland (US), Sziget Festival (HU) and Creamfields (UK), legendary venues like Amnesia (Ibiza) and performing at Webster Hall (NYC), Arty is everywhere around the world to play his big hits. The Glorious tour is a show dedicated to Arty's debut album which can't be missed.
| | | | |
| --- | --- | --- | --- |
| 08/08 Atlanta, GA | | | Gold Room |
| 08/09 Montreal, QC | | | Beach Club |
| 08/12 Budapest, HU | | | Sziget Festival |
| 08/15 Dallas, TX | | | Lizard Lounge |
| 08/16 Las Vegas, NV | | | XS |
| 08/20 Ibiza, ES | | | Amnesia |
| 08/27 Ibiza, ES | | | Amnesia |
| 08/29 Daresbury, UK | | | Creamfields |
| 08/30 Las Vegas, NV | | | XS |
| 09/04 San Diego, CA | | | Omnia |
| 09/05 Costa Mesa, CA | | | Sutra |
| 09/06 Honolulu, HI | | | Republik |
| 09/11 Orlando, FL | | | Tier |
| 09/12 Ottawa, ON | | | Barrymore's |
| 09/18 Miami, FL | | | Story |
| 09/19 Halifax, NS | | | Helm Fest |
| 09/22 Mashantucket, CT | | | Shrine |
| 09/25 Toronto, ON | | | Uniun |
| 09/26 Bay Area, CA | | | Beyond Wonderland |
| 10/03 Las Vegas, NV | | | Encore Beach Club |
| 10/10 New York, NY | | | Webster Hall |
| 10/15 Gainesville, FL | | | Venue |
| 10/16 Kansas City, MO | | | Mosaic |
| 10/17 St. Louis, MO | | | Europe |
| 10/23 Las Vegas, NV | | | XS |
| 10/30 Chicago, IL | | | Freaky Deaky |
---
Don't forget to follow our Spotify Playlist: