Extreme Announce 'Pornograffitti Live' UK Tour For July 2014
|
Rock legends Extreme have today announced that they will be playing four UK shows as part of their 'Pornograffitti Live' tour. The shows will see the band visit Manchester, Glasgow, Birmingham and London this Summer. They will perform in full their multi-Platinum, top ten album 'Pornograffitti', in its entirety including number one hit ballad 'More Than Words' followed up by a greatest hits set.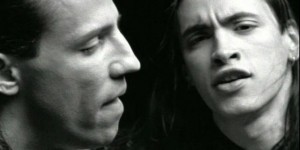 Grammy-nominated Extreme, one of the most successful rock acts of the 1980s and early 1990s, have sold over 10 million albums worldwide. They have released six studio albums, plus a greatest hits set and a recent live DVD since their formation in 1985. The band had initially described their music as 'Funky Metal', but it would evolve much more in the mid-90s by blending classic rock influences with post-grunge and alternative rock.
Extreme's popularity is fuelled by guitar virtuoso Nuno Bettencourt's signature style, Gary Cherone's resonant vocals and socially conscious lyrics, Pat Badger's rock solid bass, and the hard hitting Kevin Figueiredo on drums. Their unwavering songcraft and diverse musical approaches have earned the band multi-platinum albums with chart topping hits and sold-out tours all over the globe.
 
Jun 17
Alte Seilerei
Mannheim, Germany
Tickets
 
Jun 18
Ancienne Belgique
Brussels, Belgium
Tickets
 
Jun 19
Milkweg
Amsterdam, Netherlands
Tickets
 
Jun 21
Hellfest
Clisson, France
Tickets
 
Jun 23
Le Bataclan
Paris, France
Tickets
 
Jun 25
Fiera
Milan, Italy
Tickets
 
Jun 27
Razzmatazz
Barcelona, Spain
Tickets
 
Jun 28
Santana
Bilbao, Spain
Tickets
 
Jun 29
La Riviera
Madrid, Spain
Tickets
 
Jul 01
Espaço Armazem F
Lisbon, Portugal
Tickets
 
Jul 04
O2 Academy
Manchester, United Kingdom
Tickets
 
Jul 05
O2 Academy
Glasgow, United Kingdom
Tickets
 
Jul 07
The Institute
Birmingham, United Kingdom
Tickets
 
Jul 08
Forum
London, United Kingdom
Tickets
 
Jul 10
Live Music Hall
Cologne, Germany
Tickets
 
Jul 11
Rockfabrik
Nuremberg, Germany
Tickets
 
Jul 13
Bospop Festival
Weert, Netherlands
Tickets
---
Don't forget to follow our Spotify Playlist: