Blasterjaxx to throw down NYE set in Avakin Life app
|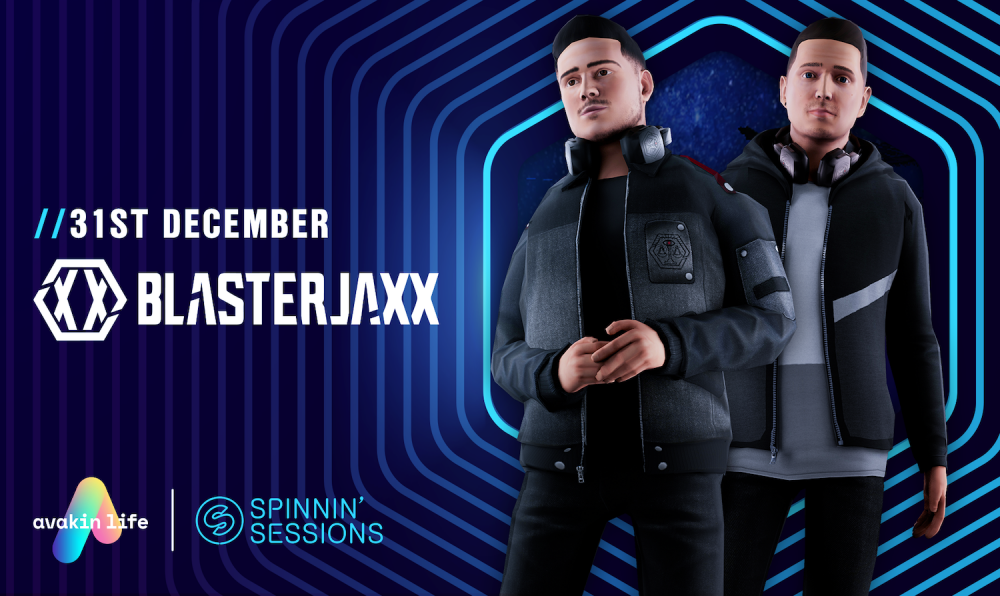 Dutch DJ duo will perform three hit tracks and kickstart 2022 at a stunning audio-visual event where dance music and the metaverse ignite. Thom Jongkind and Idir Makhlaf – known to millions around the world as DJ duo sensation, Blasterjaxx – are bringing their big room EDM sound to the metaverse for a new concert in award-winning 3D social app, Avakin Life.
From December 31-January 4, the Spinnin' Records stars will wow party-goers – including up to one million daily Avakin Life players, dance music fans and those whose party plans may have been cut-short by COVID-19.
Thom and Idir's unique avatars will pump up the crowd from behind virtual decks, on a stage surrounded by mammoth cinema screens broadcasting videos for hit tracks "God Mode", "Frozen Fire" and "Rabbit Hole", each inspired by heart-pumping video game aesthetics.
There's also exclusive merchandise up for grabs, chill out zones, free rewards and tons of epic shareable moments. Plus, New Year's Eve isn't complete without fireworks. Anyone can take the party to another level by lighting up the sky with colours and sparks at the touch of a button on the dance floor.
This is the second virtual concert Blasterjaxx has performed in Avakin, following a hugely successful first event in February 2020. Since then, Avakin and parent label Spinnin' Records have forged one of the metaverse's hottest music partnerships, which saw the launch of Spinnin' Sessions in 2020 – a dedicated digital club for where Spinnin' Records can showcase new tracks – and Sam Feldt headline Avakin's landmark Solar Sounds Festival in 2021, visited by more than four millions players.
'2021 has been fantastic for music events on Avakin Life, with millions of players coming together to enjoy moments only we can create,' said Catarina Água-Mel, Music, Artists & Licensing Manager at Lockwood Publishing, creators of Avakin Life. 'It's amazing to see Blasterjaxx return and this will be the perfect way to finish what has been a landmark year for the metaverse. We can't wait to see where our partnership with Spinnin' Records goes next.'
'We can't think of a better place to celebrate New Years eve than in Avakin Life. Not only will Blasterjaxx' New Years performance give fans around the world the opportunity to welcome 2022 together, but it gives music, gaming, and tech fans a glimpse o the exciting next chapter where the three concepts are finally merging. Spinnin' would like to offer a special thanks to Avakin Life, Blasterjaxx, and most importantly, our fans around the world, for helping to make this special event happen.' – Steven De Graaf, Commercial Director at Spinnin' Records
---
Don't forget to follow our Spotify Playlist: