Mascot Records release "Christmas Rocks, Vol. 2" E.P.
|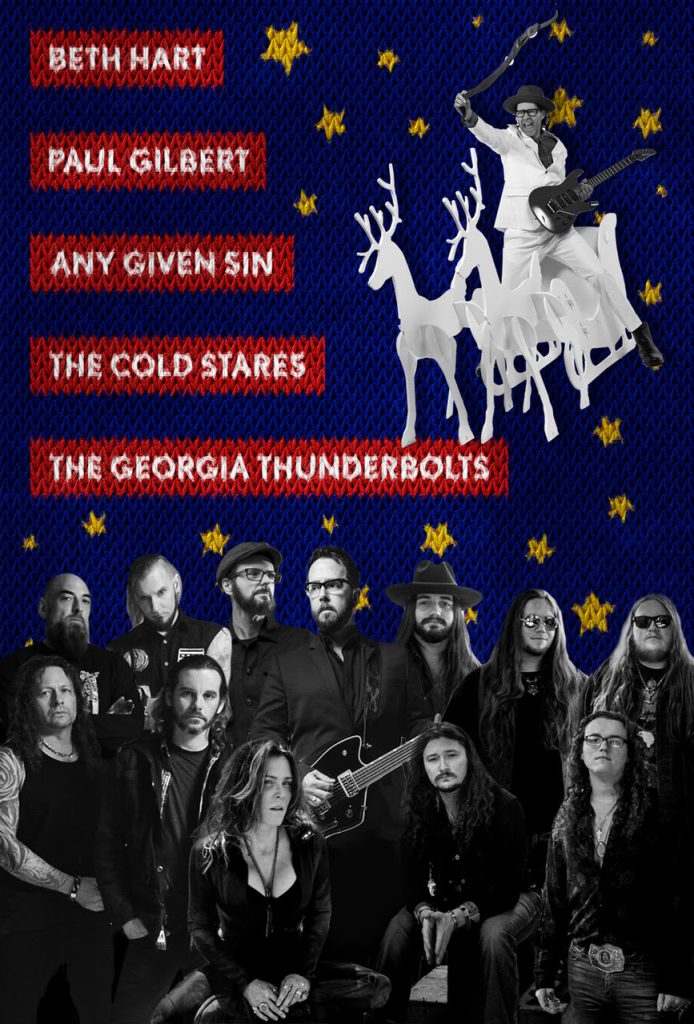 Mascot Records once again have dug deep into their sack and are thrilled to reveal their new seasonal "Christmas Rocks, Vol. 2" E.P. We've already found last year's unused bottle of brandy, that heavy metal Christmas sweater and dusted off the box of tinsel, so we're locked in and ready to go. Throughout November and the beginning of December, expect some festive frivolities by powerhouse vocalist Beth Hart, Indiana duo The Cold Stares, your new favourite Southern rockers The Georgia Thunderbolts, guitar-wizard Paul Gilbert, and Maryland rockers Any Given Sin.
The Grammy-nominated singer-songwriter Beth Hart reinterprets "Angels from the Realms of Glory," the traditional Christmas Carol written by Scottish poet James Montgomery. The song is featured in the new Netflix film, A Castle For Christmas, starring Brooke Shields and Cary Elwes. 'I really loved doing this Christmas song. It's one I've always loved,' Hart says. 'It was really fulfilling and fun. I saw bits and pieces of the movie and one particular scene that the song is in, and it's just beautiful.' The Cold Stares take their own spin on a country icon on "Santa Looked A Lot Like Daddy." 'We took the opportunity to play something on the Christmas album that no one would expect. I always loved Buck Owens and the song from when I was a kid and thought, what would our version sound like on some cassette in a truck stop in the '90s?' says Chris Tapp.
New Maryland rockers Any Given Sin are already muscling out the big guns on the Active Rock charts in the U.S. and they took on the challenge to write an original song, "Nothing For Christmas," and embraced the opportunity with bells on it. '[vocalist] Vic came up with the idea and sent it to the team, and we all liked it, so we built on it from there. In 5 days, the song went from the infancy stage to mastered. Our hopes are that it will be a holiday favourite for years to come,' they say.
Fresh from the release of their debut album "Can We Get A Witness" this fall, new Southern rock heroes The Georgia Thunderbolts bring the eggnog party with a cover of the classic "Rockin' Around The Christmas Tree." 'We're bringing classic nostalgia back for those who may have forgotten the song or never heard it. We feel that Christmas is a very special time for people. We wanted to put our spin on a Christmas classic to show that you can have the holiday spirit all year round. Rain or shine, it's always Christmas time with The Georgia Thunderbolts!' the band say.
One particular Christmas was particularly significant to an eleven-year-old, Gilbert. 'I had been banging away on a Stella acoustic guitar for a couple of years,' he says. 'I didn't know how to tune the guitar, so I solved the problem by only playing the low E string,' he adds.
'Despite my limitations, I had developed some authority on that one string. But then my uncle came to visit and took a look in my local newspaper, in the "Musical Instruments For Sale" section. He quickly spotted a used Gibson. I had saved up some money from selling ceramic hippopotamus banks that I made in my dad's pottery studio and from mowing the lawn. The guitar in the ad was still twice the price that I could afford,' he remembers.
'But Christmas was coming, so I asked my parents about getting the guitar. They said they could pay the other half but would tighten their budget, so I wouldn't be getting any toys. I chose the guitar.'
"Christmas Rocks, Vol. 2" will be digitally available in full for all your Christmas party needs from 3rd December.

---
Don't forget to follow our Spotify Playlist: