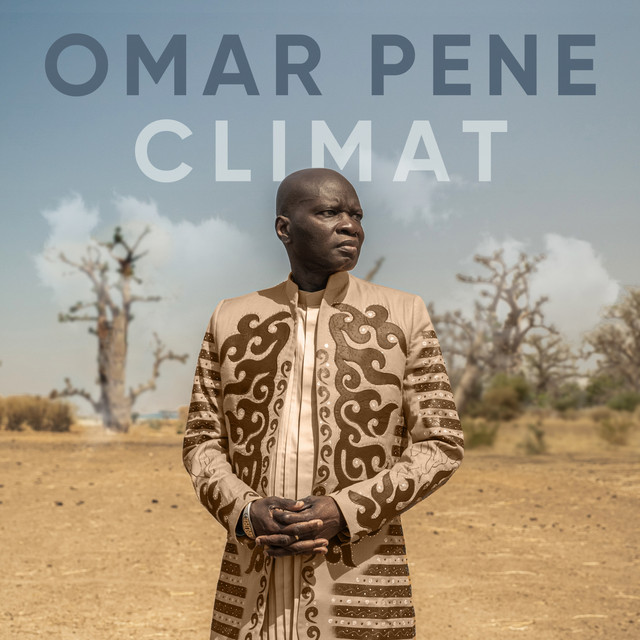 Omar Pene is one of the flagships of Senegalese music. The West African country is known for the traditional mbalax and the role its music has played in the development of what we in the West call "Latin" music. Besides Omar Pene, artists such as Youssou N'Dour, Ismael Lo, Baaba Maal, Cheikh Lo and Thione Seck who unfortunately died much too early, belong to the Senegalese first division of world music.
Today, more than eight years after his last internationally released album "Ada", there is a new album by Omar Pene, released under the significant title "Climate" by the famous world music label Contre-jour. The album was recorded in Dakar and Paris with guitarist Hervé Samb. Samb is known as a virtuoso (jazz) guitarist who has already worked with artists such as Marcus Miller, Oumou Sangaré and Salif Keïta. This collaboration resulted in a beautiful album. The production really sounds like clockwork and the 9 track album is beautifully arranged. Not only is the characteristic Senegalese polyrhythm omnipresent, but the collaboration with Samb allows Omar Pene to reach great heights on this album.
On "Climate", Pene tackles the major topics of our time. Poverty, security, the climate crisis, but he also sings his worry about how humanity, in general, interacts with each other. This clearly shows the West African form of Islam oriented towards Sufism. We, humans, are all responsible for our world and must pay this price with responsibility, vigilance, love, empathy and for the believers among us: prayer. A heartwarming message we should all take to heart.
Immediately on the first song "Wo Naa La Ko", which grooves wonderfully on the rhythms of the sabar, we hear something in the arrangement that we don't hear very often in world music. An arrangement of strings. Samb plays the most delicious guitar licks there and Pene's voice is louder than ever.
Another award-winning song on the album "Lu Tax" which means 'why' in Wolof, the lingua franca of Senegal. The song is a duet with Faada Freddy, from the Senegalese hip-hop group Daara-J Family, which is now enjoying global success. In the song, the two address the Senegalese national pastime, gossip. Again, a call to all to join hands, to take responsibility not to harm others in any way, and to treat each other with respect.
The title track "Climate" is one of the slowest tracks on the album and contains a serious indictment of climate change, pollution and global warming. Pene, links it to migration and poverty in an oppressive call to all of us to take up our collective responsibility. It is remarkable that such a thoughtful and sincere appeal must come from an artist who comes from a country that itself does little to contribute to climate change and pollution, in fact, is itself one of the greatest victims of the consequences of Western gluttony.
With "Fakatal" there is a wonderful resting point in the album, once again beautifully arranged with accordion and acoustic guitar, a stage is given to the beautiful voice of Omar Pene. With "Climat" Pene leaves a more than excellent album. An album that is more than a beautiful musical product. It's a cry from the heart of an artist who is not only aware of where the world has come to be, but who wants to raise awareness through his music. Unfortunately, world music remains a niche market, and the general public still prefers to listen to meaningless string music. Just take the time to listen to this. It is probably the best music release in the world of this year. (8/10) (Contre-jour)
---
Don't forget to follow our Spotify Playlist: