Tim Langedijk Trio – Açenja
|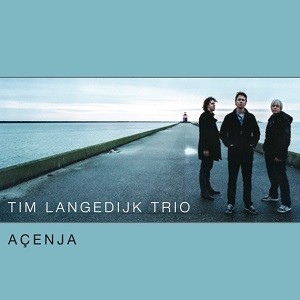 Açenja is the latest release of the Tim Langedijk Trio (Tim Langedijk – guitar, Udo Pannekeet – bass and Hans van Oosterhout – drums). Açenja is, to say the least, a most fascinating album. A (never thought I would ever use that word in a music review, but I'm going to do it, now) refined potpourri of country (which is actually very yucky, but Tim and his fellows know how to deal with nicely), jazz and even a touch of surf.
Real jazz can be heard in More, Benny's Blues and Blue Birdy. Country, with a tad of the lonely guitar sound of Mark Knopfler, on Religion and Sam's Dollhouse.
You know the Shadows, do not you? Well, Tim also knows The Shadows. And even more than just knowing by the sound of it, because on We're Getting Close Tim's axe sounds superb. I peeked at the cover, to be sure it was indeed Tim himself. It was.
Nine beautiful compositions of his (Tim's) hand. What he meant by Açenja, is not really clear, but for me it is an invented word. A word that describes the music on the album beautifully. Sometimes elusive, exotic, full of longing and emptiness, exciting and occasionally bored and lethargic. Bored and lethargic as in: on vacation. Lying in the warm sunshine with a glass full of ice and rum – nothing to want, nothing to do.
A beautiful album, that seems to last just a couple of blinks of the eyes. Really, really nice. Soothing, at times.
Açenja get 8/10 points. Points deducted for the cover of After Midnight. Not for the implementation, but simply because Tim's compositions are much better and a lot more interesting. I would also like to say to Tim (Tim, are you getting this?): "Dude, do you really need to add another version to the endless list of covers of this very uninteresting After Midnight? You played it beautifully, but next time, please just ten (or more, oh please, more) of your own compostions, okay? Agreed." (The Sand Records) (8/10)
---
Don't forget to follow our Spotify Playlist: