Fatoumata Diawara struggles and emerges in Brussels
|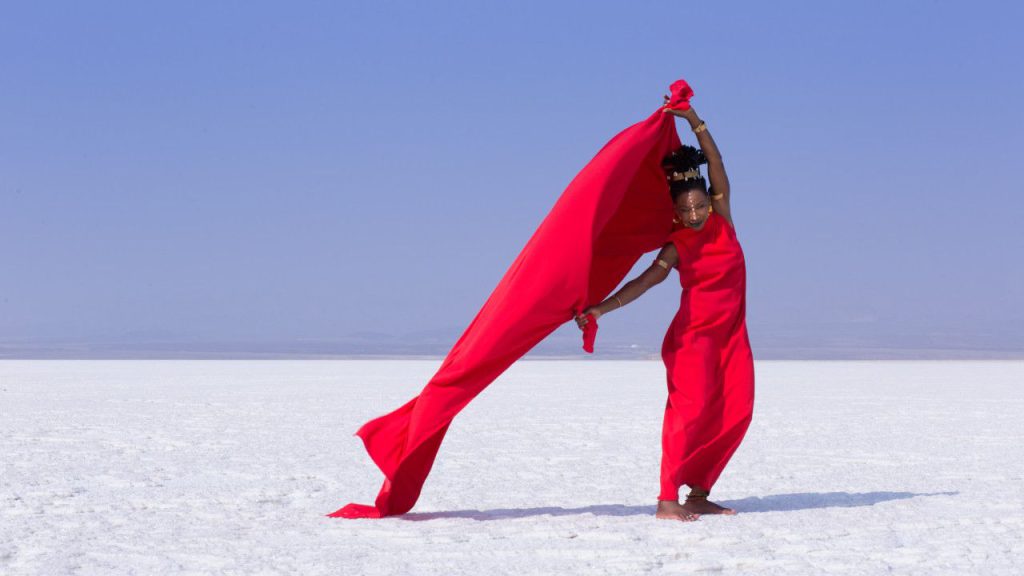 Anyone familiar with Fatoumata Diawara's live reputation knows that expectations for her previously postponed concert due to the corona in the beautiful hall of Ancienne Belgique in Brussels were high. One only needs to look at his performance at the Montreux Jazz Festival or the Vienna Jazz Festival last year to know that Diawara represents the best of contemporary world music.
The crowd was waiting for this highly-anticipated concert. It's good to see a venue like Ancienne Belgique is now paying more attention to world music, with artists like Angélique Kidjo and Oumou Sangare performing in Brussels in the coming months as well.
Just after half-past eight the 4 musicians from Diawara took the stage and with a long intro, they announced the singer's arrival. What struck me immediately was that the sound in the venue left a lot to be desired today. The drums sounded just awkward, and for the rest, the sound of the guitarist, drowning in reverb, was predominant. A problem that will unfortunately not be rectified for the rest of the evening.
The first song was, as it often is, "Don Do". Diawara sings about her love for a man who, however, has already given his heart to another woman. It is a fragile and calm song where space is given to the fantastic way in which the singer interprets the text with her voice with a rough edge. Unfortunately, her voice got stuck halfway through the mix, making it barely audible. Also incomprehensible that no acoustic guitar was used, as it normally does. For this reason, the opener was less than expected.
In any case, it's still a thin line on which artists have to balance themselves. Do we try to perform our music as beautifully as possible, or make concessions because, for example, you have to make choices in terms of orchestrations and arrangements? The latter is clearly the case on this tour of Diawara. She performed her music with a pop group behind her. There are no African percussions, a loss that weighs heavily. There were no singers, they were played from the computer. All African instruments were "interpreted" by guitars and keyboards. And that doesn't always ring true. A guitarist who plays an interpretation of a ngoni using a lot of electronics or a keyboardist who plays an e-version of a kora. This is not optimal. Understandable, because a tour should make money, but in Brussels, the scales were against the artist, in part because of the bad sound in the hall.
That said, it is clear that the audience had maximum fun and let the singer carry through the set. Through songs like "Kokoro" and "Kanou Dan Yen", the tempo was slowly increased. As usual, halfway through her show, Diawara dedicates the song "Negue Negue" to Afrobeat's godfather, Fela Kuti. Unfortunately in Brussels, the intention was completely destroyed by the reverberant mix. There also seemed to be something wrong with the drummer. Afrobeat without a palpable groove is not a true afrobeat. For those who know Fatoumata Diawara live, the performance in Brussels must have been a disappointment. No problem for the public. Afrobeat has entered like the word of a minister in a believer.
Then Diawara dedicated her version of "Sinnerman" by Nina Simone to strong African women in music. She specifically mentions Billie Holiday, Miriam Makeba, Angelique Kidjo and Oumou Sangare. This song wasn't right. It seemed that Diawara was having trouble with her voice, although it wasn't obvious due to the sonic mush in which her voice was hard to make out. Another unstable drummer, an exaggerated guitar sound that is far too prominent. Things were not going well in Brussels.
The audience didn't seem to care, they had come to have a party and they did. After Sinnerman, the train moved up a gear. Fatoumata Diawara showed her famous dances on stage with the tracks "Sowa" and "Bonya". Like a Turkish whirling dervish, Diawara has let his beautiful African creation in African wax spin and bubble. The audience appreciated it a lot. The hair came loose and Fatoumata once again showed why she was the only right choice to play the role of Karaba in the musical Kirikou. Spectacular.
After the "Anisou" encore, the audience returned home satisfied. However, there could have been more that evening in Brussels. Fatoumata Diawara was plagued by sub-optimal sound, a cold or tired voice, and a band that was not performing well.
---
Don't forget to follow our Spotify Playlist: