In the twenty years that I've been a fan of (the music of) Frank Zappa, I've not often been happier that the past couple of years. One CD release after another of unpublished work of Zappa, an ever growing community on various social media platforms and a pleasant proliferation of Zappa tribute bands all over the world. And it still gets better every day. There's Zappa Plays Zappa, under the inspiring leadership of Frank's son, Dweezil. There are the Grandmothers of Invention – members of the original Mothers of Invention. And there are numerous (semi) professional cover bands who keep honouring the music and spirit of Frank Zappa. A noble task, if I may say so.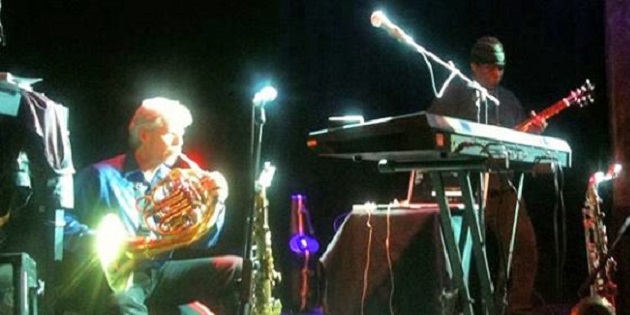 Banned From Utopia is a seven piece band consisting of real members of Frank Zappa's band. The seven musicians, their instruments and the years in which they played with Zappa are: Robert Martin – keyboards, sax, french horn, vocals ('81-'88), Ray White – guitar, vocals ('76-'84), Ed Mann – percussion ('77-'88), Chad Wackerman – drums ('81-'88), Tom Fowler – Bass ('73-'78), Arthur Barrow – guitar, vocals ('78-'81 ) and Albert Wing – sax ('88).
At this very moment, they're touring Europe and countries visited will includeThe Netherlands, Belgium, Germany, Austria and more. I was there to see and hear them play on March 26th, in De Boerderij in Zoetermeer. I must only say that it was so much more than just another concert. It was superb. And here's why.
The concert was sold out. Zappa has still not disappeared from the scenes, even twenty years after his too death. Behind the stage hung a backdrop of an estimated 8′ by 14′, bearing the effigy of the master. He looks into the room and he watches over 'his' band to see if they'll be doing alright. Mr. Zappa needn't worry. They're doing a splendid job!
Banned from Utopia plays the difficult and eclectic music with the finesse of a freshly oiled machine, yet not on auto pilot. Their performance is all true, into the last detail. Every Zappa fan in the audience must have enjoyed immensely. True, it need to be said, Zappa himself was not there. His charisma is still being missed, but his music lives on. With great passion. When I asked band leader Robert Martin what the difference was between Zappa tribute bands and Banned from Utopia, he answered: "Because we are the real deal. We were there, with Frank, when it all happened." And after seeing Banned from Utopia, I can not but totally agree. Unfortunately, I 've never Frank Zappa perform live, but I have seen and heard many of his concerts, during which he led these extremely skilled musicians through hours of the most complicated compositions. The current combo of musicians (formed in 1994, a year after Frank's demise, to keep his music alive), puts up an amazing performance and keeps the audience most entertained throughout the whole concert.
Banned from Utopia plays about 17 songs that effortlessly blend into each other. Classics such as The Black Page, I Ain't Got No Heart, Big Swifty and City of Tiny Lites sound like Zappa is actually there. Their rendition of The Illinois Enema Bandit, Murder by Numbers and What's New in Baltimore? are simply fantastic. The concert is a smooth flow of music, it's true, it swings, it moves and it touches. It touches everyone out there. They come back twice for an encore. And then, 2.5 hours later, the concert is really over.
The seven musicians take all the time to talk to their fans and give out autographs in the neighbouring bar.
And so ends a wonderful evening. A full house, enthusiastic audience and excellent sound and lighting. I'm pretty sure all spectators got what they came for, it not more!
I can almost hear you think: "Yo, Fred, we now know that you are a big fan of Zappa, and that your opinion on just about everything that has to do with him and/or his music, has to be pretty biased, but please, tell me honestly, was it really THAT cool? Was there really NOTHING to comment on?"
Well, yes, dear reader. There was indeed something to complain about, and that was the fact that the evening passed all too quickly. But above all, because it once again becomes clear that the world had to say goodbye to Frank Zappa way too soon.
Seen: Banned From Utopia, De Boerderij, Zoetermeer, Netherlands, March 26 2014
---
Don't forget to follow our Spotify Playlist: