Blues Veteran Eric Bibb Takes Us Behind-The-Scenes Of His Highly Relevant New Album, "Dear America"
|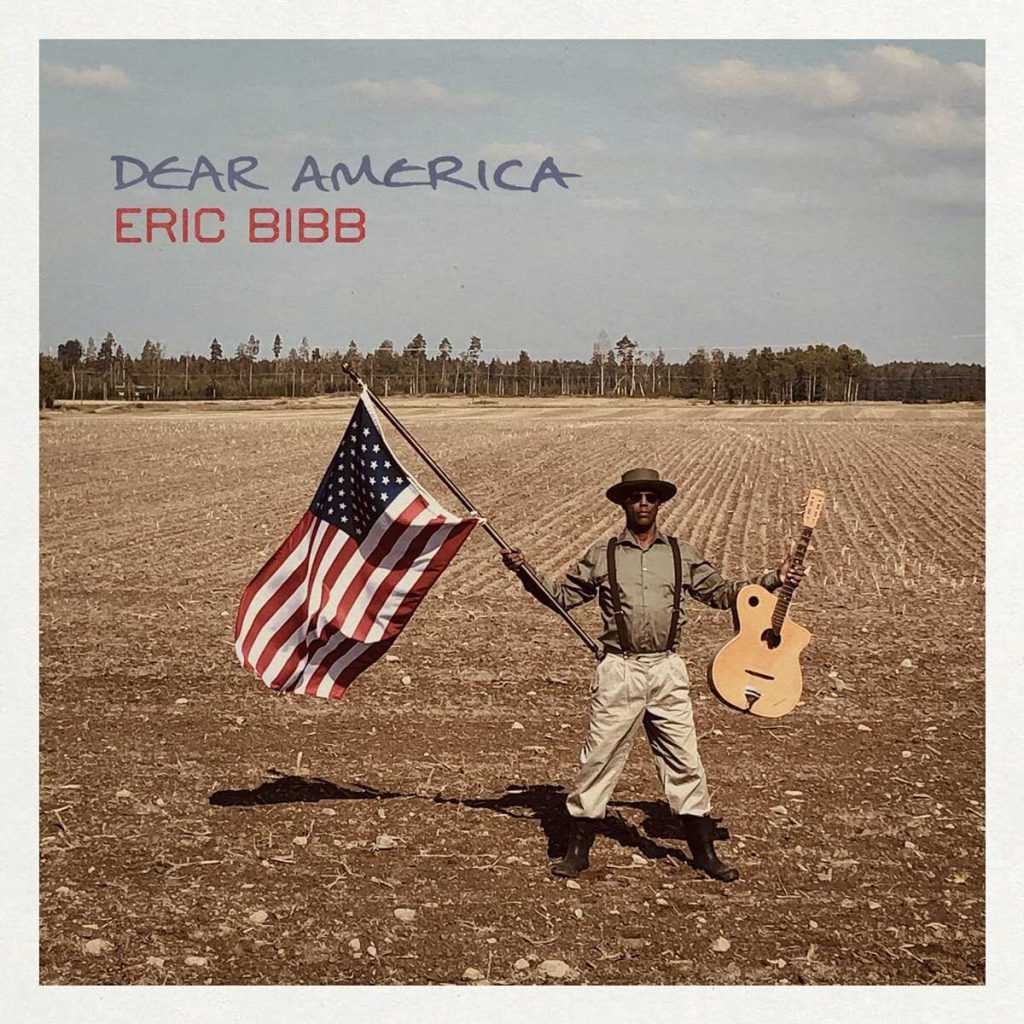 In a new EPK released today, blues veteran Eric Bibb sheds light on the inspiration and recording process for his highly relevant new album "Dear America." 'The title, "Dear America," came to me in a kind of epiphany about what I really wanted to be saying with this record,' Bibb reveals. 'I realized that many of the themes have to do with the collective history that we share here in America, that is actually a traumatic and bloody and cruel history that needs examining if we're going to solve some of the problems that still haunt us.' The video features interviews with producer Glen Scott, and exclusive footage of the album's special guests: Eric Gales, Ron Carter, Steve Jordan, Tommy Sims and Lisa Mills.
Bibb has never addressed the United States – or shone a light on himself – with such focused eloquence as he does on "Dear America." Featuring guest appearances by artists like Ron Carter, Eric Gales, and Shaneeka Simon, and more, the album features songs like the wistful "Emmett's Ghost" with Ron Carter, released in July to coincide with Emmett Till's birthday. The song revisits the appalling murder of Emmett Till, whose incendiary lynching in 1955 galvanized the civil rights movement. 'At the age of 10, I was leafing through a book my parents had, detailing the history of the civil rights movement, and when I came across the photo of Emmett Till's battered face, I started to cry,' Bibb recalls. 'Emmett's Ghost was written before the George Floyd case, but it feels like it has particular resonance right now,' he adds.

Eric Bibb has known many different Americas; the good, the bad and the ugly. Born in New York City in 1951, the thunderbolt of the Sixties folk revival remains so alive in the 69-year-old's memory that he can still recall the idealism on the night air of Greenwich Village and picture Bob Dylan standing in his living room. Yet just as vivid are the dark societal flashpoints of the last year, when protesters highlighted the open wound of US race relations while a bitter Presidential election scrawled jagged battle lines.
If you could call out to your country, what would you say? When Bibb embarked on the title song that would galvanize the "Dear America" album, the songwriter found himself unpacking a seven-decade relationship with a partner of dramatic extremes. 'It's a love letter,' he explains of the record's root concept, 'because America, for all of its associations with pain and its bloody history, has always been a place of incredible hope and optimism. To be American, and particularly to come from New York City, is to be blessed.'

In November 2019, the bandleader hit Brooklyn's Studio G to track "Dear America" with producer/co-writer Glen Scott and a crack studio band. 'It was a kind of cosmically orchestrated series of events,' he reflects. 'I was so pleased to record with Ron Carter, who I have an early connection with through my dad. Tommy Sims was all over the sessions, a wonderful bassist who I've worked with before in Nashville. I've played with many great drummers, but Steve Jordan has that authority: it's just about the hit, man. As for Eric Gales on "Whole World's Got The Blues" – he was just sublime, probably the most powerful electric blues player right now.'

'This album is a love letter,' Bibb says again, 'because all of America's woes, and the woes of the world, can only come into some kind of healing and balance with that energy we call love. That's my conviction. You see young people now and it's amazing, with the whole Black Lives Matter movement. All of those things let me know that there is a kind of reverberation from that Sixties energy. You can't keep a good thing down. Now we're at that 'watch and pray' moment, and it's an incredibly inspiring time to be writing songs…'
---
Don't forget to follow our Spotify Playlist: