Santana Releases His New Album "Blessings And Miracles" Today
|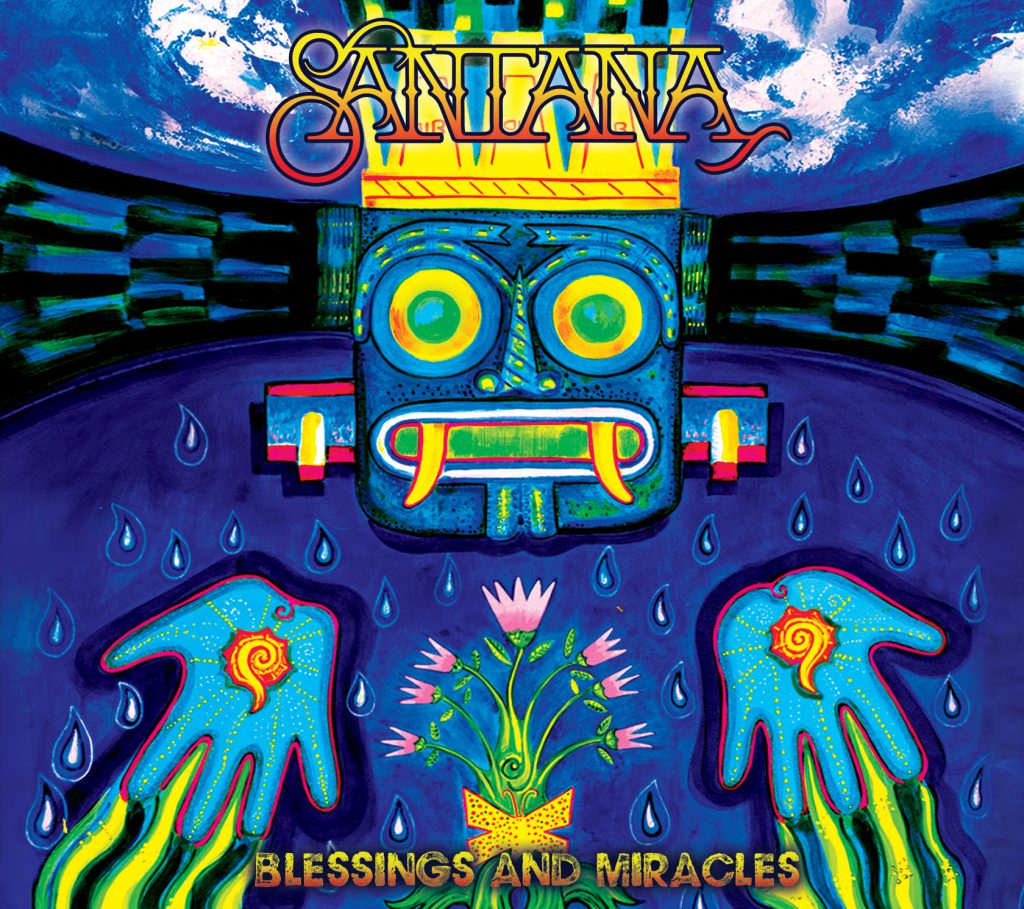 On the new Santana album, "Blessings and Miracles", music legend and guitar master Carlos Santana aims higher than ever, delivering one of the most ambitious, inspired, intelligently crafted and flat-out magical records of his storied career.
Every so often a record comes along that manages to hit all the marks, and "Blessings and Miracles" does so in remarkable fashion. There's thrilling feats of bravura musicianship that pair the guitar master with fellow icons like Chick Corea and Steve Winwood; there's knockout rockers with Metallica's Kirk Hammett and Living Colour's Corey Glover; and there's undeniable, genre-bending, hook-filled celebrations featuring guest artists such as Rob Thomas, G-Eazy, Chris Stapleton, American Authors and Ally Brooke, among others. It's an album that could only had been created by a true visionary whose commitment to his art is a sacred bond that never waivers.
'The title of this album comes from my belief that we're born with heavenly powers that allows us to create blessings and miracles,' Santana says. 'The world programs you to be unworthy of those gifts, but we have to utilize light, spirit and soul – they're indestructible and immutable. Those are the three main elements on this album.'
Santana immersed himself in the creation of "Blessings and Miracles" over the past two years, serving as producer and collaborating with other record makers and writers such as Diane Warren, Narada Michael Walden, Chris Stapleton, Peter Stengaard and Gregg Wattenberg. The realities of recording during the Covid pandemic created a challenge only in that some musicians were separated geographically, beamed into sessions via technology; inspiration, however, was never in short supply. 'It's amazing how we can record together these days without being in the same studio,' Santana notes. 'To me, it's not a hindrance at all. I just close my eyes and I'm in the same room with whomever I'm playing with, even if they're somewhere far away. We share frequencies together.'
Ever since the multiple Grammy-winning smash "Smooth" became a worldwide staple, music fans have been longing for another pairing of Santana and Matchbox 20 vocalist Rob Thomas. Their wishes have been answered with the album's aptly named first single "Move." Call it a new classic – a grinding, grooving and altogether breathtaking mix of pop and Latin rock with sure-fire hooks for days, it's like hearing old friends reuniting and tearing it up. Thomas is dynamic, sensual and utterly magnetic, and he's ably backed by the punchy vocal talents of American Authors (especially the band's Zac Barnett, who takes the lead spot in the second verse). Santana matches these supreme performances as only he can, with scintillating solos that explode with tectonic force.
---
Don't forget to follow our Spotify Playlist: