Balimaya Project – Wolo So
|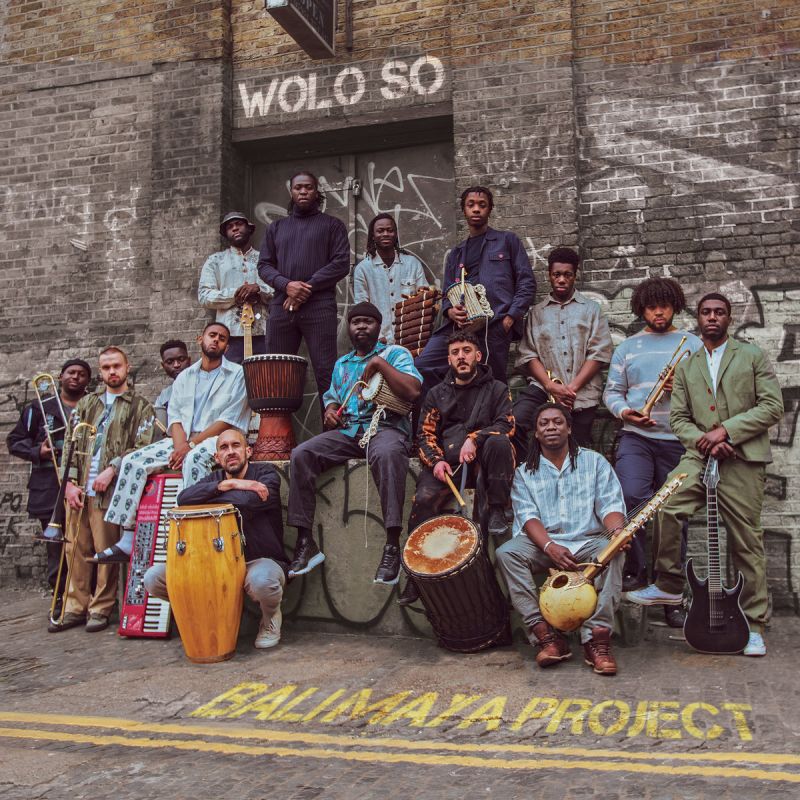 World music has always been a small niche market. With the exception of a small group of enthusiasts, the general public will always let it slide past their shoulders as 'too exotic'. Anything that deviates from a four-four or four-to-the-floor rhythm is dismissed as free jazz and misunderstood by the general public.
The debut album of the London Balimaya Project "Wolo So" will not change that, but for the lover of West African music, in particular, this album is certainly worth discovering. The Balimaya Project is a 16-piece group with members you might know from Kokoroko and the SEED Ensemble.
"Wolo So" has 7 titles, all supported by a polyrhythmic base played on different types of percussion, which form a continuous basis for virtuoso afrobeat wind arrangements. The basis of the Afrobeat is mixed with West African kora, making the album eclectic to represent the musical heritage of all of West Africa from Senegal to Nigeria. Nice to hear that Afrobeat is mixed with jazz in this intense way and that in addition to a leading role for the kora. Also a leading role for the balafon. Daring and never heard of this way before.
The album was recorded back in July last year and was mixed by Marcus Locock, who previously worked with Soccer Mommy and Raphael Saadiq. The album was mastered by Daz-I-Kue, probably best known as a producer in the Bugz in the Attic crew, known for their remixes of Macy Gray, Fela Kuti and Soul II Soul.
The Album opener "Balimaya" starts hypnotically with the repetitive kora, supported by balafon and talking drums. Break! There are the wind instruments and we are off for a fantastic adventure. What a very nice track this is. Whoever can sit still gets penalty points. There is nothing more danceable than this. Yohan Kebede on keyboards, known from Kokoroko, goes wild in the song that seems to have been made for him. I can't really remember ever hearing such a strong album opener on a world music album.
"Soninka/Patronba" starts with the percussion of an unprecedented high level, which lays the foundation for a mighty beautiful song with vocals by Mariam Tounkara Kone, who is still completely unknown to me. The album remains beautifully varied and provides a wonderful view through all the styles that make West African music so rich. A track like "City of God" has the power to conjure up images in your head with its beautiful horn section in which you can dream away to Africa.
When there is Afrobeat music with eclectic influences, the European listener who wants to place the music will always be compared with the only Afrobeat we know, that of Fela, Femi and Seun Kuti and their bands. We are not going to make that comparison here, because it is not appropriate. No musical activism here, but love for the beautiful music that is performed to perfection at a very high level. And that on a debut album!
"Wolo So" is a fantastic and wondrous musical journey to the heart of what makes music art. Beauty, daring, exceptionally good musicians who give each other space and where the fun is splashing. I will hold my breath to see and hear this band plays live. You just have to be there. For now, this is the best album yet in 2021. (9/10) (Jazz re:freshed)
---
Don't forget to follow our Spotify Playlist: