Steve Lukather: Toto's last man standing
|
Steve Lukather, guitarist, singer and co-founder of the successful rockgroup Toto is now 63 years young. The man can be heard as a session musician on practically every successful pop and rock album from the 70s, 80s and 90s and is therefore partly responsible for the sound of pop music in those decades.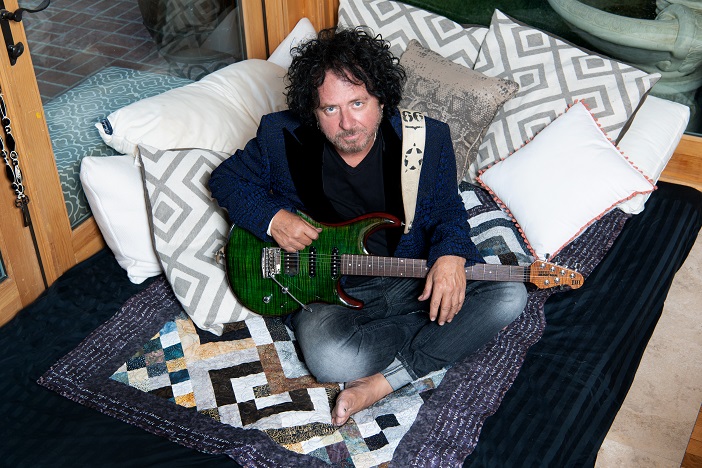 On February 26, his new solo album 'I Found the Sun again' will be released, simultaneously with the solo album by Toto singer Joseph Williams. A great opportunity to speak to Lukather or "Luke" via a Zoom connection. Despite the early time in California, Luke arrives fresh and cheerful in a Hawaiian shirt for the interview. Just like everywhere, the Corona pandemic is also dominating the news in California and is, therefore, the talk of the day there.
Asking about it, Luke immediately fires away: "Corona is terrible, you know that I have been at full speed in music since I was a young boy. It all comes to a halt now. Bam. Nothing anymore, I think it's terrible. We have no perspective. I have no perspective. Have a tour booked for Dogz of Oz, which starts at the end of July. No idea if that can continue or how. I think it all depends on how soon we can all get vaccinated. Unfortunately, the outlook is not all optimistic. "
Luke talks about the tour he took with the Ringo Starr All Star band, which luckily ended just before Corona hit: "Fortunately, we were able to finish the tour with Ringo. I played with Graham Gouldman, who is a great guy. What a musician, truly a legendary songwriter. We had a lot of fun together. totally different man than he is. He's such a true English guy. I told him: "You're not at all what I imagined you are", but what a fantastic guy! We became good friends after months together on a bus and on the plane bus together. We have practically lived together, then a friendship develops. Touring is the best thing there is, and if you are allowed to go with such a wonderful company, it is almost a holiday. Besides Graham, we played with Colin Hay from Men at Work, Gregg Rolie from Santana and Journey and Gregg Bissonette. Good Times! "
Journey through
If we look at his new album, there is a track that is essential for Lukather in 2021. "As a guitarist that is clearly 'Journey through'. That song was played completely live by the band in one take, I am immensely proud of that.", Lukather points out," You know, the song is actually completely improvised. I just stood there in the studio pointing to people, it was great to do. The song is characteristic of the album because of the way it was recorded."
"The whole album was recorded old school. I hadn't made any demos or anything, just went into the studio together. We took a moment to look at my notes and then we went to play. There were really fantastic musicians playing along, like Jeff Babko with whom I wrote many of the tracks together. On this album, nothing is doubletracked or whatever, if you hear multiple keys then they are all played live at the same time. All I did is dub a few vocals and dub a few short guitar tracks, especially the acoustic ones. All guitar solos on the album were recorded live. I wanted to know if I still felt it. Basically, it is just a live album. There are 'real' live albums with more overdub than on this album, I can give that to you on a note. Nobody records like that now, so I really wanted to do it like this. I wanted to record like my heroes' music was recorded in the early seventies. I have that vibe to 2021 transferred. "
That is perhaps how Steve Lukather distinguishes himself from Joseph Williams. "For example, the big difference between my album and Joseph's is that he literally worked on it for years. My album was completely recorded in just eight days. That difference, you can hear that. That's why you can't compare them, what many people try to do it. A song a day kept the doctor away ", laughs Luke.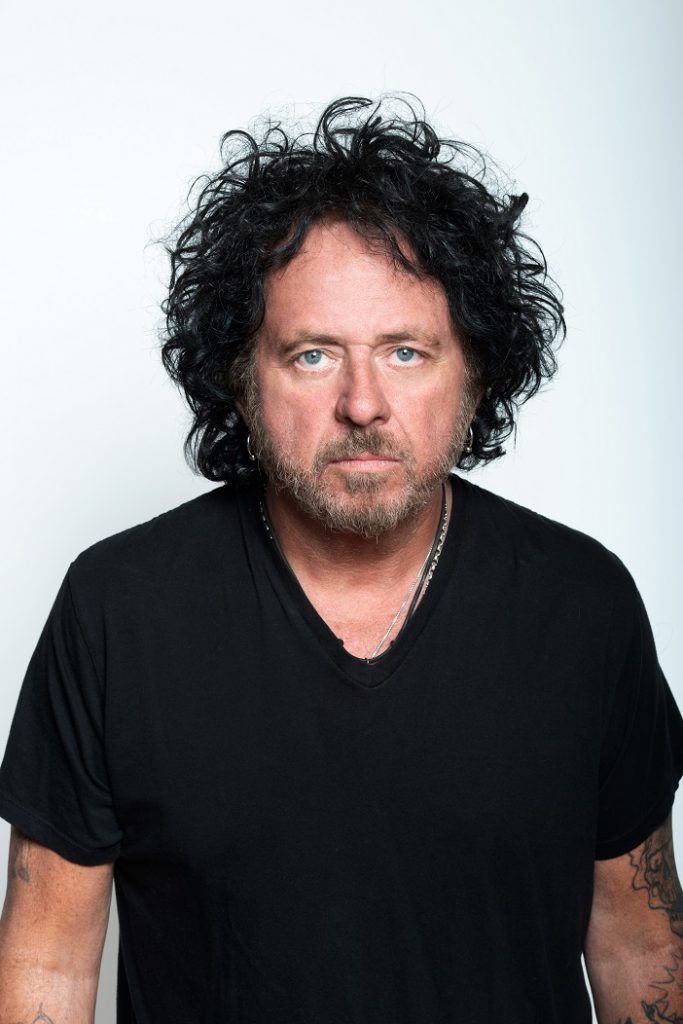 Covers
The album contains a number of nicely chosen covers. It is striking that they are all antique rock songs. "In my first car, an old Volkswagen, I listened to the music that I now have as a cover on my album; Joe Walsh, Traffic, Robin Trower, all the prog rock that came out at the time", Lukather indicates, "Of course I started too. with the Beatles, because that is and remains just the bible for pop music. I picked the three covers because they inspired the vibe I was trying to capture on my album. I wanted to make an old-fashioned record, set in time from now. The 'Traffic' track turned out really well. My version is a lot more 'beefy' than the original. I play on guitar what the saxophone does on the original. Steve Winwood is, unfortunately, one of my few musical heroes I've never been able to work with. "
"All these covers are made with love and respect", the musician continues, "we made our own versions of the music from my childhood. Before we started on the album I warned everyone who participated. We're not going to fix anything, anything you plays comes on the record as it is played. "
Bridge of Sighs
In terms of guitar work, "Bridge of Sighs" is another one that guitarists will love. "'Bridge of sighs' is one of those songs I played live and experimented with a lot. A lot of people think it is indeed a Jimi Hendrix track, but that's not the case. great song for a guitarist because it gives you so much freedom to do your thing. You can totally go wild and be the freak. Great."
"You know?", He continues quickly, "Jimi Hendrix is in my DNA, just look, there is a life-size painting of him hanging here in the room behind me. Also 'Bridge of Sighs' is a live recording by the way. All music is played one-take live Only the vocals are dubbed In this song you really hear how good the band is on the album I could do what I wanted, the band followed me everywhere, unbelievable, I didn't get them played crazy."
Pure
Lukather just really wanted to do something different from what he did with Toto. "I didn't want a mega-production. I wanted it to be live and musicians who could play it live, without click tracks or whatever", he says, "Despite what many might think, I also didn't want to make a record for guitarists. I just wanted to make my own album, which I can be proud of. You can't even call it a solo album. I put together a band and made a record with it. That's it! "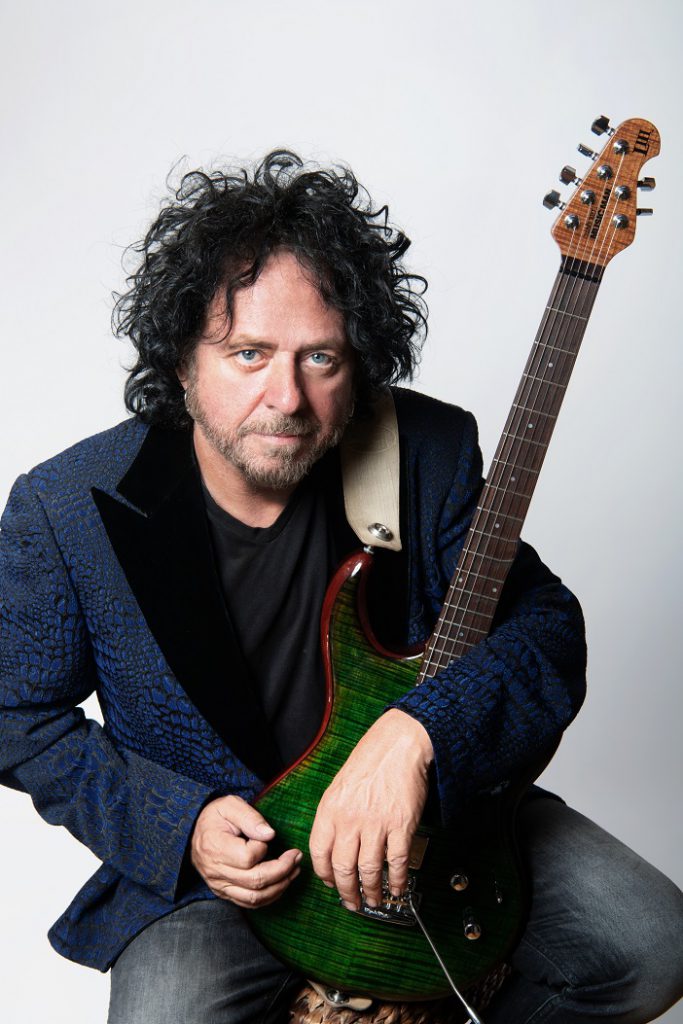 An old school album in 2021 is not common. Still, someone like Lukather gets away with it. "I just received my first review; a 10 out of 10. That doesn't mean much to me. Nowadays there are 7-year-old girls on YouTube who play faster than me and shred that it's a pleasure. The whole internet is full of young guys. that are more technical than I am, but for me, that's not the point. " Beyond that, it won't work anymore. Steve is now 63 years old and has been on the road for more than 40 years. "My shoulders hurt when I play. It's no different. An Olympic weightlifter can easily lift 200 kilos when he is 21, but when that boy turns 63 he will not get gold medals anymore."
What you see is what you get
Many artists want to prove something at a later age with an album that suddenly contains something new. Steve is not like that. "Listen, I made this album all for myself. I didn't want to write a hit and I don't really need to do a duet with someone like Cardi B. I'm 63 fucking years old. I am who I am, and I don't adapt to anyone. What you see is what you get. If you like what I do fine, you don't like it, just as good friends! There is so much music you can listen to, go online and listen to Cardi B all day if you want. When I read the comments under my video clips, great. There are so many people who hate me. And then in the comments, they will do their best to piss me off. To laugh at you to death! "
Now looking at the future: Steve Lukather will tour with Joseph Williams and the Dogz of Oz. Many still just call it Toto anyway, and Luke agrees. "Yes, for me that is still Toto. It is no longer the Toto of 1997, or of 1987 or of 2000. We have now had about 19 people in Toto. We have changed the name with Dogz of Oz. We pay everyone entitled to it their percentage and that's what it is. We just play all the Toto hits, some deep cuts and some solo work. It's just the latest incarnation of Toto."
Last men standing
Jeff and Mike Porcaro are unfortunately no longer with us. David Paich can no longer tour and Steve Porcaro hates to tour. That leaves Bobby Kimball, but there are now rumours that he can no longer tour. "Bobby suffers from dementia," Lukather confirms, "I've never told him that he is doing so badly. I talk to him almost every day or I send him some text messages. He's 73 and has lived a rough life. Now, unfortunately, he's paying the price for it. I love him and I hate to see him suffer like that. When I come to him he greets me as if he sees me for the first time, when I leave he says: "I love you man "and yes … I love him too. I hate it for him. He's made bad choices in his life, but who of us hasn't? Joe and I are the last of the Mohicans, the last men standing. "
With a new album out at the age of 63, the question is always whether there is more to come, or whether it is the last album. Lukather herself is not sure yet. "The whole music business is changing. How can you make money with music? In any case, that is no longer possible with making albums. If you make an album, after a few years you have to take the record company to court to We got 17% of 52% of what our own music brought in and then we had to share it with ten or so. Composers and musicians are squeezed out. Fortunately, Mascot is different, we have good personal contact, a great deal and you do business when you sit down at the table. That's how it should be. When we call them they pick up the phone, unbelievable for us. I've worked for all record companies, so I know which are bullshit and which are not. These people are okay. I like working with people who I consider my friends too. "
---
Don't forget to follow our Spotify Playlist: