Noel Gallagher: "Musicians are shit scared of social media"
|
Once again Noel Gallagher said some negative things about the current music industry during an interview with NME about the 2014 charts. Noel said "If you're Number One in the charts now, it automatically means you must be shit. Bands now go cap-in-hand to the industry and the industry has already decided what it wants for the fucking chart stars. But the charts are all the fucking same. Every single song in the Top 10 is the same shit with a different voice".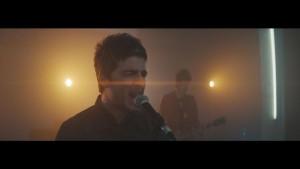 The industry's control over the artists is what drives him most angry "The artist used to drive the industry, but the industry reacted to Britpop, or whatever it was. And now bands go to the industry and go, 'What is it you want again? OK, I can do that.' But when we all came along – and it wasn't by design, it was completely accidental –the industry took a step back and was like, 'What the fuck is this? These people are all drug addicts and maniacs, they're gonna fuck the fucking share prices up! We need to get rid of these people!'"
According to Gallagher the current rock scene misses outspoken bands because they are scared. "It's because they're shit scared of social media! They're shit scared of somebody killing it before it's started. One of the main differences for me is that bands these days are careerists."
About his former band he adds "If Oasis were starting tomorrow we would have nowhere near the impact, because you're judged instantly on your first gig, and then Radio 1 will judge you on how many fucking followers you've got on Facebook […] Oasis never had an A&R at Creation – we were given the fucking keys to the kingdom and they went, 'Off you go, see you in a bit'. Now, the manager is accountable to the A&R guy, who's accountable to the guy above him, who's gonna lose his fucking job." Gallagher won't make many friends by saying this but there might be some truth in it…
Noel Gallagher may be angry at the current music industry, but yesterday he announced that his next single will be released. 'Ballad Of The Mighty' is the third single of the new record 'Chasing Yesterday'. The video will also premier on monday, stills of this video showed us the newest bandmember Jeff Wootton. The question if he will be replacing someone or if he is added to the band will be answered in a few days. Wootton is not known by many but he has played with great names such as Beady Eye, Gorillaz and previous year with Damon Albarn.
The release of 'Ballad Of The Mighty' will be on tuesday and is also available on 7 inch vinyl. The record 'Chasing Yesterday' will be released on February 27th.
---
Don't forget to follow our Spotify Playlist: