Steven Wilson – The Future Bites
|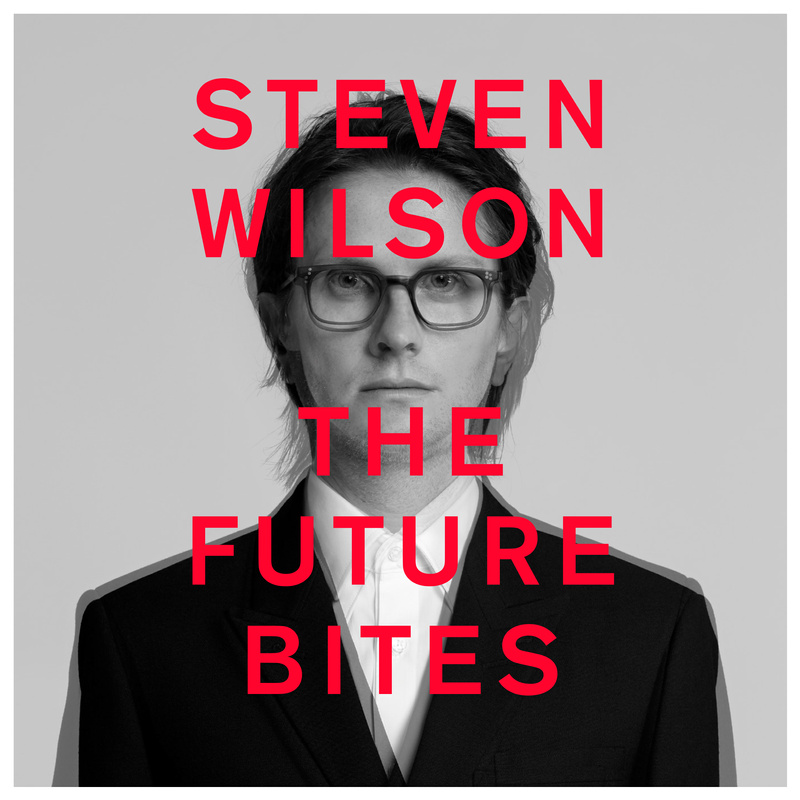 Today, the sixth solo album of the musical chameleon Steven Wilson will finally be released. The album is called "The Future Bites", contains 9 tracks, of which "Things I Forget", "King Ghost", "Eminent Sleaze" and "Personal Shopper" were previously released on the EP "12 Things I Forget", as well the single "Man of the People". So five out of nine songs have already been released.
The comments so far are very positive, though as well there are many Steve Wilson fans who didn't like it. Those are the Porcupine Tree adepts, the people who prefer to see Wilson in the art-rock corner. However, if we just listen to the album and listen, again and again, it's clear we have encountered a true masterpiece. An album that surprises, grows with every play and is composed so well.
"The Future Bites" is a concept album. Wilson never stands still and with this album he dives further in his personal development. In addition, he strikes an entirely new musical direction of Synth-pop, dance and neo-disco, inspired by late 1970s art-pop, he comes up with a music style and it's hard to think of anything new, without falling into an abyss of clichés. In addition, the theme is the hedonistic 21st century, purely focused on consumption and individual satisfaction of needs.
Album opener "Unself" immediately misleads. Beautiful falsetto vocals, an acoustic guitar, a confusing message that ends after just a minute. "Self", electronic beats, distorted guitars, angelic backing vocals that provide balance as a counterpart. Wilson holds up a mirror to ourselves with his music. The beat is wonderful. Music to dance into the night but to listen to while dreaming as well. Wilson now has the listener on the tip of the chair.
"King Ghost" is hypnotic. Again the typical falsetto vocals of Wilson. Listening, you are now completely immersed in the wonderful world of Wilson. Give it your own interpretation, amaze yourself. Wonderful music that takes you by the hand, and which above all provides an introspective and brutally exhibitionistic insight into the life of Wilson, who marvels at where the 21st century has taken us so far.
Then "Things I Forgot" follows. Perhaps one of the most beautiful pop songs ever composed. An angelically beautifully chorus, sung with otherworldly beautiful choirs. This is a song that you want to put on endless repeat, and where you can completely dream away.
"Eminent Sleaze" was released as a single before. You can hear so many different influences in it that it definitely sounds like you've never listened anything else. ABBA, Tears for Fears, you name it: it's in it. And then suddenly a guitar that pierces your brain, through your skull, to shake things up for a moment.
'Man of the people' is the most recent single. The song is about the person behind the disgraced politician, the religious leader who has been enmeshed in a sex scandal. The wife, the girlfriend, the husband, the partner, whoever the family is, the children – the people behind these figures are disgraceful. The collateral damage. 'Sometimes I feel sorry for these people,' Wilson says about this song.
Then the prize song of this album, the almost 10-minute neo-disco epic "Personal Shopper" that has been released much earlier and could already be considered the best, if not the best release of 2020. An indictment of our culture in which we strive for instant gratification of all our wishes. Wilson puts everything together in the personal shopper, who runs from one store to another, to buy the most ridiculous stuff. Buy until it literally makes you sick. A hugely adventurous song, exciting, with insanely beautiful vocals that have rarely been heard in this way before. In the middle of the song, Elton John comes up with some sort of shopping list, dripping with cynicism; what a discovery. "Personal Shopper" will undoubtedly become a mythical song that will only be appreciated more and more. An absolute condition to grow into a classic.
Penultimate track "Follow" is a completely different track. 80s new wave transposed to the 21st century. With angular drums, thumping basses and a shrieking Wilson not only gets away with it, but manages to fit it in perfectly between the other tracks. One of the great qualities Wilson shows on this album is his immense variety. He masters the widest possible spectrum of the musical idiom. He also continues to innovate and amaze within it. That makes the album go Art with a capital A.
The album ends with the restrained "Count of Unease". More than 6 minutes of reflection of a life in which apparently it is sometimes difficult to determine your own course. Something that applies to everyone, but here with Wilson, as befits a great artist, it's beautifully cast in a song.
'The Future Bites' is a beautiful album, incredibly well-produced, adventurous, surprising and honest. An album that will not fade into the background in the coming months, but one that – I hope and expect – will gain an increased appreciation. A real diamond.
Masterpieces are not born as a 10 out of 10, they become it by the appreciation of the audience and the place they will occupy in the collective consciousness. 'The Future Bites' is just such an album. An absolute masterpiece. (9/10) (Caroline)
---
Don't forget to follow our Spotify Playlist: