CA rockers, Papa Roach, have been known as chart-‐toppers since the explosion of their first album, INFEST and their smash single "Last Resort", in 2000. On January 30, 2015 the band will celebrate the 15th anniversary of 'Infest' by releasing their 8th studio album and most infectious, invigorating, and incendiary body of work to date, 'F.E.A.R.' It's over 20 years ago Papa Roach released their debut 'Potatoes For Christmas'.
Multi-­platinum, Grammy and MTV Music Award nominee, Papa Roach has paved the way for many bands that we hear on the radio today. The band's brand of melodic rock played a big part in shaping the newly-­resurgent nu metal scene. Returning to dominate the resurgence, the band recorded F.E.A.R. in Las Vegas, NV with producers Kevin and Kane Churko (Ozzy Osbourne, Hellyeah, In This Moment, Five Finger Death Punch) in early 2014.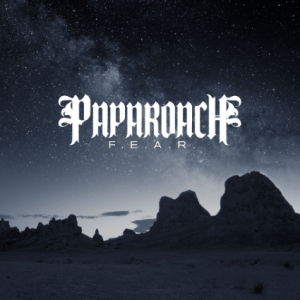 Fans won't be disapponited with 'F.E.A.R.'. Papa Roach preserves the robust riffs and swaggering rhythms that marked their initial call-­to-­arms, while seamlessly infusing cinematic electronic flourishes, sweeping hooks, and magnetic melodies. The band—Jacoby Shaddix [vocals], Jerry Horton [guitars], Tobin Esperance [bass], and Tony Palermo [drums]—rise like never before on this album. The first single and title track explodes into an arena-­ready refrain that's as anthemic as it is atomic. Muscular guitars give way to an industrial stomp before sparking an uplifting and undeniable chant. Even rap is there, with the slow 'Gravity'.
On tour in Europe and the UK earlier this year, Jacoby Shaddix (vocals) told Kerrang! "There obviously has been an element of hope within the despair of the music that we write, and I think that that's always key, and that's very important to what we do, is to always have that element of hope, and that's laced throughout the record." To Ransom Free Media, Tobin Esperance (bass) added" It's definitely that 'light at the end of the tunnel' kind of thing. It's positive. It has some moments where it's really heavy, but it's a positive record." (8/10) (Eleven Seven Music)
TRACK LISTING of F.E.A.R.
1) Face Everything And Rise
2) Skeletons
3) Broken As Me
4) Falling Apart
5) Love Me Til It Hurts
6) Never Have To Say Goodbye
7) Gravity
8) War Over Me
9) Devil
10) Warriors
11) Hope For The Hopeless
12) Fear Hate Love
---
Don't forget to follow our Spotify Playlist: