The Offspring Reissues "Conspiracy Of One" As Limited-edition Deluxe Color Vinyl
|
To commemorate its 20th anniversary, "Conspiracy of One", the sixth album by punk rock trailblazers the Offspring, will once again be available on vinyl — the first time since its release in 2000. On December 11, Round Hill Records/UMe will release a deluxe version of "Conspiracy of One" pressed to yellow and red splatter vinyl, which includes spot gloss on the cover and a custom turntable slipmat featuring the Offspring's flaming skull silhouette logo. A non-deluxe, limited-edition canary yellow vinyl variant will be available on uDiscover & The Sound of Vinyl. A standard black vinyl version will be released in early 2021.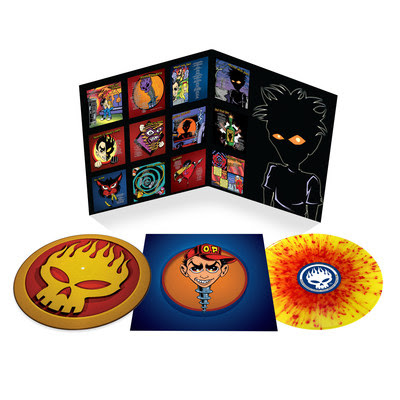 All editions will feature the bonus track "Huck It." The anthemic, sub-three-minute blast was featured on their 2000 VHS/DVD Huck It and used to soundtrack various skateboard stunts, including longtime Offspring drummer Ron Welty doing a successful board-to-board leap over two of his bandmates. "Huck It" will be released as a stand-alone digital single on November 13. In addition, the official videos for Conspiracy's first two singles – "Original Prankster" and "Want You Bad" – will be available on the Offspring's Official YouTube channel in newly remastered HD.
"Conspiracy of One", the first Offspring album of the 21st Century, was the fourth album from the game-changing punk group to be certified Platinum, a feat completed only a month after its release on November 14, 2000. The album is best known for its lead single, "Original Prankster," a song that broke the Billboard Top 100 and hit Number 2 on the U.S. Alternative Airplay charts. The song and its mischievous video by director Dave Meyers included a funky sample from War's "Low Rider" and a cameo from hip-hop legend Redman. The album's follow-up single, "Want You Bad," could be heard in the film American Pie 2 and the video game Crazy Taxi 3: High Roller.
About the release, Dexter Holland said, "When we put "Conspiracy of One" out in 2000, Bill Clinton was still President, and September 11 hadn't happened yet. However, it was obvious that tensions were rising in the Middle East, and we could all sense that acts of terrorism were on the rise, both domestically and internationally. In the U.S., we had all experienced the tragedy of the Oklahoma City bombing and had only recently apprehended the Unabomber, while internationally, there were instances of terrorism such as the sarin nerve gas attack in Japan, suicide bombing attacks in Chechnya, and the bombing of the USS Cole. It occurred to us that this was going to be a new way of waging war going forward. While in the past, nations were generally attacked by other nations – army vs. army – we realized that the world was changing and that future attacks against our country were just as likely to occur by an individual or a small group…a "Conspiracy of One." Of course, we had no idea what was in store for us on September 11, 2001, or how our title portended things to come."
""Conspiracy of One" seemed to come together pretty quickly, compared to some of other records," said Noodles. "It was our first time recording with Brendan O'Brien, and we learned a lot from him about how to get the sounds we were looking for. We still play "Prankster" & "Want You Bad" from this record, almost every show, and we'd like to add more to the set. "Come Out Swinging" & "Million Miles Away" always stoke the fans, and "Special Delivery" was such a dynamic & fun part of our set when we played it back then. I still love all these songs."
For "Conspiracy of One", the Offspring used their flaming skull logo on an album cover for the first time — the now-iconic Alan Forbes illustration has since appeared on no small number of T-shirts, stickers, tattoos, and, recently, a custom tank in the multiplayer online game World of Tanks. The Offspring's first collaboration with producer Brendan O'Brien (Pearl Jam, Stone Temple Pilots, Rage Against the Machine), "Conspiracy of One" captures both the Offspring's trademark locomotive pop-punk ("Come Out Swinging", the 99-second "All Along") and their genre-crossing experiments (the bridge of mid-tempo "Special Delivery" borrows the ooga-chaka from Blue Swede's 1974 version of "Hooked on a Feeling").
"Alan Forbes is a fantastic graphic artist who did the artwork on "Conspiracy of One" and "Huck It," Dexter shared. "We had been fans of his work for years and were thrilled to have him help us with our album package. Part of our conversations with Alan were about how it would be cool to have an official Offspring band logo. We worked together and came up with the 'flaming skull.' It's been our logo ever since!"
With more than 40 million albums sold worldwide, The Offspring are one of punk rock's most significant ambassadors. Since 1985, their lineup has featured vocalist Dexter Holland and guitarist Noodles, with the entirety of the 1990s, spent with the Conspiracy of One rhythm section of bassist Greg K and drummer Ron Welty. Featuring "Come Out And Play (Keep 'Em Separated)" and "Self Esteem," their 1994 breakthrough Smash remains the largest selling album ever released on an independent label, certified six times Platinum. The group currently has festival dates scheduled across Europe for the summer of 2021.
"Conspiracy of One" Tracklist:
Side A
1. Intro
2. Come Out Swinging
3. Original Prankster
4. Want You Bad
5. Million Miles Away
6. Dammit, I Changed Again
7. Living In Chaos
Side B
1. Special Delivery
2. One Fine Day
3. All Along
4. Denial, Revisied
5 Vultures
6. Conspiracy Of One
7. Huck It
---
Don't forget to follow our Spotify Playlist: