Rogue Records America Announces Signing of UK Melodic Tech Metal Band Subversion
|
Melodic technical metal band Subversion comes back swinging from a short hiatus with a new sound, new label and a taste for blood. Rogue Records America is proud to announce yet another amazing band to the family. Subversion has signed a two album deal with Rogue for publishing and distribution which includes a bundle with the new album of their last EP. "I remember hearing Subversion a while back, actually putting them on one of our compilations Songs in the Key of D and thinking how much I'd love to work with them one day… well that day has finally come and I am super excited. Kai and the band have something special and we are really honored that they are sharing it with us," says Dean Martinetti, owner of the growing indie publisher.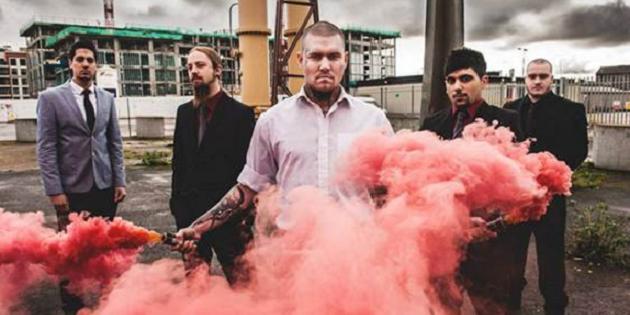 The band had this to say about the new relationship with Rogue, "Subversion has been given an opportunity to grow in a way that we have been striving for since the bands inception. We are proud to be a part of such a passionate and caring label that shares the same vision for this band as we do. This is the start of something remarkable!" The band is currently working on the follow up full-length to the underground success Least We Forget. They say, "We can't wait to get our hands on the next album as we know it's going to crush… expect big things from this band and expect a whole new way to get the album as well when its released."
Subversion has been tearing up the metal scene since 2010. Born of the mind of Kai Giritli (guitars, clean vocals) in 2008, Subversion is a five piece experimental metal band from Kent in the UK. Featuring hard-hitting aggro vocals from Karl Harrigan, Kai's hook filled clean vocals and guitar riffs that sway from heavy groove to epic melody, and extremely tight percussion from Ben Atkinson. Dabbling in the arts of odd time signatures combined with huge thought inducing soundscapes; this band is not afraid to push the boundaries of modern music and move away from the norm of any genre.
Their first full length (and self-published) release Lest We Forget (2010) was critically acclaimed by Metal Hammer, Kerrang, Terrorizer and Rock Sound Magazine. Singles such as 'Treason', 'Butchered', and 'What We Are Entitled' received airtime on XFM, Total Rock and Radio 1 as well as various international stations across the world, securing Subversion a slot on 2011's Euroblast Festival in Germany. The band has played live internationally with Tesseract, Mnemic, Monuments, Xerath, Hacktivist and Chimp Spanner, and have been a part of UK Tech Metal Festival in addition to the aforementioned Euroblast Festival. SUBVERSION have proven they are dedicated to their art and ready to take on the world. This is not the Subversion of yesteryear.
---
Don't forget to follow our Spotify Playlist: