The Fratellis unveil video for 'Six Days In June'
|
The Fratellis have unveiled the video for "Six Days In June", the first single to be taken from the Glasgow band's new album 'Half Drunk Under A Full Moon', out October 30 on Cooking Vinyl.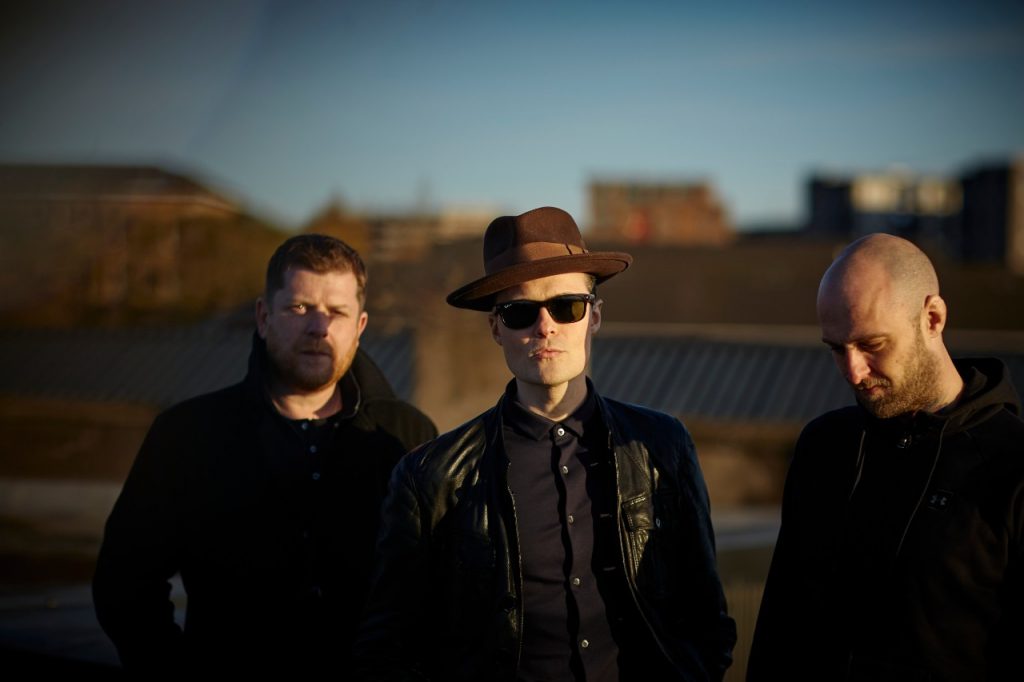 A theatrical blast of sheer pop joy, "Six Days In June" swings on brass, kick-drum and Jon Fratelli's fabulous falsetto vocals, while its witty lyrics – "You told me if I kissed you/It'd be easier in the long run" – sound like a party starting. Directed by Connor O'Hara, the accompanying video features the actors Hannah Dodd and Rory J. Saper (from 'Find Me In Paris') as a young couple joyfully dancing through the countryside, echoing the song's romantic theme.
"I think we have a history of writing songs that on first listen make absolutely no sense but if you dig a little deeper there are some concrete themes to be found." Comments Jon. "Six Days In June carries on that tradition and the video has also followed the same path, a little strange but hopefully ultimately engaging."
Recorded in LA with producer and long-time collaborator Tony Hoffer (Beck, Phoenix, Supergrass), 'Half Drunk Under A Full Moon' is Glaswegian trio The Fratellis sixth album and the follow-up to 2018's 'In Your Own Sweet Time', a UK Top 5 chart entry which contained the Radio 2 playlisted single "Starcrossed Losers" and saw the band perform on BBC1's The One Show. A kaleidoscopic delight full of surprises, 'Half Drunk Under A Full Moon' pairs the hooks and hallmarks of The Fratellis of old with the spirit of adventure they discovered on 'In Your Own Sweet Time' sent into overdrive.
"These are by far the most colourful songs I've ever written," comments Jon. "I don't have synaesthesia, but I definitely associate certain types of melody with different colours and these ones were multi-coloured."
Success came quickly to The Fratellis, who formed in Glasgow in 2005 and comprise of lead vocalist/guitarist Jon with bassist/backing vocalist Barry Fratelli, and drummer/backing vocalist Mince Fratelli. Arriving a year later, their debut album 'Costello Music' – which contained the globe-conquering hit "Chelsea Dagger" – quickly went double-platinum and led to The Fratellis winning the Brit Award for British Breakthrough Act in 2007. A successful second album 'Here We Stand' followed in 2008, but this whirlwind of success came at a cost, and by the end of the decade the trio were forced into indefinite hiatus, burnt out from their relentless life on the road.
Since reforming in 2012, The Fratellis have been on a continuous upward trajectory, finding themselves enjoying a more sustainable type of success. They have steadily regained their live following thanks to a new generation of Fratellis fans, not just in Britain but all over the world. 'Half Drunk Under A Full Moon' finds the trio entering their third decade at ease with who they are and where they are: a band who have not only survived but thrived, and are currently making the best, most confident, most ambitious music of their career.
The Fratellis recently released a special collaboration with legendary US soul singer P.P.Arnold, "Strangers in the Street (featuring P.P. Arnold)", with all income received from the track being donated to the Spotify COVID-19 Music Relief Project. The original version of the song appears on the new album.
The Fratellis will embark on a headline UK tour ahead of the album's release, including two hometown gigs at Glasgow Barrowland (October 27 & 28) and London's O2 Forum Kentish Town on October 13.
---
Don't forget to follow our Spotify Playlist: