Delta Funktionen's Immediate Proximity debut '2334' album out April 17
|
SCI-FI TRIBALISM, that is how Diana Napirelly & Niels Luinenburg like to describe the sound of their collaborative project called 'Immediate Proximity'.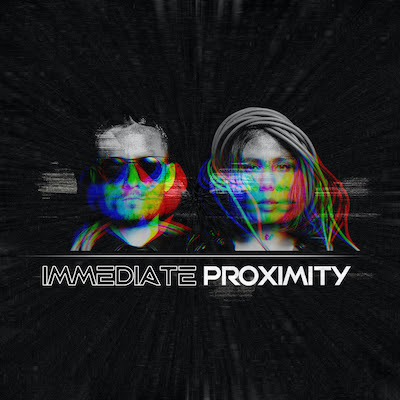 For over one year they spent countless hours in the studio shaping their sound, resulting in the ten-track album called '2334'. On '2334' they show their love for hi-tech and glitchy sounds and present the matter in a tribalistic and a somewhat ritualistic way. The contrast between the two elements is deeply infused during the one hour ride they offer us. And a wild ride it is. The album touches many electronic genres, but never can the listener really tell what he is listening to or where it's heading at. From futuristic Trap Beats to ice cold Electro straight into Indian Acid Ragga. This all combined with a much needed dose of IDM and topped off with glitched out Gabber beats. Does this sound odd? That is Immediate Proximity!
The album is released on Radio Matrix, the imprint run by Niels Luinenburg, who is better known as Delta Funktionen. Under this alias he has released three solo albums and worked on multiple conceptual audio projects. He gained worldwide recognition from his outstanding DJ sets and his ability to create underground dancefloor hits. It's this reason that he is also a highly in demand remixer. He firmly holds a residency at Berlins longest running techno club; Tresor. It's here where he started hosting and curating his own "Let's Watch UFOs" nights that mainly have the focus on the renewed interest in electro, but also push the more adventurous contemporary techno and electronica acts. Early 2020 he took the party international with a first edition in the beautiful Russian city of Saint Petersburg, famous for its thriving art scene and highly energetic dancefloors.
While the Delta Funktionen alias has the focus on electro and techno, on '2334' it sounds like there are no borders or set out rules. For Immediate Proximity, Luinenburg is teaming up with Diana Napirelly who originates from Leningrad and has a long history in the bass and beat genres. She has been DJ'ing for over a decade in Russia and as of recent has started to tour. Her notorious and highly energetic sets have always covered a wide variety of everything rhythmic and broken. With her deep knowledge of the dancefloor, she surely knows how to shake a space upside down. On '2334' she makes her first steps as a producer and her autograph is deeply engraved all over the album. Whether it's taking care of the drum programming, playing the synths or handling the microphone, Napirelly shows no shame in expressing her deeply grounded roots.
Knowing these two interesting back stories, it holds no surprise that the magic that happens on '2334' is a perfect fusion of two spirits that maybe come from different backgrounds, but surely share a similar spirit and energy. And now with the release of '2334', everything is set to show the world their talent!
---
Don't forget to follow our Spotify Playlist: