Original Fleetwood Mac Guitarist Jeremy Spencer Announces 2014 US Tour & New Release 'Coventry Blue'
|
Jeremy Spencer's fans in the US have long been waiting for his return. In fact, except for a few brief US appearances (in 2006 and 2010), 43 years have passed since Jeremy last toured the US (with Fleetwood Mac in 1971). Jeremy announced today that he is scheduled to tour the US in February and March of 2014, initially booking venues in Los Angeles, San Francisco, Chicago and New York.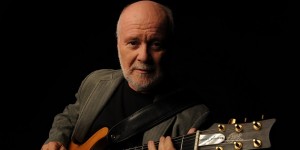 Jeremy has launched a Kickstarter Campaign offering advance premiums that will extend his tour to other cities in the US and fund the new CD. Kickstarter supporters will be eligible to receive pre-release downloads of "Coventry Blue", autographed CDs or LPs, original artwork or private concerts. There will also be an exclusive 2014 Tour Club that will provide exclusive video and audio live updates from the tour.
Jeremy Spencer is renowned as a consummate slide guitar player with the years only enhancing his subtlety and taste. He still is the foremost Elmore James stylist alive – bar none. Jeremy can and does tear it up, retaining his verve, passion and devotion to the blues, but now he brings a cultivated maturity, assured conviction and compositional purpose that are truly sublime. His songs come via his intimate journey from the spiritual core of his heart and connect profoundly with listeners. The original Fleetwood Mac were Britain's most authentic blues band during the sixties boom before morphing into mega-million selling pop celebrity. Their beloved alliance remains an historic testament to the era's meeting of generations, melding of continents and shared musical devotion.
This tour will afford Jeremy the opportunity to display his many facets with a wider evolved guitar pallet as displayed on Bend. At last he will deliver live on the record with its haunting melodies and exquisite guitar harmonies as well as select mighty Mac blues and rock n' roll in his inimitable style. Expect his alternatively dirty and precise Elmore James slide stings; he'll delve deep into blues nuggets that he discerningly curates and revitalize the primordial rock that he spot on mimicked famously and comically on stage with the Mac. Further treat is his expansive range of influences from Django Reinhardt to Marty Robbins to Mark Knopfler, fingering them effortlessly and seamlessly incorporating them into his own compositions as natural an easy fit as that of his beloved ceramic slides. Jeremy's tour return to these shores at a creative pinnacle makes this a rare opportunity for fans.
Jeremy Spencer tour dates:
Feb 12: Fingerprints Long Beach, CA – In Store
Feb 13: Largo at the Coronet, Los Angeles, CA
Feb 14: LeStats, San Diego, CA
Feb 15: Westwood Music Workshop
Feb 16: Soho, Santa Barbara, CA
Feb 17: The Chapel, SF, CA
Feb 19: Moe's Alley, Santa Cruz, CA
Feb 20: Minor's Foundry, Nevada City, CA
Feb 21: Palm's Playhouse, Winters, CA
Feb 22: Freight & Salvage Workshop, SF
Feb 28: Winchester Hall, Cleveland, OH
Mar 1: Callahan's, Detroit. MI
Mar 2: The Ark, Ann Arbor. MI
Mar 6: Shank Hall, Milwaukee, WI
Mar 7: Buddy Guy's Legends, Chicago, IL
Mar 8: Rosas Lounge, Chicago, IL
Mar 9: Empty Bottle, Chicago, IL
Mar 12: Love & War, Plano TX
Mar 13: Yard Dog Gallery, Austin, TX
Mar 20: Regatta Bar, Cambridge MA
Mar 21: Black Eyed Sallys, Hartford, CT
Mar 22: Passim Workshop
Mar 22: Bearsville Theater, Woodstock NY
Mar 23: Turning Point, Piermont NY
Mar 24: BB Kings Blues Bar, NY
Mar 25: Blues Alley, Washington, DC
Mar 27: Sellersville Theater, Sellersville, PA
Mar 28: Splatter Concerts, NJ
Mar 30: Jalopy Theater, Brooklyn, NY
Mar 31: Iridium with Les Paul Trio, NYC
---
Don't forget to follow our Spotify Playlist: