Irish modern thrash metal band Dead Label releases new single 'It Burns Within'
|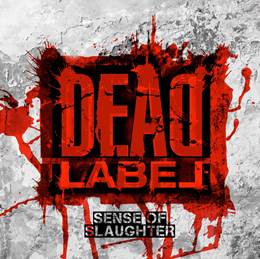 Ireland's emerging metal scene is set to receive a steel-toecapped kick in the behind last year with the arrival of Celbridge, County Kildare three-piece Dead Label, whose ferocious blend of old-school influences and modern metal precision sees them take up the challenge set by their countrymen Gama Bomb and English headbangers Evile. Now, Dead Label is pleased to announce the release of their brand new single, 'It Burns Within'. The track appears on the band's currently untitled full-length release, coming soon. 'It Burns Within' is mixed by Brian Virtue (All That Remains, Shadows Fall, Nonpoint).
The band promises that their upcoming album will be a fresh update to the sound heard on their 2013 Nuerra Records release, Sense Of Slaughter. You may recognize the biggest single from Sense of Slaughter, entitled 'Self-Immolation', which landed at #15 on the CMJ Loud Rock chart, receiving heavy radio and internet exposure in the UK, Europe, Stateside and Japan.
Dead Label comes from modest beginnings, but are anything but quiet. Shortly after forming and winning the All Ireland Battle of the Bands "The Crypt Trials" in 2009, Dead Label released a self-titled EP in October 2010. They quickly began performing at festivals and events around Europe— appearing in Belgium and Czech Rep., with a recent appearance at Aggressive Music Fest in 2013. "We're a live band," says drummer Claire Percival. "We live to play live. We connect with our audience and we have an energetic show."
Traversing even farther from home, Dead Label was invited to perform at 'Rocktoberfest' in Okinawa, Japan, where they played to a crowd of 8,000 people in the first year. This marked the band's biggest performance yet! The second year that the band was invited, the US Government experienced their wide shutdown, which indirectly caused the festival to be cancelled. Regardless, the band travelled the distance to Okinawa and fulfilled their performances to local fans in several area clubs.
In addition to those performances, Dead Label also supported metal heavy weights Machine Head in their home country last year. The band is touring this spring and summer in Ireland, U.K., Slovakia, and Czech Rep. More shows will be announced soon!
---
Don't forget to follow our Spotify Playlist: