Anathema announce 10th Anniversary 'We're Here Because We're Here' EU/UK Tour
|
Anathema will be celebrating the 10th Anniversary of their iconic release 'We're Here Because We're Here,' by taking the album on the road for a series of exclusive shows throughout Europe in March 2020.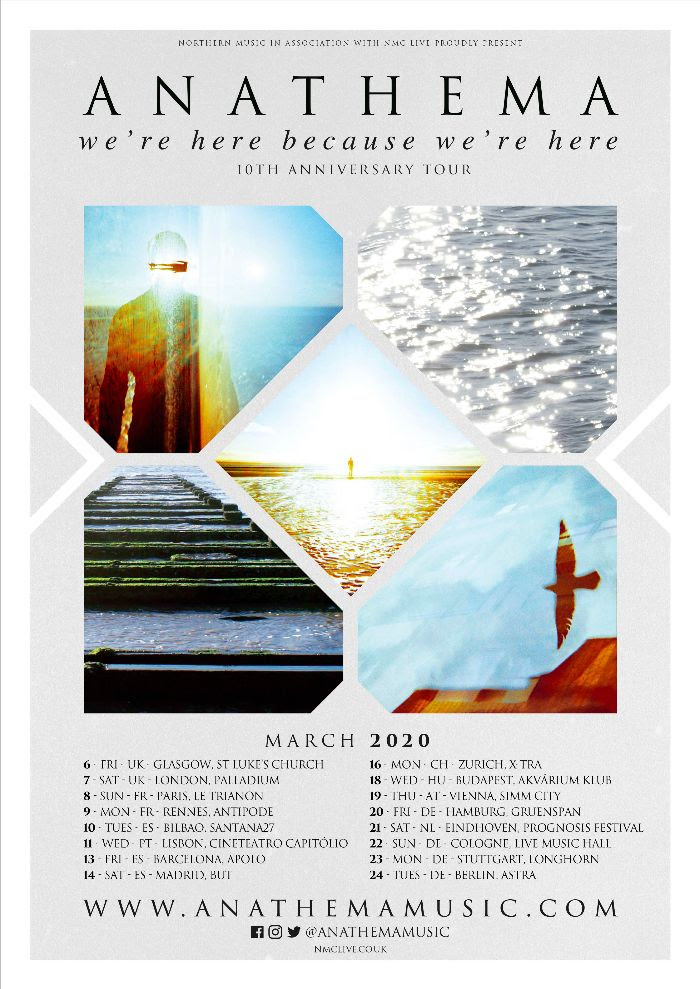 Upon its release, it was their first collection of new material in six years and they exploded back into action with a multi-coloured, multi-layered work of unbridled emotion, passion and intensity which saw it awarded Classic Rock's 'Prog Album of the Year' as well as lauded by Kerrang, Metal Hammer and many more.

Talking about the tour Danny Cavanagh says; "We never usually do anniversary tours of particular albums, but in the case of 'We're Here Because We're Here,' which is the album that began our rebirth, we feel this is something we want to do. What I love about this album and that time in our journey is the life affirming qualities in the music. It's an album of hope, reflection, of summer, of an intense uplifting emotion. We will do all we can to augment the trip with a never before seen light and video show to enhance the experience. Join us in the dreaming light."

Talking further, Vincent Cavanagh says; "Well, putting aside my incredulity that it has been almost 10 years, I'm really into the idea of this tour from a creative perspective. How will we play these songs live now? How will some songs have evolved in the meantime? What can we do with the visual production? It's a great record to revisit as the themes are still as honest and personal as they've always been but there are more shafts of light that cut through the darkness. The plan is to do two sets: the 'We're Here Because We're Here' album in full and then a second set comprising the best stuff from the other records and maybe a brand new song or two.. Hope to see you there!"

The Award winning band have released 11 studio albums of fearless and uncompromising beauty. Ever since their debut 'Serenades' in 1993, they've refused to be pigeonholed and have continuously evolved;  all the way up to their most recent studio album, 2017s conceptual masterstroke 'The Optimist',  which revealed some of the darkest, most challenging music they ever put their name to, as well as a series of live albums and compilations. 'We're Here Because We're Here' has become an integral part of the bands journey so far, and next March gives the band and fans the chance to revisit the album of shimmering majesty and fully immmerse themselves in the live experience.

The band recently announced that they have signed to the Mascot Label Group and will be working on a new album to come in 2020.
Tourdates
Fri 6th March – St Luke's Church, Glasgow, UK
Sat 7th March – Palladium, London, UK
Sun 8th March – Le Trianon, Paris, FRANCE
Mon 9th March – Antipode, Rennes, FRANCE
Tues 10th March – Santana27, Bilbao, SPAIN
Weds 11th March – Cineteatro Capitolio, Lisbon, PORTUGAL
Fri 13th March – Apolo, Barcelona, SPAIN
Sat 14th March – BUT, Madrid, SPAIN
Mon 16th March – X-Tra, Zurich, SWITZERLAND
Weds 18th March – Akvarium Klub, Budapest, HUNGARY
Thurs 19th March – Simm City, Vienna, AUSTRIA
Fri 20th March – Gruenspan, Hamburg, GERMANY
Sat 21st March – Prognosis Festival, Eindhoven, NETHERLANDS
Sun 22nd March – Live Music Hall, Cologne, GERMANY
Mon 23rd March – Longhorn, Stuttgart, GERMANY
Tues 24th March – Astra, Berlin, GERMANY
---
Don't forget to follow our Spotify Playlist: